In the market for a pair of AirPods? Check the very latest offers and get the lowest price with our AirPods deals round-up.
Apple AirPods are some of the most popular wireless earbuds on the market – and since December 2020, when the AirPods Max arrived, the most popular over-ears too. Whether you're listening to music, making voice calls or chairing a Zoom meeting, you can rely on the AirPods to do a good job. As such, it's nigh-on impossible to ride a bus or hit the gym without seeing a pair of Apple's colourful oversized ear cups being pulled out of a bag, or Tim Cook's familiar white buds poking out of someone's ears.
In addition to the classic AirPods (2019), Apple has introduced a duo of pricier, noise-cancelling buds called the AirPods Pro, replaced them with the 2022-released AirPods Pro 2, and added the over-ear AirPods Max to the line-up. There's also the AirPods 3 – a sort of middle ground between the Pro variant and the regular AirPods. So which are the best wireless headphones for you? And how can you grab a stonking deal on a pair of Apple AirPods?
Being a premium product, the Cupertino giant's AirPods don't come cheap – in any of their guises. But with so many stores competing for your cash, you can score some decent deals and discounts if you shop around. Not keen on spending your evenings trawling every online retailer under the sun for the best prices? You'll find find a complete overview of the Apple AirPods range, along with the very best deals, below...
Quick overview of the Apple AirPods family
There are a few good reasons why Apple AirPods are so popular: they're lightweight, easy to use, reliable, offer decent sound-per-pound and bring Siri to life in your ears. Plus, although they work best when used with an Apple product, they can be paired with any Bluetooth device, from smart TVs to smartphones.
The original Apple AirPods hit the shelves back in 2016 at £159 ($159, AU$249). They were big on features but somewhat lacking in the sound department. You might find the odd pair for sale via third party retailers, but Apple has long-since replaced them with the far more appealing 2nd-generation AirPods (2019) – and, most recently, the more fully-featured AirPods 3.
The arrival of the second-gen AirPods (2019) saw Apple up the ante with improved sound, better battery life and the introduction of a nifty wireless charging case. The AirPods 3's price of £169 ($179, AU$279) is slightly higher than the launch price of their predecessors, which remain current in the line-up with an official price drop to £119 ($129, AU$219) – the price they've actually been available at for some time. That makes the newest AirPods middle-sitters in Apple's true wireless earbuds range, below the AirPods Pro and AirPods Pro 2.
Now, the AirPods Max. These are Apple's biggest and most expensive headphone offering and launched in December 2020 – but oh, are they worth it, if you can afford them.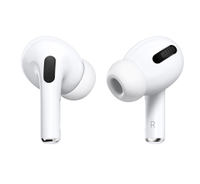 (opens in new tab)
AirPods Pro with noise cancelling £249 £171 at Amazon (save £50) (opens in new tab)
We called the original AirPods Pro "exceptionally comfortable" and praised their "strong noise-cancelling and balanced, easy-going sound". And they're much cheaper than the new AirPods Pro 2 thanks to this deal.
In October 2019, Apple unveiled its beefiest and most expensive buds, the noise-cancelling Apple AirPods Pro. Unlike the AirPods (2019) and AirPods 3, the AirPods Pro come with a choice of silicone ear tips to help you achieve a tight seal. The AirPods Pro 2 landed in September 2022, bringing improved sound, better noise-cancelling tech and longer battery life.
Now is a great time to look out for deals – possibly on slightly older buds from the still-current AirPods range. Prefer Apple's plush, premium AirPods Max? All good; we'll scour the internet for deals on those too – should we find any, they'll be listed both on this page and on our dedicated AirPods deals page.
Apple's AirPods 3 take advantage of new battery technology to improve on the AirPods Pro's 4.5 hours of playback plus another 19 hours from the charging case. They offer 30 hours playback (six from the buds; 24 from the case) but, of course, there's no noise-cancelling.
The AirPods 3 do get spatial audio and Adaptive EQ however, which was introduced with the AirPods Pro and means the headphones will tune the sound they produce in real-time based on how they fit in the ear. Other features include Audio Sharing (which allows an Apple device's audio to be played simultaneously through two sets of AirPods) and Auto-pause, meaning the buds can detect whether or not they are in your ears.
If you're wondering if the newer AirPods (3rd generation) boast a faster processor, they don't. They use the exact same Apple H1 chip as the AirPods Pro. One neat feature the newest AirPods lack is Conversation Boost, which uses the beam-forming microphones on the ‌AirPods Pro‌ to boost the volume of a person talking in front of you.
All in all, the AirPods 3 offer similar tech to the AirPods Pro. Your decision will likely come down to whether or not you want noise-cancelling buds.
Looking for a pair of hassle-free, cost-effective true wireless earbuds? The second-generation AirPods (2019) could still be a great shout, boasting very decent sound quality, voice-activated Siri and unbeatable Bluetooth usability, securing a four-star review and a solid recommendation for anyone after a mix of convenience and good performance. In fact, the 2019 AirPods still might might be the best pair of wireless earbuds for dedicated iPhone users.
They're available in two options: AirPods with standard Charging Case, and AirPods with Wireless Charging Case. The latter means you can place your AirPods in the case and lay it on a Qi-certified wireless charging pad (sold separately) to juice up the battery. An LED indicator on the front of the case lets you know that your AirPods are charging. If you're away from the charging pad, you can still use the Lightning cable to charge the case in the usual way.
Which model should you buy? It really depends on your budget and needs. The Wireless Charging Case certainly makes life easier – but you'll need a Qi wireless charging pad (around £30) to take advantage of the feature. Check out the deals below to see how much you can save on the AirPods 2 with, or without, a wireless charging case...
Best Apple AirPods alternatives
With stellar offerings from the likes of Sony, Cambridge Audio, Beats and Bose, the AirPods aren't short of competition in the true wireless earbud space. Here are our favourite AirPods alternatives...
Want buds with a bit more sonically? The five-star and What Hi-Fi? 2021 Award-winning Panasonic RZ-S500W could be the best wireless earbuds for you. There's noise cancelling onboard (unlike the AirPods 3) and they also come in at just £100 – highly competitive.
Then, there's the splendid Cambridge Audio Melomania 1 Plus, the Apple-tech-packed Beats Fit Pro, or the What Hi-Fi? Award-winning Sony WF-1000XM4. The Sonys sport active noise-cancelling tech that works remarkably well for a pair of in-ears, isolating you from the outside world and allowing the excellent sound quality into your ears unhindered. One of the best true wireless buds we've tested, they're also available for under £200 in November 2022.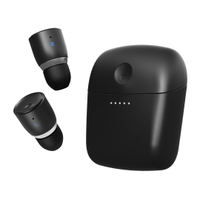 (opens in new tab)
Cambridge Audio Melomania 1 Plus £120 £49 (save £70) (opens in new tab) at Amazon
In the market for a pair of proper wireless earbuds? The Cambridge Audio Melomania 1 Plus earbuds blew us away with superb sonics, snug fit and a combined battery life of a marathon 45 hours – one of the longest of its type that we've tested.
MORE:
See our pick of the best wireless earbuds
Or check out the best noise-cancelling earbuds: budget and premium
Now peruse the best cheap headphones deals