Google and Apple represent two absolute giants in the tech world. Apple's range of AirPods has taken the world by storm in recent years, with the latest second-generation AirPods Pro earning a five-star review after a string of four-star ratings for previous models.
Google is stepping up its game as well, with the Pixel Buds A-Series earning a five-star review. Now we turn our attention to the company's flagship wireless earbuds, the Pixel Buds Pro. Now with active noise-cancelling, additional touch controls, and a reported improved sound, can Google's top-tier wireless earbuds stand up to the AirPods Pro 2?
Google Pixel Buds Pro vs Apple AirPods Pro 2: price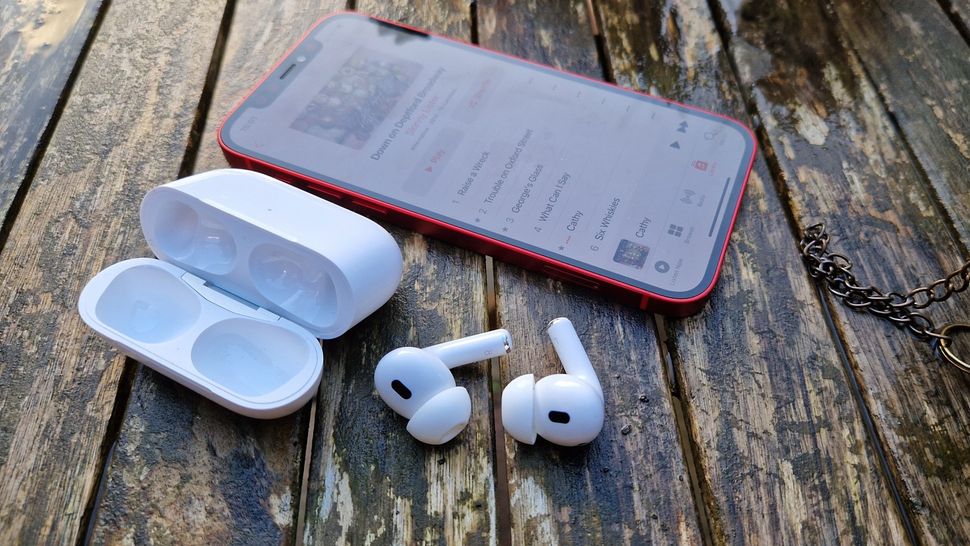 At present, there is a slight difference of around £23 / $50 between Google Pixel Buds Pro and Apple AirPods Pro 2.
Google's Pixel Buds Pro can be picked up for £199 / $199 while Apple's second-generation AirPods Pro are retailing for £229 / $249.
So Google's 'Pro' earbuds are a cheaper alternative to AirPods Pro 2 – though, as ever, it's worth keeping your eyes open for any deals or discounts on either model. Prices often see dips from the usual retail prices stated above, especially during the upcoming Black Friday and Christmas sales periods.
Google Pixel Buds Pro vs Apple AirPods Pro 2: design
We haven't yet tested this model of Pixel Buds, but the earbud looks as if it fits neatly in your ear, and of course it doesn't have the stem that comes down from AirPods. Comparing sizes, the Pixel Buds Pro look more compact, and seem to fit in the ear more discreetly compared with the AirPods Pro 2nd generation.
The earbuds come with three sizes of changeable ear tips and come in a range of different colours: bay, porcelain, charcoal, fog, lemongrass, or coral. The touch-sensitive buds can be used to control a number of essential functions – tap to play / pause media, or answer a call. Double or triple taps go to the next or previous track, while swipes forward or backward control volume.
The charging case that comes with the Pixel Buds Pro features a USB-C charging port and also benefits from Qi-certified wireless charging – handy if you already have the means to charge your devices wirelessly.
Moving on to the AirPods Pro 2, each earbud features a stem that benefits from a touch-capacitive layer. This allows users to swipe up or down on either bud to change volume – a welcome addition over the first-generation AirPods Pro, where this useful feature was missing.
You can also pinch the stems to pause / play media and take calls, while longer presses switch between different noise-cancelling modes. There's also nice haptic feedback when you swipe and we find the controls to be responsive overall.
It's also worth noting that Apple includes four sizes of changeable tips with this model of AirPod earbuds, rather than the standard one-size-fits-all approach seen with its standard AirPods models.
With the AirPods Pro 2 comes a MagSafe charging case which has a built-in speaker and lanyard loop. This case is also Qi-certified for wireless charging and the speaker is used to emit tones to indicate charging, low battery or to help find it when misplaced. Previous models of the case featured Apple's proprietary Lightning port for wired charging; newer cases use a USB-C connection.
Google Pixel Buds Pro vs Apple AirPods Pro 2: features
We haven't tested the Google Pixel Buds Pro and their noise-cancelling abilities yet, so we can only go off the specifications listed. The active noise-cancelling uses 'Silent Seal' which is said to maximise the ability to block outside noise. This is powered by a custom processor, custom algorithms and custom speakers. The Pixel Bud Pro's ANC features three settings: noise cancellation, transparency mode (which allows you to hear more of the world around you), and off.
Google's Pixel Buds Pro feature multipoint Bluetooth connectivity, which should make switching between connected devices simple, and Google claims the earbuds offer up to six hours of playback with ANC turned on and a total of 24 hours with charging-case top ups.
As for the Apple AirPods Pro 2, we find the noise-cancelling abilities to be "incredibly effective", with background noise disappearing to "a mere murmur". The second-generation AirPods Pro give an immediately noticeable improvement over the original model in this regard, with Apple stating that the new H2 chip and the re-positioned acoustic vents and mics work together to block out twice as much noise.
Another new feature is Adaptive Audio. This mode reacts to noise levels in your surroundings and adjusts the level of active noise cancelling dynamically. It's a happy medium between full ANC and Transparancy Mode. We find this new feature to be reactive yet subtle, blocking out noise from passing traffic but the effect is absent at home or in the office.
The AirPods Pro 2, like the Pixel Buds Pro, have a battery life of six hours (on a single charge with ANC activated) but they pip their Google rivals on total power capabilities, with a total of 30 hours including the charging case.
Google Pixel Buds Pro vs Apple AirPods Pro 2: sound
The AirPods Pro 2 are a marked improvement over the previous model, in part thanks to the new H2 chip and new speaker components. As a result, these earbuds earned that all-important fifth star.
As always, Apple has a wonderful way with voices when it comes to its audio products. The overall sound retains Apple's neutrality but with added weight, detail, and dynamic subtlety.
We find that the AirPods Pro 2 are "rhythmically agile and nimble, songs flow with an easy fluidity, and they communicate both high-energy tracks and ones that are more contemplative with ease."
It will be interesting to see how the Google Pixel Buds Pro compare with the second-gen AirPods Pro.
As we mentioned, the closest thing we have tested were the Pixel Buds A-Series, which retail for £109 / $99 and are not a direct comparator by any means. These buds fall short when it came to features, namely the lack of noise-cancelling capabilities or volume touch controls. They did, however, earn five stars for their sound, which is clean and balanced.
Google claims its research shows "most people describe great sound as full, clear and natural. This is what guides our audio tuning process." To its credit, this is what we heard in the Pixel Buds A-Series review, so we have high hopes that the flagship Pixel Buds Pro improve on this further.
Google Pixel Buds Pro vs Apple AirPods Pro 2: verdict
Apple's second generation of AirPods Pro is the company's current flagship earbud and sets a high bar for what a pair of wireless earbuds at this premium price point should do.
We were impressed with Google's cheaper, non-ANC-toting A-Series earbuds. So we are expecting big things from the flagship Pixel Buds Pro model.
We will, of course, keep you updated once we have put the Google Pixel Buds Pro through their paces – so look out for the review soon.
MORE:
Read our Apple AirPods Pro 2 review
Bose QuietComfort Ultra Earbuds vs Apple AirPods Pro 2: what are the differences?
Best wireless earbuds 2023: budget and premium