Bose QuietComfort Ultra Earbuds
Bluetooth: 5.3 (SBC, AAC)
Noise-cancelling: Yes
Wireless charging: No
Battery life: 6hr (+18hrs from charging case)
Bose's latest buds take the firm's Award-winning noise-cancellation tech up a notch and adds improved sound quality and a few design tweaks. But oversights like no wireless charging out of the box, no multipoint and inferior battery life let them down.
For
Punchy, musical sound
Solid, weighty bass
Excellent ANC
Comfortable
Against
Immersive Audio slashes battery life
No multipoint Bluetooth
No wireless charging
Bluetooth: 5.3 (SBC, AAC)
Noise-cancelling: Yes
Wireless charging: Yes
Battery life: 6hr (+24hrs from charging case)
The AirPods Pro 2 don't sound quite as good as the Bose, and their noise cancellation isn't quite as effective. But they have a more extensive feature set, longer battery life and they're cheaper. Though remember: you'll only unlock all of their features when using them with an Apple device.
For
Clear, detailed and powerful sound
Excellent noise-cancelling
Longer battery life
Smooth, intuitive use with iOS devices
Updated ANC features
Against
Many features restricted to iOS devices only
Updated USB-C case model identical in sound to original
Bose and Apple are two of the biggest players in the true wireless earbuds space. Each brand's flagship pairs offer excellent sound quality and noise cancellation – whichever you choose, you're pretty much guaranteed a good time. But there are some crucial differences between their models that could be the deciding factor.
Bose's latest model is the QuietComfort Ultra Earbuds. Following the five-star, Award-winning QuietComfort Earbuds II, they offer Bose's new Immersive Audio tech, support for aptX Adaptive and Bose's CustomTune calibration.
Facing them are the Apple AirPods Pro 2. After a string of four-star reviews, Apple finally sealed the deal with a five-star pair of true wireless earbuds. The Pro 2 boast better noise cancellation than their predecessors, along with improved sound quality. But faced with fresh competition from Bose, are they still as compelling?
Bose QuietComfort Ultra Earbuds vs AirPods Pro 2: price
The Bose QuietComfort Ultra Earbuds launched in October, and cost £300 / $299 / AU$450. In some territories, that's more than the QuietComfort Earbuds II that they replace (£280 / $299 / AU$429). They're also pricier than the AirPods Pro 2, which cost £249 / $249 / AU$399 when they launched back in September 2022.
There's more. The Pro 2 recently relaunched with a USB-C charging case (to go with the USB-C-toting iPhone 15), and at the time of writing, they can be picked up for a very reasonable £229. Which makes the Bose Ultra Earbuds even more expensive than Apple's option.
The Pro 2's price could drop even further during the Black Friday sales. But Bose's buds are probably too new to receive any meaningful discount.
** Winner: Apple AirPods Pro 2 **
Bose QuietComfort Ultra Earbuds vs AirPods Pro 2: design
In the flesh, there aren't huge differences between the Bose QuietComfort Ultra Earbuds and Bose's previous flagship earbuds, the QuietComfort Earbuds II. They feature the new 'Ultra' moniker and a very slightly tweaked design. This includes a new metallic treatment for the touch-sensitive stems and a tiny adjustment to the stability bands which boast a slightly more secure interlocking design.
Similarly, for the AirPods Pro 2 design, Apple has taken the 'if it ain't broke' approach. Apart from the slightly repositioned vents and microphones, they look almost identical to their predecessors. But there are some subtle changes.
They come with four sizes of eartip (the XS size is new), and they now feature on-bud controls courtesy of a touch-capacitative layer on the stems. The charging case has a built-in speaker and lanyard loop, and the latest version has a USB-C port in place of the original Lightning connection.
** Winner: Draw **
Bose QuietComfort Ultra Earbuds vs AirPods Pro 2: features
The Ultra Earbuds give top billing to Bose Immersive Audio, which is the firm's take on spatial audio. This promises a wider, more spacious soundstage to make listening more immersive. But we're not completely convinced – see the Sound section to find out why.
Bose's noise cancelling remains unsurpassed, and for the Ultra, the US company has re-engineered the system with proprietary signal processing and more advanced mic tech. Like their predecessors, there's support for Bose Aware Mode with ActiveSense (which automatically adjusts the amount of ANC needed depending on your environment, so your music is never drowned out by external noise).
They offer most of the features you'd expect, too, including intuitive on-ear touch controls, CustomTune sound calibration, an IPX4 rating, and voice pickup for clearer calls. But there's no multipoint Bluetooth, which lets you connect to two devices at once and seamlessly switch between them. Wireless charging is also an extra cost, as you'll need a special cover for the case, which will set you back £50 / $49 / AU$80.
Apple too revamped its ANC system for the Pro 2, repositioning the vents and mics and employing the H2 chip. Apple's Adaptive Transparency feature does much the same as Bose's ActiveSense, while standard Transparency is the same as Bose's Aware Mode.
The AirPods Pro 2 battery life is 30 hours including the charging case, with the buds lasting six hours. That's more than the Ultra Earbuds, which offer 24 hours and four respectively (though the buds last six hours with Immersive Audio disabled).
Otherwise, the Pro 2 are packed with features, including Conversation Awareness, the same IPX4 rating as the Bose for dust-, sweat- and water-resistance, the Siri voice assistant and Bluetooth multipoint. Apple also has its own Spatial Audio tech that offers the dynamic head-tracking option when listening to Dolby Atmos tracks on Apple Music.
However, Android users won't benefit from all of these features, as plenty are iOS-only. Whereas the Bose work virtually the same across Android and iOS.
** Winner: Apple AirPods Pro 2 **
Bose QuietComfort Ultra Earbuds vs AirPods Pro 2: noise cancelling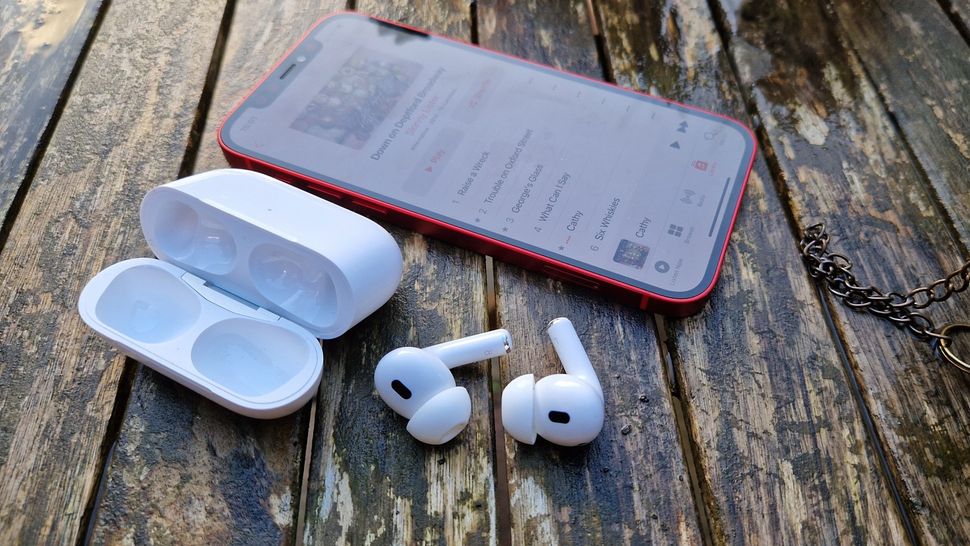 The AirPods Pro 2's upgraded noise cancelling makes a real difference. It mutes background sound to a mere murmur, and while it doesn't suck all the sound out of your ear like some arguably more effective systems, plenty of people find its airy effect more comfortable.
Adaptive Transparency works well too. On the London Underground – an ideal testing ground if ever there was one – the sharp, screeching sound of the tube rails is blissfully damped down. It can be a subtle effect at other times, but we would recommend keeping it toggled on as it does take the higher-frequency edges off environmental noise like traffic.
The new Adaptive Audio feature that comes courtesy of the iOS 17 update reacts to the noise levels in your surroundings and adjusts the level of ANC dynamically – it's basically a blend of full ANC and Transparency Mode. It means you don't have to manually adjust the ANC when moving from loud to quiet environments, like a busy street to a home office.
Finally, Conversation Awareness detects when you're speaking and lowers the volume while allowing in outside sound, so you can hold a conversation. It's very similar to Sony's Speak-to-Chat feature found on some of its wireless earbuds.
Our hopes were high for the QuietComfort Ultra Earbuds' noise-cancelling skills... and we weren't disappointed. Like their predecessors, they're one of the class-leaders, able to take the noisiest environments and reduce their impact quite dramatically.
They're simple to use, too. Every time you pluck the buds from their case and place them in your ears, Bose's CustomTune calibration tech lets out a tone as it surveys the noise in your environment and adjusts the sound accordingly.
As with their predecessors, you can preset different levels of noise-cancelling for different situations and you can cycle through them using the touch controls on the earbud stems. Again, the Bose's 'Aware' mode impresses as it balances out your music with surrounding noise so you can hear just enough of both worlds and not be completely sealed off in your own sonic bubble.
One slight nuance we found during testing was the earbuds tended to emphasise certain loud noises. For example, the clunk of train doors closing together was actually over-emphasised instead of being subdued. But it doesn't dent an otherwise excellent performance.
** Winner: Bose QuietComfort Ultra Earbuds **
Bose QuietComfort Ultra Earbuds vs AirPods Pro 2: sound
The AirPods Pro 2 sound much better than their predecessors, which is largely why they earned that fifth star. The sound retains Apple's neutral sonic balance, but with added weight, more detail and greater dynamic subtlety. They're engaging and entertaining from the first note to the last, with a superb sense of drive.
They're rhythmically agile and nimble, songs flow with an easy fluidity, and they communicate with ease both high energy tracks and ones that are more contemplative. Dynamic shifts are more textured and layered, and they dig deeper and soar higher without any brightness. Voices in particular sound engaging and natural.
The QC Ultra Earbuds have two modes of Bose's Immersive Audio tech: Still and Motion, depending on whether you're still or moving. But it's a mixed bag. When it works well, it does create a greater sense of spaciousness, but with some tracks it falls a little flat. In Motion mode in particular, you can hear a delay and phase issues as the processing struggles to track your head movements. Even the slightest nod brings an abrupt shift in the imaging, which is distracting.
But otherwise, the sound is superb. We were expecting an identical performance to the QC Earbuds II, given these buds only launched about a year earlier and that they won a What Hi-Fi? 2022 Award. But we were pleasantly surprised. The Ultras have the same tonal characteristics, with a familiar richness and fullness. But they're a little punchier and clearer. And given that their predecessors had the edge on the AirPods Pro 2 in the sound department, this is a very good round for Bose.
The Ultras have a good sense of openness and spaciousness, with palpable dynamism. Bass hits with purpose and intent, with real depth and weight to each note.
** Winner: Bose QuietComfort Ultra Earbuds **
Bose QuietComfort Ultra Earbuds vs AirPods Pro 2: verdict
With a blend of new and familiar features, advanced noise cancellation and better call quality, the Ultras are real contenders. It's just a shame they miss out on key features like wireless charging (unless you're willing to spend extra) and Bluetooth multipoint.
The AirPods Pro 2 are still buds to be reckoned with, thanks to their superb feature set, excellent ANC and much-improved sound quality. Their battery life also exceeds that of the Bose QuietComfort Ultra Earbuds.
Android users will be better served by the Bose, as lots of the AirPods' features are Apple-only. For Apple users, however, the choice is less clear cut...
MORE:
Bose QuietComfort Ultra Earbuds vs Sony WF-1000XM5: what are the differences?
These are the best wireless earbuds you can buy
Sony WF-1000XM5 vs Apple AirPods Pro 2: which premium earbuds are better?