ANC: Yes
Bluetooth: 5.2
Codecs: LDAC, AAC, SBC
Battery life: Eight hours (24 total)
Weight: 7.3g (per earbud)
Sony's WF-1000XM4 have been the undisputed class leader for a long while, thanks to wonderfully musical and agile sound quality and a great set of features. They're cheaper now, too, making them a superb deal – but the AirPods Pro 2 are a formidable rival.
For
Clear, detailed bass
Wonderful sense of musicality
Excellent battery life
Against
Missing multipoint feature
Lacking ear tip choices
Chunky build
ANC: Yes
Bluetooth: 5.3
Codecs: AAC, SBC
Battery life: Six hours (30 total)
Weight: 5.4g (per earbud)
The AirPods Pro 2 surprised us with a brilliantly subtle, dynamic and powerful sound that now eclipses the Sony XM4. They're seamless in use, noise-cancelling is hugely improved and are clear contenders as they've never been before.
For
Clear, detailed and powerful sound
Excellent noise-cancelling
Longer battery life
Against
Many features restricted to iOS devices only
Customisable ANC modes would be useful
Apple's AirPods Pro 2 surprised us with a five-star performance, something that none of its in-ear buds has achieved until now. The new flagship wireless buds have taken serious steps to prove their worth in a very crowded and hotly contested category.
We've already looked at how they compare to the original AirPods Pro and the AirPods 3. But now it's time to put them against their fiercest competition yet: the Award-winning Sony WF-1000XM4, widely seen as the best wireless earbuds ever made.
Are the AirPods Pro 2 now the better buy? Or do Sony's stalwarts still stand firm? Let's have a look...
AirPods Pro 2 vs Sony WF-1000XM4: price
Apple might have raised the price for its latest iPhone (in the UK and Australia at least), but that's not the case with its new flagship earbuds. The AirPods Pro 2 sell for the same £249 / $249 / AU$399 as the original pair launched at in 2019.
That puts them bang on the same launch price as the Sony WF-1000XM4. But the XM4 have been around a while now, and there are some great deals to be had – these buds have been hovering around the £199 mark in the UK since late 2022.
So will you find a deal on the AirPods Pro 2? Yes, but they're a pittance. You're looking at a tenner off here and there. Newness + Apple = no big deals for you. But keep an eye out during Black Friday and Cyber Monday as we've seen better deals then, and stay tuned to our best AirPods Pro deals page – you never know your luck.
**Winner: Sony WF-1000XM4**
AirPods Pro 2 vs Sony WF-1000XM4: design
We've seen some pretty out-there wireless earbuds over the years, from Samsung's kidney bean-shaped Galaxy Buds Live to Sony's donut-inspired LinkBuds. But the AirPods Pro 2 and Sony XM4 are both more traditional looking.
In fact, you might struggle to tell the difference between the AirPods Pro 2 and the original Pros. They're the same size, with the same bud-and-stem design. Even the all-white finish remains.
But they're not identical to the original Pro model. The stems feature a new touch-capacitive layer that lets you change the volume by swiping up or down. It's the first time you've been able to alter the volume of AirPods without digging your phone out, which is a real boon.
There's a new XS size ear tip for better fit, and the charging case has been updated – it can now be engraved with a Memoji, has a lanyard loop, and has built-in speakers that emit tones to indicate charging and help you find it if misplaced. Like the earbuds, it's rated IPX4 for water- and sweat-resistance.
Impressive, certainly. But the XM4 are no slouch.
They don't have stems like the AirPods Pro 2 – instead, Sony has opted for a round design that sits more inside the ear opening. This was apparently based on customer feedback about their predecessors, the XM3, as well as Sony's own research into the human ear.
The XM4 earbuds have a matte finish with small brass accents around the mic and sensor holes adding a splash of colour. They come in black or silver, whereas the AirPods Pro 2 only come in white.
They too are rated IPX4 for basic water resistance. But they only come with three sizes of ear tips to the Pro 2's four. The XM4's ear tips are made from polyurethane, which feels like a cross between silicone and foam. It gives them a tight, stable fit, while the thousands of tiny bubbles in the tips help reduce and dissipate noise.
What about controls? The outer surface of each earpiece doubles as a touchpad, whose function you can customise using the Headphones Connect app (you can change volume, control playback and switch between noise-cancelling and ambient sound modes).
It's worth noting that some on our review team have found Sony's bulkier, heavier earbuds (7.3g each) trickier to fit and remain securely in the ear, while Apple's more lightweight design (5.4 per earbud) is much easier to accommodate in general.
Just like the AirPods Pro 2, the Sony XM4's charging case is equipped for wireless charging, but unlike Apple's, it isn't water resistant. So be careful with it around the pool or on the beach.
**Winner: Apple AirPods Pro 2**
AirPods Pro 2 vs Sony WF-1000XM4: features
As one of the best wireless earbuds in recent years, the Sony XM4 are not short of features. These begin before you've even started using the headphones, with the air-tightness test using Sony's Headphones Connect app. It will play a test tone and say whether the earbuds are perfectly in place or if you need to make any adjustments.
Sony's 360 Reality Audio format is also available through the app, using compatible streaming services such as Tidal and Deezer. The app also tells you how much battery remains in both the buds and the case (the buds pack eight hours, and the case another 16 hours).
Quick Attention mode drops the volume of what you're listening to, so you can chat without removing the earbuds, while Speak-to-Chat does a similar job but is triggered by the sound of your voice. Very clever.
Inside the earbuds is a new DAC and analogue amplifier along with the Integrated Processor V1. Sony's DSEE Extreme audio processor with Edge-AI is also present and correct, to upscale low-bitrate music files to near hi-res quality.
You don't get support for the aptX HD codec, but the XM4 do play nice with Sony's LDAC format, which, streamed over Bluetooth from a compatible source (Sony Walkmans, select Android 'phones and portable hi-res players), allows hi-res audio files up to 24-bit/96kHz to be transmitted at data rates of up to 990kbps.
Sony has also aimed to deliver clearer call quality with new features, including beam-forming and the use of a bone conduction sensor that stops the mics from picking up distracting ambient sounds while you're talking. There's even an automatic wind noise reduction mode that attempts to cut out swirls of noise passing through the headset and into your ears.
All of this works with Sony's Precise Voice Pickup technology for impressive call quality.
They also work with Google's Fast Pair technology to sync super quickly with Android phones (iOS users miss out here, we're afraid). But it's a shame they still don't share the Sony WH-1000XM5's multipoint feature, which would let them pair to two Bluetooth devices simultaneously. That feature is reportedly on the cards, but we're still waiting for it to manifest in 2023.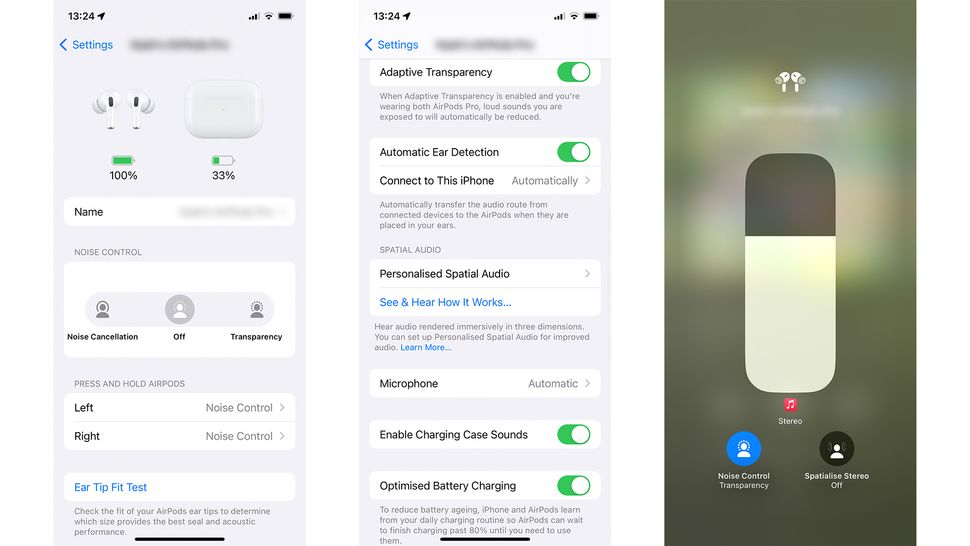 The AirPods Pro 2 are similarly packed with flagship features. The Pro 2 come with a similar ear tip fit test that you access from your iPhone's settings (in fact, Apple pioneered this) and pair near-instantly with Apple devices.
Like the XM4, they have active noise-cancelling (ANC), but also add a new Adaptive Transparency mode which processes 48,000 times per second to identify and reduce loud, harsh, high-decibel noise around you such as a passing lorry or a siren.
Inside each earbud is a new custom low-distortion, high-excursion audio driver, transducer and high dynamic range amplifier. Powering the buds is Apple's new and powerful H2 chip, which results in better ANC, longer battery life and improved sound quality – there's more on this in the respective sections below.
Apple has also repositioned the mics and vents in the AirPods Pro 2 for improved airflow, affecting the effectiveness of ANC and overall sound quality. The inward-facing mic has also been redesigned, working with voice enhancement algorithms so your voice sounds more natural through calls.
While they won't pause when you start speaking, the AirPods Pro 2 have improved 'skin detect' – which means songs pause more instinctively when you've taken an earbud out (and resume playback when placed back in).
The Pro 2 support Apple's Spatial Audio tech with dynamic head tracking, and this time its immersive effect can be personalised. Using the TrueDepth camera on an iPhone (running iOS 16 operating system or higher), the technology can tune the sound and create personalised audio profiles specifically based on someone's ear shape and size. Pretty neat – if you can make the tricky scanning process work.
Battery life gets longer for the AirPods Pro 2. While the six hours you get from the buds lag behind the Sony XM4, the Pro 2's 24-hour case battery packs eight more hours than the XM4's. Astounding.
You also get adaptive EQ, Audio Sharing (the ability to play audio simultaneously through two sets of AirPods) and Auto-pause.
It's an impressive feature set for the AirPods Pro 2. But remember – if you use Android rather than an Apple device, you'll miss out on some of their best features.
And rather disappointingly, the new AirPods Pro 2 still don't support high-res or any higher-quality codecs, which is at odds with the lossless tracks available from Apple Music's library. The Pro 2 stick with the basic AAC codec for Bluetooth streaming, which lags behind the aptX HD and LDAC codecs that are able to transmit more data wirelessly. Shame.
**Winner: Sony WF-1000XM4**
AirPods Pro 2 vs Sony WF-1000XM4: sound quality
The XM4 launched in the summer of 2021, which is a long time ago in terms of wireless earbuds. But since then, they've seen off competition from all comers to reign supreme as our best wireless earbuds. And they've done so largely because of their superb sound quality.
Bass is fantastic, being clear and detailed, and practically dripping in texture. Meanwhile, voices are laid bare with nuance and emotion. There's clarity across the board and a sense of rhythmic precision that allows the Sonys to switch pace effortlessly. They sound even better than the XM3, which were our previous favourite wireless earbuds, and hold their own against the newer Bose QC Earbuds II. Sony's on a roll.
The Pro 2 are the first in-ear AirPods to earn five stars from us, with sound quality taking a serious, grown-up step than before. They retain the originals' neutral sonic profile and clarity with voices, but with added weight, greater detail and even better dynamic subtlety.
The performance is engaging and entertaining right from the second we start listening. It's a richer, more powerful sound, with more layers and textures to dynamic shifts, keeping you hooked on a song.
There's a superb sense of drive, too. The AirPods Pro 2 are rhythmically agile and nimble, while still sounding wonderfully open and airy.
But do they best the Sonys? Despite the lack of any higher-quality codecs, the AirPods Pro 2 deliver a more nuanced, solid and dynamic performance, with a spacious presentation that's unheard of in wireless earbuds.
**Winner: Apple AirPods Pro 2**
AirPods Pro 2 vs Sony WF-1000XM4: noise-cancellation
Apple's H2 chip and new "optimised" placement of the acoustic vents and mics in the Pro 2 combine to offer active noise-cancelling that's reportedly twice as effective compared with the original Pros.
And the Pro 2's noise-cancelling is incredibly effective indeed. It's a big step up above the previous model, with background noise reduced to a mere murmur. It's a comfortable effect, too, and they do a great job of letting you enjoy your music without much distraction from the world around you.
It's a shame there are no degrees of ANC to choose from or customise. However, the new Adaptive Transparency feature works well, taking the edge off the harsher screeches and scrapes on the London Underground.
The Sony XM4's noise-cancelling is excellent, too. We said in our review: "you'll struggle to find better noise cancellation at this level". While that no longer remains the case as the new Bose QuietComfort Earbuds II have taken the mantle as the best ANC earbuds, the Sony are still more than satisfactory in damping down external noise.
There's very little difference between them here, but to our ears, AirPods Pro 2 are a tad more comfortable to listen to with ANC turned on. There's barely any of that "vacuum" feeling that ANC usually brings, which makes us forget the mode is even on at times.
**Winner: Apple AirPods Pro 2**
AirPods Pro 2 vs Sony WF-1000XM4: verdict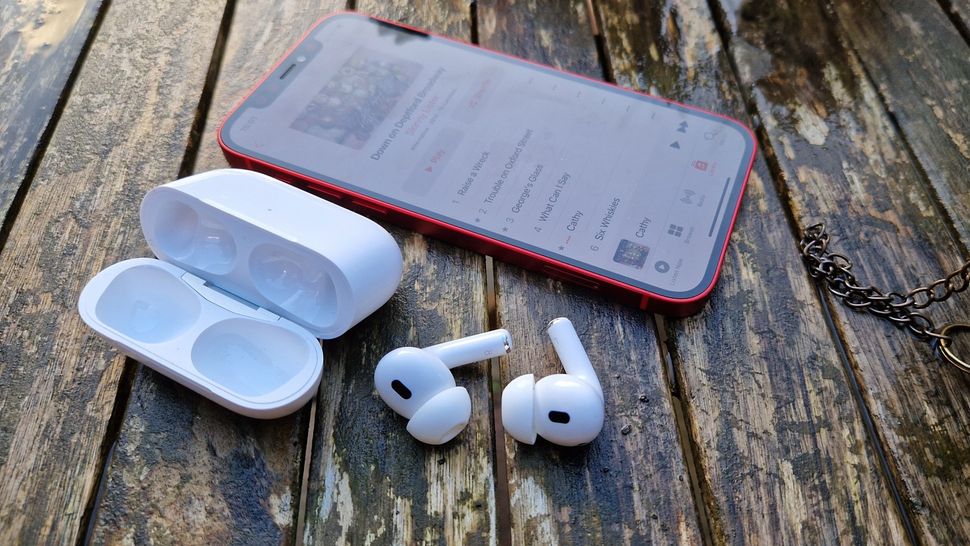 This is one that sparked many debates at What Hi-Fi? HQ. Both wireless earbuds have impressed us since their respective launches, and the Sonys in particular should be applauded for still being one of our favourites, nearly two years on.
The Apple AirPods Pro 2 win in the all-important categories of sound quality and ANC, but the Sonys are now cheaper than before, meaning you get a fabulous pair of flagship buds at a great price. It's why we have no problem recommending the WF-1000XM4 (until a new version comes out, hopefully soon) even if they no longer take the top podium.
It's clear, however, that the newer AirPods Pro 2 have come on leaps and bounds when it comes to sound quality. Their performance is richer, more open and more detailed than the Sony XM4, and while both are effective noise-cancellers, the Pro 2 offer a more comfortable experience.
MORE:
I've switched from Sony's XM4 wireless earbuds to Bose – here's why I don't really miss them
And our full Sony WF-1000XM4 review
These are the best wireless earbuds you can buy
I spoke to Apple to find out the secret behind the AirPods Pro 2's audio success