ANC: Yes
Bluetooth: 5.3
Battery (buds): Six hours
App: Yes
Weight: 5.4g per bud
The AirPods Pro 2 are the first in-ear Apple buds to earn five stars from us, so they're a definite improvement on the originals. They perform excellently, are seamless in use and ANC is very effective, with plenty of features for your money. Android users might be shortchanged on many flagship iOS-only features, but these are now some of the best-sounding wireless earbuds available.
For
Clear, detailed, powerful sound
Excellent noise-cancelling
Intuitive to use
Against
Many features are iOS-only
No customisable ANC
ANC: Yes
Bluetooth: 5.0
Battery (buds): Six hours
App: Yes
Weight: 5.6g per bud
Comfortable, feature-packed and bags of fun, the Beats Fit Pro are a great sporty alternative to AirPods, especially if you're an Android user and/or want a fitness-focused pair with Apple's features. They don't sound as good as the flagship AirPods Pro 2, and ANC isn't as effective. But they're a cheaper, more cheerful and more colourful alternative that will serve many people well.
For
Enjoyable, lively sound
Comfortable, secure fit
Works with iOS and Android
Against
Rivals sound more authentic
Excitable edge to treble
It's head to head time. Today's showdown is between the Beats Fit Pro and the Apple AirPods Pro 2. On the face of it, these two pairs of wireless earbuds might seem quite different. But look a little closer, and you'll see they're more similar than you might think...
Beats is owned by Apple, for one thing. Which means both pairs of buds feature Apple's audio technology (in different flavours) and features. They both have active noise-cancellation and Spatial Audio, too. And they both offer six hours of battery life from the buds, plus more from the case.
But which is the better pair? Let's compare them category by category and find out.
Apple AirPods Pro 2 vs Beats Fit Pro: price
The AirPods Pro 2 launched at £249 / $249 / AU$399 and, bar the odd discount here or there, that's how much they cost to this day. They're a premium pair that command a premium price.
The Beats Fit Pro are a little cheaper, but not by much. They launched at £200 / $200 / AU$299, and again, their price has held pretty firm. However, being branded as Beats rather than Apple, they are more likely to be discounted come sale time, so keep your eyes peeled.
**Winner: Beats Fit Pro**
Apple AirPods Pro 2 vs Beats Fit Pro: design
Design-wise, there's very little new in the world of wireless earbuds, at least not since Sony pulled a donut on us with the Linkbuds. Neither of these pairs tries to reinvent the wheel, but they are both solid designs that are functional as well as stylish.
The Beats Fit Pro are the more eye-catching of the two, coming in black, grey, white and purple finishes (the AirPods Pro 2 are only available in white). They also feature flexible wingtips that tuck into your ear to keep the earbuds nice and secure when exercising or generally thrashing your head about to Slipknot.
Apple has stuck with its classic buds-and-stem design, and you can now change the volume on the Pro 2 buds thanks to a swipeable touch-capacitive layer. Pinching the stems lets you change ANC modes, too. The Beats don't do touch-sensitive controls – they use on-bud button presses to change volume or switch between ANC modes (which you can adjust in the iPhone's settings).
You can also run the ear tip fit test with both models through your iPhone's settings menu, to ensure you've got the perfect fit. However, you only get three sets of ear tips (small, medium and large) with Beats, whereas the AirPods Pro 2 come with four sizes (the additional size is extra small). Both are secure when you're out and about, but if you're one for more intense workouts, the Beats Fit Pro are a more reassuring fit thanks to those wingtips.
One downside is the case – the Fit Pro's is a bit big, plasticky and it feels a little flimsy in comparison. It's nowhere near as slick and premium feeling as the AirPods Pro 2's. It also lacks any extra features, whereas the Pro 2's has a lanyard loop and a built-in speaker to emit a tone to help you find it.
Both buds and case are rated IPX4 for resistance to sweat and water splashing, so you needn't worry if you're listening in the rain or running on a very humid day.
**Winner: Draw**
Apple AirPods Pro 2 vs Beats Fit Pro: features
Both of these models feature active noise-cancelling (ANC), but the AirPods Pro 2's is by far the more effective and advanced of the two. This is thanks to Apple's powerful new H2 chip and the 'optimised' positioning of the acoustic vents and mics in the new flagship model. The H2 chip also enables a new mode called Adaptive Transparency, which works within Transparency Mode, to take the edge off sudden loud and harsh outside noises while keeping you aware of your surroundings. It's a subtle but useful effect.
Spatial Audio is onboard with dynamic head tracking, and you can personalise it too (though the process of doing so with your iPhone's camera needs a lot of work). The battery life is longer than the Beats Fit Pro's as well – both manage six hours from the buds, but the AirPods Pro 2's case adds another 24 hours, whereas the Fit Pro's only gives you an extra 21 hours.
The AirPods Pro 2 have a pretty stacked feature set, then. But the Beats Fit Pro do share some of the same DNA, with ANC, Transparency Mode (albeit without Adaptive Transparency) and Spatial Audio with dynamic head tracking (though not personalised) all onboard. They also have the previous-gen H1 chip embedded – which is no slouch and connectivity with an iPhone is seamless. But the newer H2 chip results in a more powerful, even slicker experience. But what the Beats lack in those newer advanced features they make up for with one rather large advantage – they work with Android phones!
Now yes, technically so do AirPods Pro with your basic Bluetooth listening, but Apple's headphones offer a severely pared-back experience when paired with a Google-powered device. (Want proof? Here are 13 features that non-Apple owners will miss out on.) But the Beats app for Android lets you use the Fit Pro with your non-Apple smartphone almost as if it was an Apple device: you get access to spatial audio, one-touch pairing, the ear tip fit test and customisable on-bud controls. We say almost, because you do still miss out on some features that are strictly iOS-only: audio sharing with other Beats and Apple earbuds, auto-switching between devices, dynamic head tracking, and hands-free Siri. Still, it's a massive step in the right direction and a real boon if you want those extra Apple features but don't use an iPhone.
**Winner: Apple AirPods Pro 2**
Apple AirPods Pro 2 vs Beats Fit Pro: ANC
ANC is one of the big selling points of both pairs. Who wouldn't want to block out the outside world so you can focus on your music? And for times when you do need to be more aware of your surroundings – out running, say, or waiting for a courier to ring the doorbell – both have a Transparency Mode which allows in outside sound.
As we've mentioned, the AirPods Pro 2's ANC is more advanced. There's the aforementioned Adaptive Transparency Mode, which dulls the most abrasive sounds so they don't drown out your tunes (no more punctuating your yacht rock playlist with screeching tube train brakes). And there's the overall greater effectiveness of the ANC: Apple has improved this twice-fold thanks to the new H2 chip. Background noise is reduced to a mere murmur with the Pro 2, and the rejigged vents give it an airy effect that's a cut above the best wireless earbuds out there. It makes listening to music a more natural experience, with very little of that 'vacuum' feeling you normally get with ANC buds.
The Fit Pro's ANC does a decent job, but it's nowhere near as effective as the AirPods Pro 2's. It's less natural-sounding too, and seems a bit more synthetic. The sound quality drops a touch with the ANC mode on, too. But the Transparency Mode, while basic, is handy for keeping you aware of traffic around you while you're out running (these buds are built for exercise, remember).
It's a solid performance from the Fit Pro, but they can't quite match the AirPods Pro 2's more premium package.
**Winner: Apple AirPods Pro 2**
Apple AirPods Pro 2 vs Beats Fit Pro: sound quality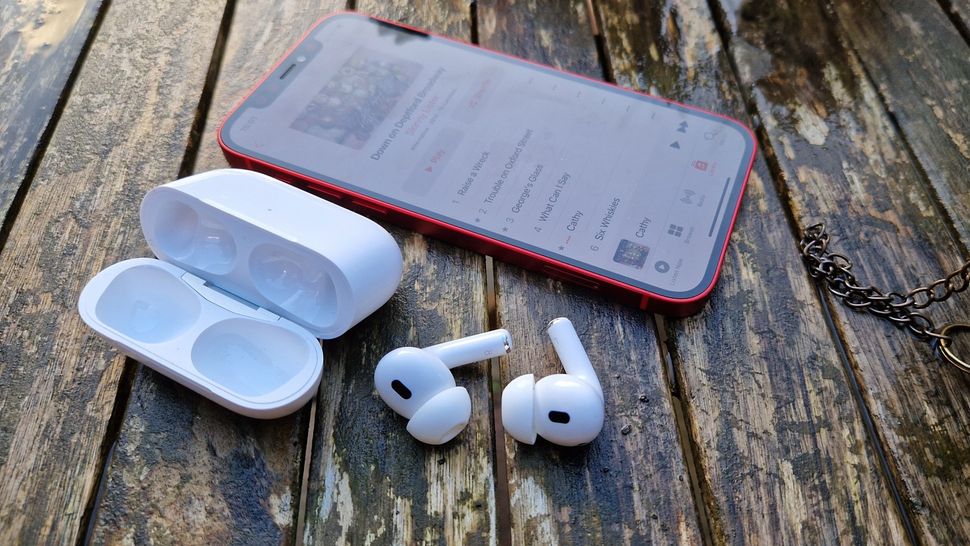 Of course, all the features in the world don't mean much if the wireless earbuds don't sound pretty great.
The AirPods Pro 2 excel in this department. In fact, they're the first in-ear AirPods to earn five stars from us. They take the clarity and tonal neutrality we heard in the original Pro, and add extra weight, richer detail and more dynamic subtlety to the mix. It's an engaging, nuanced listen with plenty of sonic authority.
How is this all possible? Thanks to the new low-distortion, high-excursion audio driver, transducer and high dynamic range amplifier found inside each earbud. These, combined with the H2 chip's sophisticated audio algorithms, make for a sound that's as compelling as any wireless earbuds we've heard.
So much so that they've pipped our long-time favourite Sony WF-1000XM4 for sound performance, rubbing shoulders with our Award-winning Bose QuietComfort Earbuds II.
Downsides? They still don't support high-res or higher-quality codecs, even though Apple offers these through Apple Music. This seems an odd choice - both AirPods Pro 2 and Beats stick with the standard AAC codec for Bluetooth streaming.
The poor Beats Fit Pro can't keep up with the same performance level. But don't feel too sorry for them – with their sporty look and lower price, they're a different proposition, and they do what they do very well.
Their sound is lively and enjoyable, perfect for powering through a 5k, but without the overbearing bass for which Beats was often maligned. Songs time well, with a pleasing presentation that ties the music together cohesively. There's a slight coarseness to the treble, but their upfront nature means that voices never get lost in the mix. We actually preferred their fun character to the original AirPods Pro, but the new AirPods Pro 2 do sound better and more capable in pretty much every regard.
**Winner: Apple AirPods Pro 2**
Apple AirPods Pro 2 vs Beats Fit Pro: verdict
From a quick scan of the 'winner' category in each section, it looks like a one-sided fight. But in reality, this one wasn't as straightforward as it seems.
That's because the Beats Fit Pro are a great alternative for those looking for iOS features in a colourful, workout-friendly package that's also compatible with Android devices. Or simply looking for an alternative to the AirPods' design, while reaping the benefits of Apple's features. Sure, they can't compete with their stablemate in terms of sound quality, ANC or premium features. But in a sense, they're not trying to.
Rather, Apple has played quite a canny move by positioning the Beats Fit Pro just below the AirPods Pro 2, and designing them for a completely different use case. Sure, the flagship Pro 2 are the better pair in almost every respect. But depending on your needs, you could be perfectly happy dancing to the Beats of a different drum.
MORE:
These are the best AirPods alternatives
See how Beats stack up in our Beats Studio Buds vs Beats Fit Pro
AirPods Pro 2 vs AirPods 3: which Apple earbuds are better?
AirPods Pro 2 vs Sony WF-1000XM4: which should you buy?