We can't guarantee that these headphones will give you that extra yard of pace or keep you going for 10 minutes longer, but if you're after a pair of headphones for running, cycling or the gym, these in-ears will deliver the goods.
In our sports headphone reviews we're still looking for the best-quality sound, but also have an eye out for some other crucial features, from comfort to water resistance via the inclusion of in-line mics and remotes.
What's more, all these sports earphones are available to buy at less than £50. Bargain.
MORE: Five of the best wireless Bluetooth headphones
Soul Electronics Flex
Five stars
Tested at £50 / Compare Prices
This is our favourite pair of sports headphones under £50.
You might not have heard of Soul Electronics, but the US-based headphone manufacturer has announced its UK arrival with a bang. It has brought its three-strong fitness headphones range across the Atlantic and, with the Flex, we have the in-ear model. And it's a winner.
There's a 1.2m cable, a clip for connecting to your kit, a sliding clasp for cable adjustment and an in-line remote that works with iPhones and Android phones.
Crucially, they sound punchy, musical and nicely balanced, clearer than rivals from Monster and Sennheiser, and with a decent amount of bass. They may be up against more established brands but their practicality and performance bring them out on top.
MORE: Soul Electronics Flex review
Audio Technica ATH-CKP200
Four stars
Tested at £30 / Compare prices
The last thing you'll want while exercising is the weight of headphones dragging you down - a fact Audio Technica is clearly aware of. These budget sports in-ears weigh just 9g, which is pretty impressive given their 'hanger' style.
Of course, a price that's cheaper than most pairs of running shoes means this isn't the flashiest pair of headphones. But they are comfortable, light and decent-sounding, which makes them good value and worth a look if you're on a budget.
MORE: Audio Technica ATH-CKP200 review
JVC HA-ETR40
Four stars
Tested at £35 / Compare prices
Despite coming in at a mere £35, these JVCs are the flagship model in the company's new in-ear sports range. They aren't just waterproof, but washable to IPX7 standards too - meaning you can give them a thorough clean under the tap after use.
The HA-ETR40s are an affordable in-ear option for your workout that nails both the comfort and the sound elements. These are a decent proposition for any fitness fan.
MORE: JVC HA-ETR40 review
Monster iSport Strive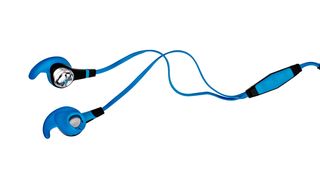 Four stars
Tested at £50 / Compare Prices
Each model in the three-strong Monster iSport range is defined by a different noise-isolation level. This lower-ranging Strive model delivers the lowest level of noise blocking - no bad thing, as joggers are able to hear both their tunes and the surrounding environment.
To look at, the Strives are stylish and sporty. Add in the safety-conscious design and a fine sound, and you have a pair of sporty in-ears that are well worth your consideration
MORE: Monster iSport Strive review
Sennheiser PMX 685i Sports
Four stars / Compare prices
Tested at £45
What better way to sell sports headphones than to join forces with one of the world's biggest sportswear brands? That's what Sennheiser has done here, collaborating with Adidas to produce the PMX 685i Sports - the pricier of its two neckband models.
The appearance might not be the most aesthetically pleasing and the layout of the three-button in-line remote might cause an issue, but these Sennheisers more than atone for their weaknesses with a great sound that's hard to pick holes in.
MORE: Sennheiser PMX 685i Sports review
MORE: Best headphones to buy in 2015
See all our headphone reviews