Best 55 inch TVs Buying Guide: Welcome to What Hi-Fi?'s guide to the best 55 inch 4K TVs you can buy in 2019.
For many people, 55 inches is the optimum size for a TV. It's the sweet spot between 48, 49 and 50 inch TVs and 65 inch TVs - more impressive visually than the former, more likely to fit in an alcove than the latter. And it's an increasingly popular size now that more and more of us are enjoying HD and 4K pictures.
If that's you, read on, because we've trimmed down our list of the best TVs to bring you a specific run down of the best 55 inch TVs currently available.
Take the time to make sure your choice of TV has the connections you need and the feature support to watch your favourite streaming services. You can rest assured all the below sets deliver great pictures, while some come with upgraded TV speakers or soundbars to offer high-quality sound, too.
Now, let's find you a new 55 inch TV!
MORE: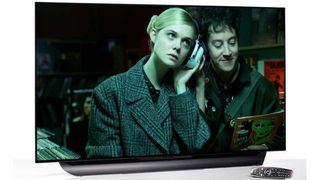 This LG 55 inch TV a What Hi-Fi? Award last year, and while it may have been superseded by this year's models, it's still an absolute corker of a television. The pedestal stand isn't just a looker, as its ridged mouth also funnels sound towards the viewer. The picture is superb, too, sharper, more detailed and punchier than the previous year's sets, and not far off this year's more expensive equivalent. It's the best 55 inch TV you can buy right now.
Read the full review: LG OLED55C8PLA
This 55 inch Philips TV is a dark horse. While it might not look anything that special, in terms of HDR content, it can hold its own against TVs costing three times its price. And when it comes to HD content, it can mix it with the best of them. Plus it has the brilliant Ambilight feature on board to draw you into the picture and make the whole viewing experience more immersive. Possibly the best value 55 inch 4K TV.
Read the full review: Philips 55POS9002
If you're after a 55 inch TV that also sounds great, look no further. This Panasonic TV comes with a soundbar made by Technics, making it one of the best-sounding TVs we've ever heard. But there's a lot more to it than just audio. The picture is stellar, with accurate colours that manage to be bright without ever looking artificial. Motion processing is on point too, making it ideal for fast-moving content like sports and action flicks. The ideal 55 inch partner for your summer of sport.
Read the full review: Panasonic TX-55FZ952B
Elegance is the order of the day here, and we're not just talking about this TV's Ambilight feature. Packed in is a level of detail that would put pricier sets to shame, while the contrast is next level good - there's a world of difference between the light and dark parts of the picture, lending the image real depth and realism. Even the sound manages to be satisfyingly deep and rich, which is all the more impressive when you consider how slim this TV is. First class.
Read the full review: Philips 55OLED803
Like the look of LG's C9 but want improved sound built in? This E9 could be just the ticket. It produces just the kind of picture we'd hope for and supplements it with impressive sonic aptitude.
This E9 has more speakers than its 2019 sibling (4.2ch compared with 2.2ch), more amplifier power (60W against 40W) and slightly different positioning (forward-firing vs down-firing). The result is a sonic performance unmatched by any soundbar we've tested below £500, and with no extra boxes or cables!
Read the full LG OLED55E9PLA review
This five-star set comes with a soundbar made by speaker specialist B&W, so as you would expect it sounds fantastic. The colours pop from the screen while never looking too sherbety or artificial, and it packs in detail in spades. It's the perfect complement to the audiophile-grade acoustics, which lend dialogue and sound effects so much more impact. Want a 55 inch TV but don't want to have to shop around for accompanying speakers? Buy this - you won't regret it.
Read the full review: Philips 55OLED903
The main difference between this TV and LG's C8, G8 and W8 ranges is that this one has a built-in soundbar, so you won't have to search the internet looking for some decent speakers. The stand makes it appear as if the telly is floating, while the picture quality is excellent - it has the same screen and processing tech as the aforementioned TVs, hence gives the same superb results. A convenient solution for those in search of upgraded audio.
Read the full review: LG OLED55E8PLA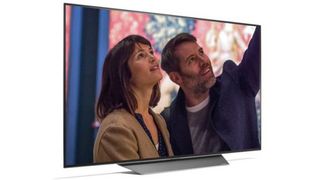 Newer LGs might have more advanced innards, but this one still has it where it counts. And because it's a little older, it can be found for just over a grand - that's superb value for a 55 inch TV. Especially one of this quality - colour tones are on the money, as is the shading. If you can live without having the latest and greatest - and we advise you do - last year's model comes highly recommended.
Read the full review: LG OLED55B8PLA
Incredibly thin, even by OLED's rather svelte standards, this TV is one of the most desirable Panasonic has made for years, albeit in a rather minimalist way. There are some missing apps (Google Play Movies & TV, for example), but otherwise it's a strong showing from the Panny. Contrast is excellent, painting a huge difference between light and shade, and the colours superb, while motion processing - albeit bettered by pricier sets - certainly holds its own for the price. Make no mistake, this is a superb TV.
Read the full review: Panasonic TX-55FZ802
Not every TV in this list is an OLED. Samsung has come up with its own rival technology called QLED, and this is its second-tier model, some £500 cheaper than its range topper. The main compromise is less brightness and backlight dimming, but you'll need to be pretty keen-eyed to spot the difference. It delivers an astonishing amount of detail, with AI upscaling a particular highlight. In other words, you won't be disappointed. And that £500 could buy you a very nice sound system to accompany your new telly...
Read the full review: Samsung QE55Q85R
This is an attempt by Samsung to pack its direct backlighting technology into a cheaper package than it's offered before. And the results are impressive - picture quality is very good indeed, with colours popping while remaining naturally balanced. The detail and edge definition are class-leading too, putting in one of the sharpest, most detailed 4K performances currently available. It also gives room for HD and standard definition content to shine. A great bet for your next TV.
Read the full review: Samsung QE55Q8DN