Looking for some budget true wireless earbuds? You can now pick up the Urbanista Stockholm headphones at a real bargain thanks to a new price drop at Amazon.
When the Swedish audio brand launched its Stockholm earbuds last May, they came with a price tag of £89. They have since been reduced across online retail sites to £69, but now, thanks to a new Amazon deal, they can be yours for just £29.94.
That's the newly discounted price of the black and white colourways, while the rose gold and olive green finishes are just a few quid more.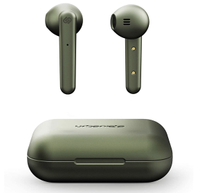 What will that modest spend get you? The Urbanista Stockholm earbuds offer 14 hours of total playtime – 3.5 hours in the buds themselves, which can be re-charged three times by the case. You can get a longer battery life from AirPods and other budget alternatives, but you'll have to spend a fair bit more in the process.
There's also Bluetooth 5.0 support and touch tap playback controls.
This is not a model we've tested, but if you're looking for the comfortable stem design for little money, the Urbanista Stockholm headphones are worth further investigation.
MORE:
Best cheap headphone deals: wireless, noise-cancelling and more
Best Apple AirPods alternatives
Listening to the intriguing, immersive and divisive Iris Flow headphones