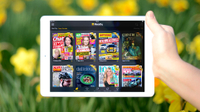 Sound+Image #349 is now on sale, featuring the best of the latest hi-fi and AV releases, in-depth reviews and features...
CEDIA AWARDS 2022
TOP SMART HOMES & HOME CINEMAS
With thanks to CEDIA Australia, we bring you a 24-page section celebrating the region's finest custom installation projects of the last year.
.
Reviews this issue...
AUDIO-TECHNICA SOUND BURGER portable disc player
40 years on from the original, Audio-Technica has revived and revised the Sound Burger portable vinyl spinner, in a cruelly limited special edition. Join the campaign for more Sound Burgers! Online preview here...
REVIVAL AUDIO ATALANTE stereo loudspeakers
A new brand arrives from France, a little nostalgic in their use of luscious wood on the outside, yet with a full dose of tech inside. Online preview here...
.
KEF LS60 WIRELESS active stereo loudspeakers
Not only are KEF's towers crazy slim, these are fully active streaming speakers which could be used as a complete system in themselves. KEF's Dr Jack Oclee-Brown talks us through the design as we take a listen.
.
SONY HT-A9 home theatre system
Full Atmos surround from four speakers and a little control box? We delve deep into Sony's innovative take on surround for the lounge.
.
SIMPLE SOUNDBARS
You can spend big on soundbars these days, but here we check out three solid performers at more affordable prices, including BlueAnt's sub-free bar, Yamaha's latest little bargain combo, and Samsung's new 'Ultra Slim' solution.
- BLUEANT XT100: Australian-designed, this bar-only solution delivers some impressive imaging.
- YAMAHA SR-C30A: A variation on a previous award-winner now comes with a subwoofer for deep cinema sound.
- SAMSUNG HT-S800B S-Series: The California audio lab comes up trumps again, shrinking the soundbar to an Ultra Slim solution.
.
THEORY AUDIO DESIGN home cinema speaker system
We're invited to hear Theory's unusual amp-and-speaker speaker system in situ, and we interview its designer Paul Hales.
.
BOWER & WILKINS Px8 '007 edition' wireless noise-cancelling headphones
The flagship headphones from B&W are already pricey, and opting for '007' livery adds still more. Can their performance deliver a licence to thrill?
.
News, comment & features
comment
PINK FLOYD SONGS IN A BLUEGRASS STYLE
Now that art is smart, will music follow? Let's perhaps hope not, says the Editor.
News
- Yamaha returns to orthodynamics
- Ruark's R2 tabletop music system
- Marshall mini speaker
- Bluesound's latest Pulse M wireless speaker
- Is Europe about to ban 8K TVs?
- TCL brings Roku to Australia
- BusiSoft takes Clearaudio
- Audio-Technica's anniversary gear is hi-fi porn
- aptX Lossless explained
- Ohms from home
- New Epson projectors
- Sonus faber's custom Arena series
- Focal gets dirty in the garden
hi-fi history
INTO ANOTHER DIMENSION
One US visionary and a group of European distributors came up with an idea to produce affordable hi-fi with a focus on sound. It gave hi-fi a New Acoustic Dimension – or NAD for short.
retailer recommendation
$22k VINYL & STREAMING SYSTEM
Audio Connection's team puts together this issue's dealer system, combining KEF speakers with the vinyl and streaming talents of Linn.
interview
PAUL HALES, THEORY AUDIO DESIGN
After hearing Theory's home cinema system we had some questions, so we asked the company's designer and founder to explain.
CEDIA Awards 2022
TOP SMART HOMES & HOME CINEMAS
With thanks to CEDIA Australia, we bring you a 24-page section celebrating the region's finest custom installation projects of the last year.
music
NEW RELEASES
Cool new stuff from Neil Young and Springsteen; old stuff from Hendrix, Sabbath, and Eric Burdon.
CLASSIC TRACK
The intro is unfathomable, yet Led Zeppelin knocked off Rock And Roll while taking a break from the more complicated Four Sticks.
It's all in the Jan-Feb issue of Sound+Image - along with a chance for subscribers to kick off the summer with a prize JBL PartyBox! The magazine is available in newsagents now, and digitally through multiple platforms, including Readly, where you can peruse Sound+Image and thousands more Aussie and international magazines with a 1-month free trial, then AU$9.99p/m.