It isn't easy picking the right turntable to take on your mammoth collection of vinyl records, but that decision might have become a tad easier courtesy of Amazon UK and Audio-Technica. If you want a good-looking, fun-sounding turntable that's a pleasure to use (with the added bonus of Bluetooth streaming), you could certainly do worse than the Audio Technica AT-LPW50BTRW, now available for just £394 at Amazon UK.
For UK customers, it's a saving of around £25 from the initial launch price of £420. If you're in the market for a new record player but have been waiting for prices to drop a little before committing, this could certainly be the deal for you.
Best Audio Technica AT-LPW50BTRW deal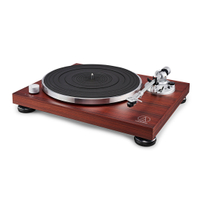 Audio Technica AT-LPW50BTRW £420 £395 at Amazon (save £25)
This Audio Technica Bluetooth turntable impressed us with its smooth, easy-going sound, fine build quality and effortless usability. Now that it's dropped in price, this could be the ideal time to invest.
When we reviewed the Audio Technica AT-LPW50BTRW in the spring of this year, we awarded the impressive turntable four stars and complimented its coupling of excellent build quality with likeable sound and seamless usability. If you're hunting for a new player and haven't made up your mind yet, the Audio Technica's generous discount certainly makes it worthy of your attention.
It's a lovely item, too. The AT-LPW50BTRW looks smart and assured, its rosewood finish giving a really great sense of refinement in addition to some excellent overall build quality. It's not quite a plug-in-and-play affair, but once you're up and running you'll find using it an absolute breeze no matter how many times you dig out a new record for the AT-LPW50BTRW to try.
The four-star turntable also has Bluetooth streaming and a phono preamp built-in, although you can bypass the internal phono stage to use a separate external stage or the one in a stereo amplifier. Either way, it's nice to have the option.
Sound-wise, the AT-LPW50BTRW offers an easy-going, truly enjoyable listen, and while it may face competition from the superb Rega Planar 1 Plus at this price, the Technica's combination of neat features, pleasant design and enjoyable audio all converge to make it a smart choice.
There's not much that the AT-LPW50BTRW can't do, giving you so much of what you'd hope to see in a turntable at this price. Now that said price has dropped by a decent margin, it's undoubtedly a spinner to consider.
MORE:
Read our original Audio Technica AT-LPW50BTRW review
Discover 18 songs that sound their best on vinyl
Read our review of the Rega Planar 1 Plus