If you've been eyeing up Apple's AirPods Pro 2 wireless ANC earbuds but can't stretch to the £249 / $249 price tag, well I've got good news. Among the Amazon Prime Day deals, Apple's premium earbuds can be found with a hefty discount. In fact, they're down to their lowest price ever of just £209 at Amazon UK and $199 at Amazon US.
Apple rarely drops big deals on its products, and even when it cuts the price of its headphones, we normally only see a tiny amount sliced off the full price. This is why I don't think you should ignore the current sale price.
Remember Prime Day ends tonight at midnight, so there's a good chance this deal might disappear and if it does, I'm not sure if it will be back, in the short-term at least. I'd suggest striking now because this price feels as low as they'll probably go for quite a while.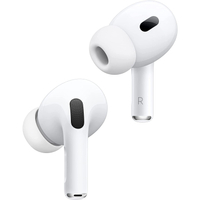 The earbuds really impressed us with their feature set and excellent sound quality when they launched back in September 2022, so much so that we rewarded them with a glowing five-star review.
In our Apple AirPods Pro 2 review, we gave these wireless earbuds five stars and complimented their clear, detailed sound, excellent noise-cancelling and awesome battery life. If you're in the market for a new pair of wireless earbuds and are especially invested in Apple's ecosystem, I think it goes without saying, the AirPods Pro 2 have to be near the top of your list of earbuds to try.
On the design front, the 2nd Gen buds largely mirror their predecessor's design save for the tweaked positioning of the vents and microphones. Apple did, though, build touch controls into the stems which allow you to swipe up or down to change the volume. Apple also added a pair of XS eartips in the box so you now have four to choose from to optimise fit.
Battery life got a bump from 24 hours to 30 but thanks to the updated charging case, more importantly, so did noise-cancelling courtesy of a new "low distortion" driver and H2 chip. Personally, I think these are up there with the likes of Sony and Bose as some of the best noise-cancelling earbuds you can buy right now.
Not only is the ANC now among the very best in its class and a rival to the Sony WF-1000XM4 and Bose QuietComfort Earbuds II, but so too is sound quality. I certainly haven't heard a pair of in-ear AirPods sound as musical, detailed or powerful. They really are a fantastic, fun listen!
All in all, the new AirPods Pro 2 are a great pair of premium wireless earbuds in their own right and work brilliantly with other Apple kit. And, thanks to these brilliant Amazon deals, you've got a chance to get hold of a pair for a pretty reasonable price.
MORE:
Apple AirPods Pro 2 vs Sony WF-1000XM4: which wireless earbuds are better?
This 48%-off Bose headphones Prime Day deal is excellent... but I've found better
See the best Prime Day deals UK live right now
Want earbuds or have a different budget? Check out our pick of the best Prime Day headphones deals