Sony's TA-AN1000 really shook up the home cinema amplifier category of the What Hi-Fi? Awards this year. The performance it offers at its £999 price was enough to knock out not just one, but two Denon AV amps.
Unfortunately, the TA-AN1000 has had no discount at all for Black Friday or the imminent Cyber Monday deals. Not even a penny off. On the other hand, the price of the Denon AVC-X3800H has absolutely plummeted – you can now buy it for just £699 at Sevenoaks.
To be totally clear, this is an absolutely incredible deal. The AVC-X3800H launched at a price of £1499, and it was at that price that we gave it five stars in our review and then gave it an Award. With an overall discount of £800 / 53%, it's a steal, and definitely worth buying over the Sony.
Denon AVC-X3800H AVR Black Friday deal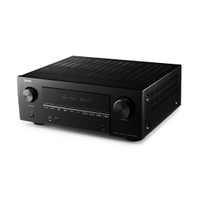 Denon AVC-X3800H AVR was £1499 now £699 at Sevenoaks (save £800)
The Denon AVC-X3800H AVR is a class AVR. It earned five stars from us, as well as a much-coveted Product of the Year Award in 2022 for Best Home Cinema Amplifier. This is a great opportunity to bag it without the hefty price tag.
What Hi-Fi? Award winner
Go for this deal and you won't be disappointed. The Denon AVC-X3800H sounds warm, rich and more muscular than even this year's home cinema amplifier product of the year, the Sony TA-AN1000.
You get three HDMI outputs, support for 8K or 4K 120Hz video on all HDMI inputs, HDR10+ and additional coaxial and optical inputs.
MORE:
Cyber Monday 2023: the best UK deals
Best AV receivers 2023: the top home cinema amplifiers we have tested