You might imagine that Team What Hi-Fi? uses audio and AV kit we have reviewed and like on a daily basis, whether that's review samples we are fortunate to loan long-term or products we have gone on to purchase ourselves – and you'd be right.
One of my, and perhaps also your, most-used audio products is a pair of wireless earbuds, specifically in my case Sennheiser's Momentum True Wireless 3. They might not be What Hi-Fi?'s most recommended earbuds of their premium ilk – that'd be the pricier Sony WF-1000XM5 and Bose QuietComfort Earbuds II / QuietComfort Ultra – but I get on so well with these that I've not been tempted to make the switch. I like their sonic refinement, fit and battery life, and hey, I'm a sucker for a fabric-covered case.
So I'm here to tell you that if you can't afford the Sonys or Boses and, like me, are fond of an open, pure sound character and long-lasting durability, these Sennheisers are particularly great alternative buys today thanks to their 27-46 per cent Prime Day 2 discount in the UK, US and Australia.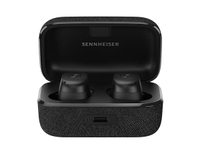 When I and others in the What Hi-Fi? reviews team tested Sennheiser's latest premium wireless earbuds upon their arrival last year, we were impressed by their combination of a spacious, refined and insightful sound, above-average battery life (28 hours), aptX Adaptive Bluetooth support and a comfortable, lightweight design. Yes, these third generations don't look quite as premium as their predecessors, and they don't block wind noise as well as some others can, but overall we couldn't do anything but slap a five-star badge on them. And the more I've used them – and others for testing purposes – since, the more I've realised how their fit just works for me.
The obstacle to them winning a What Hi-Fi? Award was the slightly better sound quality offered by the then-similarly priced Sony WF-1000XM4, which despite being surpassed by the XM5 are, by the way, just about still available – £179 in the UK, $228 in the US, and AU$400 in Australia. If you can stretch your budget to them, go for it – you won't be disappointed.
But if it can't, know that you'd be getting your money's worth (and then some!) from the Sennheiser Momentum True Wireless 3 at today's heavily discounted price. They offer premium performance and noise-cancelling at an asking price much closer to that of the budget buds crop. I like them and I believe you will too.
MORE:
Read our Sennheiser Momentum True Wireless 3 review
See more of the best Prime Day 2 headphones deals live right now
Have a tighter budget? Sony's Award-winning cheap wireless earbuds are half-price in the Amazon Prime sale