LG's OLED TVs are always easy to recommend, but with Black Friday discounts dropping the 42-inch and 55-inch C3 models to their lowest-ever prices, it just became easier than ever.
Let's start with the smaller of the two. With very few high-end rivals at this size, the LG OLED42C3 is likely to be on a number of shopping lists, so the £600 saving on its launch price is sure to be tempting.
In our four-star review, we praised the 42-inch model for its sharp, solid and detailed picture, brilliant contrast, and best-in-class gaming specification, but at full price it made more sense to pick up last year's model at a discounted price. With this price cut from around £1500 to £899, the C3 is now the obvious choice, particularly considering the C2 costs about the same and can be harder to find.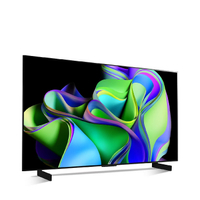 There are some things to be aware of before you hit that 'buy' button though. The feet on the 42-inch C3 don't raise it far off the surface it's sitting on, so even a relatively low-profile soundbar, such as the Sonos Beam Gen 2, will block off a thin sliver of screen across the bottom. It's unlikely to mean you'll miss anything crucial, but with the built-in speakers being typically underwhelming (as they tend to be with most modern TVs, particularly those with more compact chassis) some augmentation for the audio really is a must with this telly.
Elsewhere, the 55-inch LG OLED55C3, which is also available at its lowest-ever price, has more competition but it's still well worth considering if you're in the market for a new TV.
It launched at £2099, but more recently has been available for £1299. We haven't reviewed the 55-inch version specifically, but we awarded the 65-inch model four stars when it passed through our testing rooms earlier this year. This one has the same pedestal design as its larger sibling, which should eradicate the height issue encountered with the 42-inch model, and it packs in the same impressive set of features, including four HDMI 2.1 sockets, which all support 4K/120Hz, VRR and ALLM, so it's a good choice for gamers.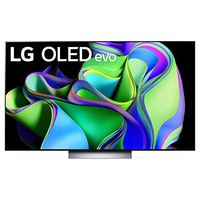 LG OLED55C3 was £1299 now £1195 at Amazon (save £104)
The 55-inch version of LG's C3 sits in the middle of its OLED range and offers all the same features as the larger models, including a bunch of console-friendly specs that make it a great option for any gamers.
The LGOLED55C3 is now available on Amazon for £1195, an 8 per cent saving on its previous price, and while we would still recommend the Award-winning Sony A80L over the LG, that will set you back £200 more, even after an extra Black Friday discount of 6 per cent.
The 42-inch LG C3, meanwhile, is available for £899 from Richer Sounds and Sevenoaks Sound & Vision – that's £100 less than it was being sold for this time last month.
Read more:
Black Friday 2023: the best UK deals already live
The 5-star Sony A80L's price has dropped – but there's a better Black Friday OLED TV deal