LG's superb G2 OLED TV has hit the lowest price we've seen. You can pick up the 65-inch model for just £1849 at Appliances Direct – that's a saving of a whopping £1450 on the launch price.
Naturally, this discount comes with the G3 poised to hit the shops in the coming weeks. But that doesn't detract from the fact that the G2 is an absolutely awesome TV in its own right.
Best LG G2 OLED TV deal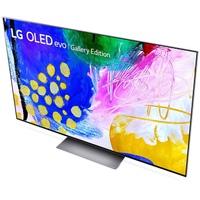 LG OLED65G2 2022 OLED TV £3299 £1849 at Appliances Direct (save £1450)
The G2 offers one of the best 4K picture performances of any 2022 TV, boasting not only OLED Evo technology, but also an added heatsink that allows the panel to be pushed to even brighter levels. The design is also lovely (though bear in mind that a wall bracket is included but a stand is not) and every gaming feature imaginable is supported.
The G2 is LG's best OLED TV of last year. It's a premium TV aimed at the most discerning of viewers, which makes this price cut all the more tempting. It still has the same Evo technology as the cheaper C2, but it also boasts an added heatsink that allows the screen to go even brighter.
It certainly looks the part, with a two-tier design that features a high-quality metal 'wrap' around the sides of the front tier. It's able to be hung almost flush to the wall using the supplied wall mount, but if you want a stand you'll have to buy one separately.
Picture quality is something else. It is noticeably brighter than the C2 or G1, but without washing out the colours. The brightest 'peaks' of an HDR image have more purity, brightness and 'gleam' – so elements such as sunlight reflecting off metal look absolutely stunning. But it's not just the little details – the overall brightness of light, full-screen HDR content is also boosted, adding to the realism.
Add to that unparalleled gaming skills, superb upscaling, excellent contrast and ultra-wide viewing angles, and you've got quite a viewing experience. At this price, it'd be rude not to.
MORE:
Check out our list of the best Samsung deals
Or our list of the best 65-inch and 75-inch TV deals
As well as our collection of the best PS5 deals
Our cream of the crop best TV selection