The Sony WF-1000XM4 wireless earbuds have never been so cheap. Thanks to a combination of the Black Friday sales and the recent arrival of their successors, the Award-winning Sony WF-1000XM5, the 1000XM4 are enjoying their last days in the sun. That might be bad news for anyone sentimentally worrying about these venerable old buds being sent out to pasture, but it's great news for those of us who know when they've seen a great deal.
And this is a great deal. So great, in fact, that it's the biggest drop we have yet seen for the Sony WF-1000XM4. Released at around £250, they're now just £150 at Amazon, which translates as 40% off their original RRP.
When we say stocks won't last, though, it isn't just a gimmick to push you to a purchase. The XM4 are an old model, and Amazon and other retailers' claims that stocks are low should be taken at face value.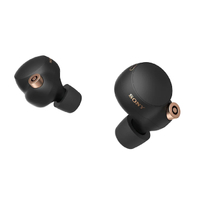 Sony WF-1000XM4 was £250 now £150 at Amazon (save £100)
Sony's formerly Award-winning wireless earbuds are still very much the real deal, but the fact that they've fallen to their lowest price ever implies that their time might nearly be up. Anyone looking for a smart investment on some of Sony's best-ever sounding buds needs to get over to Amazon and pick up a pair.
What Hi-Fi Award winners
Read our Sony WF-1000XM4 review
The Sony WF-1000XM4 are still a marvellous pair of earbuds, even with the arrival of the new five-star WF-1000XM5 stealing their thunder. During testing, we found them to be comfortable, pleasant to use and packed with premium features (noise-cancelling and call quality are excellent, by the way).
They also sound superb, delivering one of the most entertaining, dynamic and punch performances we've ever heard in this area of the market. In terms of bringing out the soul and passion of your music, the XM4 really are tough to beat, even by their newer replacements.
As we stated in our review, "while they are still available to buy they are still very easy to recommend at their discounted price". That availability won't last forever, so hurry over to Amazon before it's too late!
MORE:
Read our original Sony WF-1000XM4 review
Sony's WF-1000XM4 wireless earbuds just received a major upgrade
Bose QuietComfort Earbuds II vs Sony WF-1000XM4: which are better?
I've found 14 unmissable Black Friday deals on What Hi-Fi? Award 2023 winners