While Apple's flagship AirPods Pro 2 buds have come down in price to under £200 this Black Friday, that's still quite a lot of money to spend for many.
Instead, how about taking a look at the entry-level pair? The most basic wireless earbuds that Apple sells, the AirPods 2 (2019) are now at their lowest price yet at just £99 at Amazon and John Lewis.
Apple's AirPods very rarely go under the £100 mark, but Black Friday is the only time we've previously seen these 2nd generation AirPods go that low. if you're an iPhone user, AirPods are a no-brainer thanks to their seamless integration with iOS and decent sound. While we much prefer the sound quality of the flagship Pro 2 (as well as the cheaper Sony WF-C500 rival), sometimes a good deal on a pair of AirPods is just what you need.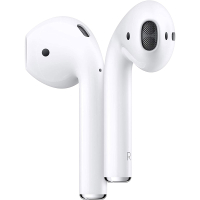 Apple AirPods (2019) was £120 now £99 at Amazon (save £21)
The second-gen AirPods offer up a superb wireless experience for Apple iOS users. They sound very decent, fit comfortably (for most), and bring solid improvements over the first-gen model. An under £100 price is always a welcome deal for AirPods.
Deal also at John Lewis
Apple's AirPods hardly need any introduction – we've been used to seeing the iconic white buds poking out of people's ears everywhere for years now. So if you're after a cheap (or even backup) pair, now's a prime time to buy before they inevitably lose this tasty discount.
This AirPods deal is on the second-gen model as opposed to the newer AirPods 3 (£149), but despite no longer being the latest and greatest standard AirPods, they still remain an excellent buy if you'd rather save money and grab a bargain over getting the spatial audio support, a little extra sound quality and slightly more battery life offered by the pricier new AirPods.
We gave the second-gen Apple wireless earbuds four stars in our AirPods (2019) review, complimenting their agreeable sound, 24-hour total battery life and their faultless wireless tech for iOS users. While recognising that they aren't the very best wireless earbuds around for sound quality nor do they have ANC, we still liked them at their original £159 price. That price has lowered to around £129 in recent years, so this new £99 Black Friday AirPods deal price is even more attractive. For iOS users in the market for a pair of ultra-portable buds, this is worth considering.
MORE:
Which headphones should you buy on Black Friday? Our experts offer their advice
Want a cheaper alternative? Sony's most affordable earbuds have plummetted to their lowest price yet
Prefer the flagship AirPods Pro 2? Amazon has lowered the AirPods Pro's price to under £200, but I've found a better deal elsewhere
Check out all the Black Friday headphones deals in one place