While Black Friday is officially this Friday, 24th November, the Black Friday sales are already in full swing and there are some TV deals we don't expect to get beaten.
Right near the top of that list is the deal on the What Hi-Fi? Award-winning Sony A80L OLED TV, which can now be picked up for just £1399 at Amazon.
That price is thanks to an extra £100 that has been lopped off in recent hours, and it means the TV has dropped an incredible £1000 since launch just a few short months ago. In other words, this is an exceptional deal on the best performance-per-pound TV of the year.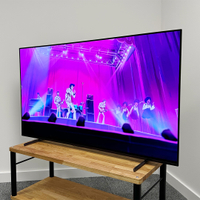 Sony XR-55A80L 2023 OLED TV £2399 £1399 at Amazon (save £1000)
Our favourite performance-per-pound TV of 2023 so far, the Sony A80L uses standard OLED technology to amazing effect, delivering a picture that balances the spectacular with the cinematically subtle with absolute aplomb. It sounds good by TV standards, too, and has a solid gaming feature set.
It's fair to say that all of the TV buzz this year has been around the new MLA and second-generation QD-OLED models, such as the LG G3 and Samsung S95C respectively, so the Sony A80L – which features neither technology – snuck out with fairly minimal fanfare. However, when we got it into our test rooms we quickly discovered that it's a rather special TV.
This is a TV that proves that 'standard' OLED technology (often referred to as 'WOLED' because of its use of a white sub-pixel) is capable of absolutely stunning results when it's tuned with care and attention. The A80L produces an image that pops with vibrant colours and superb contrast, yet combines that with a naturalism and subtlety that means you're always seeing movies and TV shows as intended.
The Acoustic Surface Audio+ technology, which uses actuators that vibrate the whole screen in order to make sound, ensures that the audio and imagery are spatially connected in a way that non-Sony TVs can't match, and the A80L sounds direct, detailed and open by general TV standards, too.
In a year in which LG's new C3 has barely moved things on since last year's C2, the A80L is a startling step forward and the best performance-per-pound TV of the year so far, particularly with this discount. You might still want to consider the LG C3 if you're a hardcore gamer, though, as it has four HDMI 2.1 ports (the Sony A80L has just two, of which one also handles eARC duties) and supports Dolby Vision gaming and HGiG, which the Sony doesn't. For everyone else, though, the Sony A80L is a brilliant buy.
MORE:
Read our review of the Sony A80L (XR-55A80L)
Our picks for the best OLED TVs in 2023
The best 55-inch TVs: smart, HDR, 4K, and OLED options