Somebody you really love? A friend you need to impress? Deserve a treat of your own this Christmas?
Whatever your reasoning for spending up to £500 on a single gift this year, it'll feel a lot more expensive if you get the wrong one. And that's why we're here. Whether it's a pair of speakers, a portable DAC or a 4K telly you're after, this page is designed to give you a nudge in the right direction.
If last Christmas you gave them a Scart, the very next day they threw it away. Hopefully these gifts will fare a little better.
Fyne Audio F302 floorstanding speakers
Fyne Audio made a real splash with some very competitively-priced loudspeakers this year, including these Award-winning floorstanders. Somewhat re-writing the rules of performance you can expect from a pair of sub-£400 towers, the F302s are full bodied, musical and wildly entertaining.
Denon D-M41DAB microsystem
We aren't entirely sure what kind of sorcery Denon uses on its micro systems, but we're big fans. Partnered with a suitable pair of budget loudspeakers - or Denon's own SC-M41 standmounters - the D-M41DAB is one of the finest all-in-ones out there.
Audio Pro Addon C10 wireless speaker
Audio Pro again took home three wireless speaker prizes at this year's What Hi-Fi? Awards, including a Product of the Year gong for the Addon C10. The largest of the company's boombox-style speakers, the C10 combines impressive scale with Audio Pro's now famously musical presentation.
Ruark Audio MR1 Mk2 desktop speakers
Gorgeous looks, streamlined design, impressive features and excellent sound quality, the Ruark Audio MR1 Mk2s are brilliant desktop speakers for the money. And the fact they're well under £500 is the icing on the Christmas cake.
Sony UBP-X700 4K Blu-ray player
Ah yes, there is absolutely no better start to Christmas Day than a bottle of port with a Christmas film. Or is there? What about if that Christmas film was on 4K Blu-ray? Costing less than £200 – so plenty spare to spend on discs to use it with – the Sony will wow you with its crisp, detailed picture and natural colour balance.
Philips 50PUS6703 4K TV
Of course, a 4K Blu-ray player is redundant without a television capable of displaying its picture. For less than £500 you won't find better than this 50-incher from Philips, which matches the Sony machine with its own keen eye for detail and a dynamic image. Even in HD and standard definition, the Queen's speech will be delivered with such clarity it'll be like looking at the back of a five pound note.
Sony WH-1000XM3 wireless headphones
We imagine there will be a fair few pairs of wireless headphones being unwrapped this Christmas morning, but not many will be received with such gleeful gratitude as these on-ears from Sony. Our Product of the Year in 2018, the WH-1000XM3s offer a natural-sounding, rhythmic and dynamic performance, and noise-cancelling good enough to block out Grandad's post-dinner snoring.
Bluesound Node 2i streamer
Coming in just under budget, the Node 2i is one of the most impressive performers from Bluesound's latest generation of multi-room products. It adds myriad streaming services to your hi-fi system with a highly detailed and entertaining presentation.
Chord Mojo DAC
Delivering much of the sound of its big brother, the Chord Hugo, but at a fraction of its near two-grand price tag, the Mojo is a true feat of hi-fi and engineering. Our favourite DAC costing between £300 and £500, it remains streaks ahead of the competition in just about every facet of its performance.
Beyerdynamic Amiron home headphones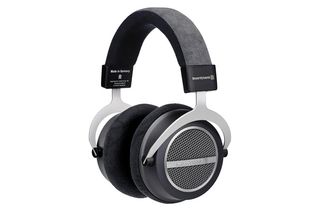 Beyerdynamic's Amiron home headphones just squeeze into this price bracket, thanks to a rather generous discount on their original £545 price tag. But they'd be worth altering your budget for regardless – clear, insightful and better organised than the Filofax Christmas party.