Whether you're a long-standing vinyl fan hankering after an upgrade, or want to buy your very first turntable, there's almost certainly a record player here with your name on it. From budget to premium, and starting at under £100, there are some real bargains here.
With the vinyl revival momentum continuing, we expect to see turntable deals over Black Friday and Cyber Monday, and if you spot any of the decks on this page even further reduced, then it might be time to take the plunge...
The best turntable deals right now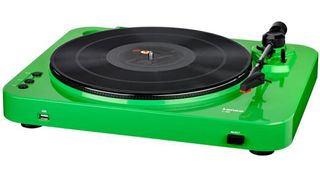 Lenco L-85
Easy set-up
USB recording
Built-in phono stage
The Lenco L-85 is a great starting point to get into vinyl at a knockdown price. Flashy colours and extra features are a bonus - there's a built-in phono stage so you can connect to any amplifier or powered speakers, while the USB output allows you to rip a digital copy of your records.
Unless you're prepared to spend over £200, we can't think of another record player that combines features and user-friendliness to such a good degree.
Pro-Ject Primary
Easy set-up
Entertainingly clean, balanced and up-for-it sound
Well built
The long-time king of the budget turntables is still a force to be reckoned with - and now at a reduced price. There are a lot of Pro-Ject record players on the market and the good news is they're all pretty good. This one is perhaps the sweetspot for affordability and performance. There's no built-in phono stage, so you'll need an amplifier that has a phono input, but otherwise you're met with simple set-up and great sound. If you're on the market at under £200, you can't go far wrong.
Sony PS-HX500
What Hi-Fi? Awards 2018 winner
Rips vinyl in hi-res audio quality
Big, spacious sound
Built-in phono stage
Want to rip vinyl to hi-res? Of course you do. This entertaining turntable has that ability, sounds great while it's doing so and these days is a serious bargain. On the design front, this turntable hasn't followed in the fashionable footsteps of Sony's colourful Walkmans, instead copying the minimalist approach of rival decks around this price.
Again, a phono amp is included, which means you can connect straight to powered speakers or the phono connections on a stereo amplifier. Once up and running, regardless of whether you want to rip vinyl, this turntable delivers a lively and revealing, detailed sound.
Audio-Technica AT-LP3
Built-in phono stage
Fully automatic tonearm
Entertaining, musical sound
Easy to upgrade
One of the best affordable automatic turntables we've heard. As well as being fully automatic, meaning you need only press a few buttons for the needle to move and your record to play, it has a built-in phono stage, a simple set-up and an removable cartridge if you want to get technical and upgrade it (you don't need to).
You can spend more money and get a little more detail, slightly smoother edges to notes, and even more transparency, but for most people, and most music systems, the sound quality on offer is more than satisfactory. Audio-Technica favours a fun, easy to listen to sound, which works to a tee.
Roberts RT100
Good build, striking design
USB recording
Built-in phono stage
Roberts is better known for its radios and it's fair to say elements of this turntable don't quite hit the mark, but it has its strengths. For starters, you might be smitten by the wooden design, and we wouldn't blame you - it's well put together, too. Then there are the features: phono amp, USB, semi-automatic platter, which spins as you move the tonearm.
Sonically, the other turntables on this list are all a bit better. The deck's sense of timing and dynamics not matching rivals, which means the music just doesn't quite hold together as well. But with a drop in price, you might be able to forgive that, not least if form and function are your main concern.
The best deals on the best turntables
Want the best-in-class record player at your chosen price point? Below you'll see all our favourite, five-star turntables and where you can find the cheapest price on each one.