Music makes most things better in our experience and if ever there's a time that you could do with a pleasant distraction, it's when you're getting a sweat on in an effort to burn a few calories.
Whether you like going to the gym, running or working out at home, we suggest a musical accompaniment. And, to avoid that irritating bouncing cable, why not opt for a wireless pair of headphones?
From true wireless buds that completely remove the wire, to in-ear wireless earphones and even wireless on-ears, these are the best headphones for running and the gym.
See all our headphones reviews
True wireless under £150
We had to wait a while for a five-star pair of truly wireless earphones but Sony finally delivered the goods with the WF-1000X buds. The sound is excellent and you even get decent noise-cancelling to help drown out your gym's music selection.The neat carry case doubles as a charger and can be used to stretch out the battery life to nine hours. You also get the benefit of voice-controlled Google Assistant and Siri. The best headphones for the gym? Quite possibly.
In-ear wireless under £150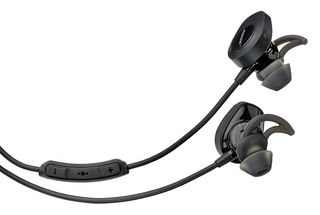 Theses are some of the best-sounding, most reliable wireless in-ear headphones you'll find for under £150. There is a soft neckband cable between the two buds, each of which uses an in-ear hook to keep them in place.We like the design here, complete with lightweight remote, and they're sweat-resistant and IPX4 splashproof, too. The battery life is a modest six hours but we'd imagine that'll do most people for a few work outs.
On-ear wireless under £100
These Lindy headphones blew us away when we first heard them. We weren't sold on brand name alone but a thorough reviewing later and we were sold on their skills for such an affordable price.If you prefer on-ear cans in the gym, then these deliver good wireless sound and decent noise-cancelling, all for just £79. Of course you get what you pay for, and much more expensive headphones will deliver better all-round sound, but for this price they're hard to fault.
On-ear wireless under £200
A 2017 Award-winner, these AKGs are compact, convenient and surprisingly affordable considering what's on offer. They're a headband design, which won't work for most runners, but is increasingly popular with gym monkeys. The noise-cancelling is impressive and the AKG sound is dynamic and punchy - almost giving the wired counterparts (N60NC) a run for their money.
MORE:
Best in-ear headphones 2018: wired, wireless, noise-cancelling
Best headphones deals: wireless, noise-cancelling, in-ear and more