Sometimes it seems as though wireless earbuds are taking over. What once seemed like a niche product aimed at techies who didn't know a thing about sound quality has soon become a mainstream proposition. As the technology has improved, so has the sound quality – and at the same time prices have come down. No wonder so many people are cutting the cord and going truly wireless.
The tech has come on so much that noise cancellation is now a common feature in true wireless earbuds. It's also one of the biggest selling points of Apple's AirPods Pro. But Apple's buds aren't short of competition. One of its main rivals is the Bose QuietComfort Earbuds – a premium pair of noise-cancelling buds wrapped in a sleek design.
But do they beat Apple's best? Which US firm comes out on top, hi-fi stalwart Bose or audio newcomer Apple? And – crucially – which earbuds have the most effective noise cancellation? Let's see how the two pairs compare...
Bose QuietComfort Earbuds vs AirPods Pro: price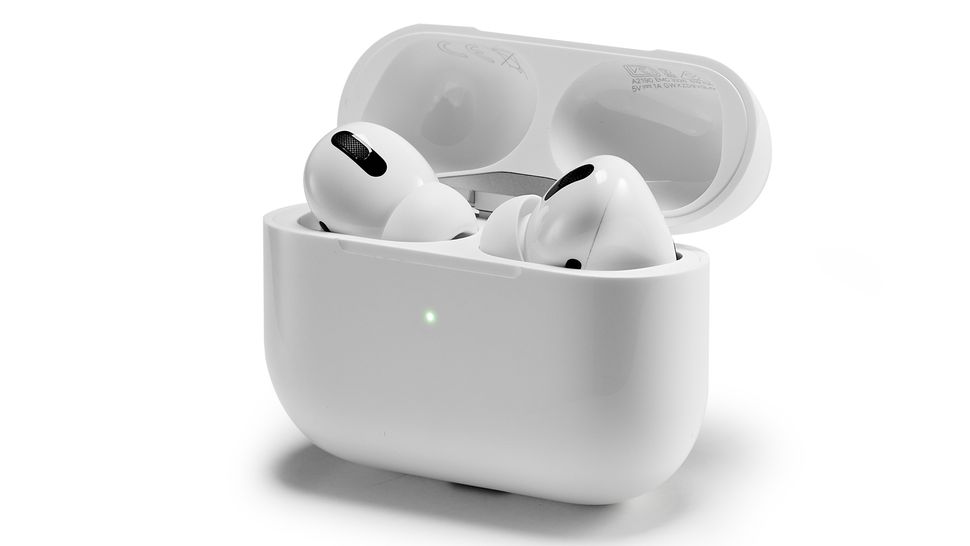 The AirPods Pro are Apple's top-end wireless earbuds, and as such they don't come cheap. They currently retail for £249 ($249, AU$399), though there's a good chance you can find an AirPods Pro deal somewhere and save up to 20 per cent on that RRP. Students can also get them free with certain Mac or iPad purchases – see the Apple site (opens in new tab) for more info.
The Bose QuietComfort Earbuds come in at just £1 more expensive in the UK at £250, though in America they're $20 more, at $280. You might find them with a small discount, but so far in their lifespan, big savings have been few and far between.
As such, this round goes to Apple. Just.
**Winner** Apple AirPods Pro
Bose QuietComfort Earbuds vs AirPods Pro: battery life
One of the downsides of any wireless device is that they need to be charged up. But with a total of 24 hours of run time per charge, the AirPods Pro are one of the longer-lasting pairs around.
You don't get the full 24 hours all in one go, of course. The buds themselves have five hours of battery life; the supplied carry case provides a further 19 through multiple charges. So while you can't listen for 24 hours straight, you can go that long without needing to find a plug socket.
The Bose QuietComfort Earbuds don't fare quite so well. The buds have six hours of juice in them, while the case gives another 12, making for a total of 18 hours. Still no slouch though.
Both pairs boast quick-charging tech: with the AirPods Pro, a five-minute blast gives you an hour's listening, while Bose's earbuds promise two hours of music time from a 15-minute juice-up.
**Winner** Apple AirPods Pro
Bose QuietComfort Earbuds vs AirPods Pro: design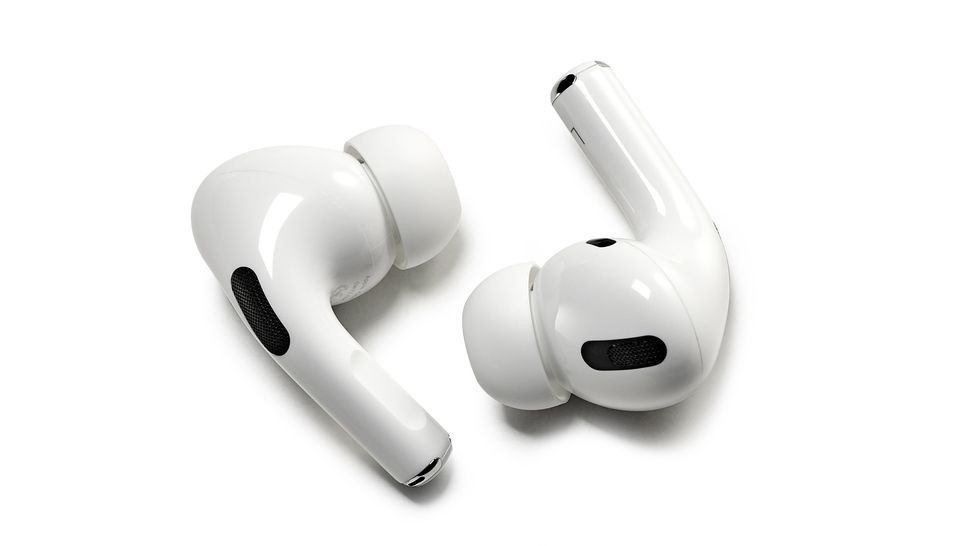 Aesthetically, the two are quite different. Apple's are all white curves and glossy finishes – typically Apple, in other words. Bose's are a bit starker in their industrial design, with an ovular look and more muted colours – Triple Black or a beige-y Soapstone are your options.
Both have silicon tips that burrow into your ears to stay put during movement, and both come with three sizes, so they should have universal fit.
The Bose buds are larger and heavier than the AirPods (8.5g each vs 5.4g) and come with a chunkier charging case that's almost twice the size of Apple's. The Bose case has a mechanical catch rather than a magnetic fastening, meaning it's a bit more secure and won't spill the buds when dropped.
Like to brave the elements? Both these wireless in-ears are rated IPX4 water-resistant. That's nothing to write home about but they'll withstand sweat and the odd rain shower, so should be fine for taking out and about.
Maybe it's just us, but we're a little over the signature white-only look of the AirPods. It's a bit iPod ad circa-2003, and those stems won't be for everyone. That, and the fact the Boses come in more colour options, give this round to the QuietComfort Earbuds.
**Winner** Bose QuietComfort Earbuds
Bose QuietComfort Earbuds vs AirPods Pro: features
As with anything Apple, the AirPods Pro aren't short of neat features. They have touch controls, but they're a bit tricky to get to grips with – especially on the go. There's an 'Ear Tip Fit Test' you can perform on your iPhone, which plays five seconds of music that's analysed in order to identify any sound leaks. Get a green 'Good Seal' result and you're ready to go, but if the Pros identify an issue you'll be prompted to try a different-sized tip.
The presence of Apple's H1 chip makes for a truly seamless experience; pairing is a doddle and playback goes off without a hitch. There is a rather large caveat, though: they're optimised for Apple devices, so only iPhone/iPad owners will get the most out of them.
Like the AirPods Pro, the Bose buds have touch controls. Simply hold your finger on the touchpad of the right earbud to access voice assistants or decline a call. The only disappointment is that you can't control the volume, meaning you'll need need to fish your phone out of your pocket every time you want to adjust the sound.
The Bose buds do have one thing the AirPods don't, though, and that's an app. Fire up the Bose Music app and you can tweak the noise cancellation settings and manage your Bluetooth connections (there's no adjustable EQ settings, mind you).
The QuietComforts have one or two other tricks up their sleeve, including a feature called "Self Voice calling mode." It allows you to hear your own voice in the earbuds, so you can modulate your voice and not shout down the line. Clever.
**Winner** Draw
Bose QuietComfort Earbuds vs AirPods Pro: noise cancelling
Both pairs offer active noise cancellation, but they take quite different approaches.
Each AirPods Pro bud has two microphones: one on the outside to detect incoming noise that can be cancelled out by anti-noise, and one on the inside that detects any noise that makes it through the seal and also analyses how your music is responding to the individual geometry of your ear. The noise cancelling is continuously adjusted 200 times per second – which Apple claims is an industry first.
However, there are no degrees of noise cancelling – it's either on or off. Although there is a 'Transparency' mode that allows in more outside noise so you can hear announcements and attempt conversation.
Bose is the grandaddy of noise cancellation. The firm invented the first pair of commercially available noise-cancelling headphones, and its over-ear models offer fantastic – and class leading – noise cancellation. Thankfully, the same tech has trickled down to this in-ear model.
As such, Bose's noise-cancelling tech is far more flexible than Apple's. In the Bose Music app, you're presented with a noise-cancelling sliding scale which ranges from zero (no noise-cancelling) to 10 (maximum). Through the app you can assign three different positions, say 0, 5 and 10 as 'Favourites' and cycle through them by double tapping the left earpiece.
You'll want to experiment but the QuietComfort buds live up to their name, cutting out huge swathes of background noise when on the maximum setting. Got an incoming call? The Bose buds use four microphones to help with call quality and they work together well to keep your voice sounding solid and clear.
Both pairs of wireless earbuds are ruthlessly effective when it comes to blocking out unwanted noise, be it rumbling planes or loud chatter. But the Bose buds are more effective and have the added advantage of adjustability.
**Winner** Bose QuietComfort Earbuds
Bose QuietComfort Earbuds vs AirPods Pro: sound quality
The AirPods Pro offer Apple's typically neutral tonal balance – there's no skew towards thumping bass here. They sound more spacious than their design would suggest, which will be down to those vents Apple has incorporated. As a result, it's more like listening out in the open air, rather than having music pumped directly into your brain, as with some in-ear headphones. And that's a very good thing.
The midrange is particularly impressive. Vocals have plenty of texture and detail, while the treble has a decent amount of sparkle to it, too. It's just a shame that the sound quality suffers a little when noise-cancelling or Transparency mode are activated. It's not a massive step down, but it's there all the same.
The AirPods Pro are good, but the Boses are even better, conveying a sense of enthusiasm and excitement that's infectious. Bass lines are full-bodied while melodies are rendered with power and precision. Bose's sophisticated yet unobtrusive noise-cancelling tech allows every note to sparkle. Tracks retains their richness – even with the noise cancelling cranked up to 10.
Ultimately, the AirPods Pro sound slightly more open and neutral but the Bose buds are more impressive and engaging across the board.
Still, the class-leading earbuds at this price, the Sennheiser True Momentum Wireless 2, offer a little more in the way of dynamics and timing than both pairs we have here (just note the Bose headphones do boast superior noise cancelling).
**Winner** Bose QuietComfort Earbuds
Bose QuietComfort Earbuds vs AirPods Pro: verdict
So, decision time. The Apple AirPods Pro offer better overall battery life and superb iOS integration. They're also a little cheaper than their rivals. But the Bose QuietComfort Earbuds combine 11 degrees of noise-cancellation with better sound quality and a few extra nifty features.
If you're an Apple user, you'll find the flagship AirPods Pro work seamlessly and deliver a magical iOS experience – and that may be enough to sway it. But if you simply want the best combination of sound and noise cancelling on the market, and can afford the inevitably higher asking price, the Bose buds are your (and our) pick.
MORE:
Fancy an upgrade? Here's our pick of the best headphones
Block out the world with the best noise-cancelling headphones
Or treat yourself to the best wireless earbuds for every budget
Still on the fence? Samsung Galaxy Buds Live vs Apple AirPods Pro