Best wireless speakers Buying Guide: Welcome to What Hi-Fi?'s round-up of the best wireless speakers you can buy in 2019.
The category of wireless speakers is a broad church. If you just want something portable for blaring out tunes on the beach, there are decent models for under £50, let alone under £100. But if you're after something a bit more versatile, and are prepared to pay a little more, you can get a whole host more features and better sound quality.
Increasingly, wireless speakers boast smart skills too, with voice assistants like Amazon's Alexa and Google Assistant onboard. That means they can be controlled just by speaking, and can take charge of other smart home appliances like your lights and thermostat.
Whatever your bag, we have a great recommendation for you. Read on for our pick of the best wireless speakers, based on our exhaustive, in-depth reviews.
Audio Pro currently makes some of the best Bluetooth speakers on the market and the Addon C10 is another impressive Award-winning model. Connectivity is among the most thorough you can expect at the money, with wi-fi, Bluetooth and AirPlay, plus aux and RCA inputs. It has all the major music streaming services, including Spotify, Tidal and Qobuz. The Addon C10 sounds big and bold, but is equally able to capture the subtler, more nuanced tracks as it is firing out big bassy numbers. Every inch the Award winner.
Read the full review: Audio Pro Addon C10
The eye-catching design might grab the headlines, but there's a lot more to this speaker than a funky paint job. Building on an already compelling device, the Roll 2 manages to sound better than its predecessor and be cheaper to boot. And it's now even more affordable than its RRP. If you're after a compact, portable speaker that sounds great and is genuinely fun to use, we can't recommend the Roll 2 highly enough.
Read the full review: Ultimate Ears Roll 2
The second-generation Sonos One is really a Sonos Play:1 in new clothing, but that's no bad thing. It now boasts Amazon's Alexa smart assistant for voice controls, and it's all the better for it. In fact, with its room-filling sound, it stands apart from the glut of smart speakers that are smart first and speakers second. Throw in Apple's AirPlay 2 tech and the fact that the One fits seamlessly into a multi-room set-up, and you've got a winner on your hands.
Read the full review: Sonos One
Do you want a simple, really cheap wireless speaker? The JBL GO 2 is a good bet. Ideal for the park or taking on holiday thanks to its compact dimensions, the GO 2 delivers a surprisingly open and well-rounded sound. The treble is slightly more prominent than we might want but the overall clarity and detail is decent. Our main issue is the battery life, with around five hours of life from a full charge, which is a little disappointing by current standards. That aside, this is the best budget wireless speaker under £50 we've tested.
Read the full review: JBL GO 2
It might look as brash as a tank (and have a name that screams "Bro!"), but the JBL Xtreme 2 sounds as sweet as any waterproof speaker out there. Bass is deep but controlled and balanced, mids clear and treble crisp. It shows a degree of restraint sadly lacking from many outdoor speakers, especially those built to withstand the elements. If you're going camping, you've just found your new tent mate.
Read the full review: JBL Xtreme 2
If you want a feature-rich speaker that's bursting with modes, extras and sound profiles, the Wonderboom isn't for you. If, however, you're after an easy-to-use Bluetooth companion that sounds great, looks even better and can withstand the elements, it's the portable for you. And it gives surprisingly room-filling sound, given it's about the size of a coffee mug.
Read the full review: Ultimate Ears Wonderboom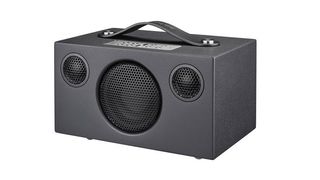 This is basically the wi-fi-enabled, multi-room version of Audio Pro's Addon T3. It has the same minimalist looks that the Scandinavian company is known for, complete with textured surfaces and embossed leather carry handle, but the wireless tech adds a whole new dimension to your listening. It's just a shame that controlling it using the smartphone app isn't a bit better thought through. Still, this is a belter of a speaker, make no mistake, and a fine addition to any home set-up.
Read the full review: Audio Pro Addon C3
This is proof that smart speakers don't have to cost the earth. While the Echo Dot won't replace your main system, it is a great little portable addition that's perfect for the kitchen or bedroom. That's thanks to its Alexa voice assistant smarts - just speak, and you can control all manner of streaming services, including Spotify, TuneIn and Amazon Music. Lots of 'proper' speaker manufacturers are getting onboard too, meaning you can control your better speakers through the Echo Dot. And if you're out of range, just speak to the Alexa app on your phone. One of the best budget speakers around.
Read the full review: Amazon Echo Dot (3rd generation)
Apple may have taken its time launching its own entrant into the crowded smart speaker market, but boy was it worth it. Rivals might tout their smart credentials first, with the speaker part a bit of an afterthought, but not the HomePod: it delivers a weighty, authoritative sound worthy of a bona fide speaker maker. That it has wireless skills and the Siri voice assistant onboard are the icing on the audio cake. Downsides? You'll have to buy into the Apple ecosystem to get the full benefit, and in typical "brave" Apple fashion, it relies heavily on voice commands. But for dedicated Apple users, this smart speaker should be top of the shopping list.
Read the full review: Apple HomePod
The main selling point of this speaker is the whopping great 6,000mAh battery. Not only does that power it for a marathon 20 hours, it also lets it charge up your phone or tablet. It's small enough to chuck in a backpack, and will survive being submerged in up to 1m of water for half an hour. It sounds satisfyingly weighty too. Outdoorsy types would do well to seriously consider this.
Read the full review: JBL Charge 3
This is one of the less portable speakers in this list, but it can still be carted around thanks to the carry handle. It's robust rather than heavy, and boasts a battery life of up to 30 hours at half volume or 12 at full blast. The bass made feasible by that larger chassis doesn't ruin the balance, instead it does just what it should, offering extra stability. And that is where the upgrade on something such as the Roll 2 is justified - the noticeable leap in audio quality will have you enjoying music much more readily than on the smaller speakers.
Read the full review: Audio Pro Addon T3
Another Megaboom, another five-star product from Ultimate Ears. This model adds a redesigned top button (called the Magic button) that can control music and summon playlists without you having to look at your smartphone. You can also link up to 150 Ultimate Ears speakers of all types for one almighty party. Better warn the neighbours. Or you could just link two Megabooms for stereo mode, which might be more sensible. The Bluetooth range has increased from 30m to 45m too. Its predecessor was a stellar speaker, so these additions just make it an even more tempting proposition.
Read the full review: Ultimate Ears Megaboom 3
Audio Pro has switched up the design for the A10, stepping away from the more industrial-looking Addon range. But you'll be pleased to hear it has the same winning sound quality - it's versatile, dynamic and has an impeccable sense of timing. The cylindrical design disperses sound throughout the room too. It might not be quite up there with the best Audio Pro has produced, but the A10 sounds sweet as, especially considering it costs less than £200.
Read the full review: Audio Pro A10
At first glance, this speaker looks very Bang and Olufsen, which is a huge plus. While it might look sophisticated and feature-rich, it's actually a very simple proposition - you get Bluetooth and a 3.5mm jack and that's about it. There's no wi-fi, no multi-room support, no AirPlay. But sonically, it punches well above its weight. Bass is agile but not overplayed and the timing is spot-on. Overall, it's a very musical listen. So what it lacks in features it more than makes up for in sound quality. And that's worth £190 of anyone's money.
Read the full review: Tivoli Andiamo
Although we're prepared to give it some good-natured ribbing for an aesthetic that abandons the trend of other Audio Pro speakers, the Drumfire is put together very well. The big bottom portion of the Drumfire houses a 20cm subwoofer powered by a 200W Class D amplifier to pump bass into the room. And you can hear it. If you want a seriously powerful, seriously impressive sound - look no further. You get plenty of volume and weight but don't be thinking this speaker can't also do subtle; it's a highly-accomplished wireless speaker, whatever you throw at it. Add in multi-room connectivity and the option to extend the Audio Pro family and you have an enticing, excellent high-end speaker.
Read the full review: Audio Pro Drumfire
We have to be honest, we might now be tempted to take the Audio Pro Drumfire, above, over the Mu-so. Naim's brilliant hi-fi wireless speaker is a few years old now and for connectivity and sonic prowess it might have met its match with Audio Pro's biggest speaker. That said, if you like the design and size, the Mu-so is still a great option. Connectivity is thorough and the sound quality remains impressive. The scale of sound is huge. It easily fills a large room with its soaring dynamics, and the airy soundfield is as wide as it is tall and deep. High notes are crisp, open and have just the right amount of bite. This wireless speaker's performance lives up to the spec-sheet hype - it looks stunning, and that powerful and subtle sound is as close as we've heard to hi-fi from an all-in-one unit such as this.
Read the full review: Naim Mu-so