Having unveiled its AMBEO Soundbar at CES earlier in the year, Sennheiser had the product on show at IFA nearing its launch and allowed What Hi-Fi? a closer look.
A one-box solution aimed at replicating a 5.1.4 speaker system, the AMBEO Soundbar isn't scheduled yet for a UK release but is likely to cost around €2000-2500 upon its release early next year.
Features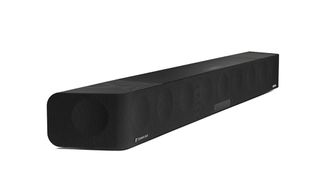 The AMBEO Soundbar's 13-driver configuration – comprised of six 4in long-throw woofers, five 1in alloy fabric dome tweeters and two further 3.5in top-firing drivers – is powered by virtualisation technology developed jointly with Fraunhofer to offer 3D immersive audio in a single unit.
It will be compatible with Dolby Atmos, MPEG-H and DTS:X, and is able to upmix to 5.1 as well as simulate 3D sound or perform natively in stereo. Inputs include one HDMI eARC, three HDMI sockets, one optical and one aux (RCA) in.
We heard the AMBEO Soundbar in Sennheiser's purpose-built listening room, but it will include a set-up microphone to learn the dimensions of your room and fine-tune those reflections for a tailored 3D experience.
Performance
It is still difficult for us to relieve ourselves of the mindset that this is a concept that really shouldn't work, but Sennheiser is proving again here that it absolutely can.
Starting with some Bundesliga football recorded for Dolby Atmos, it is an immersive performance that is quite startling. It puts us in the stands, with fans all around and commentary front and centre, part of the atmosphere rather than a voyeur to proceedings.
On first listen it is a feeling offered more strongly from the front and sides of the room, rather than coming from behind us, but not something about which we could yet be overly pernickety on so brief a meeting.
But until broadcasters embrace technologies more widely, much of the AMBEO Soundbar's work will be upmixing stereo recordings. A live recording of Eagles' Hotel California again proves that to be little trouble. The sensation is similar, Sennheiser working admirably with what it is given to deliver another immersive presentation.
In terms of the soundbar's general sonic character, Sennheiser promises deep bass negating the need for a separate subwoofer, and again appears to follow through. The sound is bold and tight, with plenty of detail and punch.
We had some minor reservations concerning timing, especially with music, but again it isn't something on which we'd be prepared to hang our hat until we've had a good amount of time in our own test rooms to give the AMBEO soundbar a proper test.
Initial verdict
And a good amount of time is precisely what we want with this latest Sennheiser offering.
Our appetite has been whet by the little time we had with its 5.1.4 simulation, and we foresee a good many hours spent before we get used to quite what it is able to produce. It is overall a strong first impression.
MORE
9 of the best new products from IFA 2018