It's that time of year again – the What Hi-Fi? Awards have been dished out and in the speaker package category, we have a mix of returning favourites and new gems bringing the best home cinema has to offer.
We have a new entry at the top and bottom ends of the price spectrum, while the three winners in the middle price brackets are packages that impressed us previously and are yet to be topped.
Wharfedale dominates once again, despite winning one fewer award than last year. The company's brand-new DX-3 speaker package comes in as the 'best under £500', replacing its own DX-2 which took home gold in the previous five years.
The Diamond 12.1 and Diamond 12.3 home cinema packages get the awards for the next price brackets, once again. The Diamond 12.1 package thoroughly impressed us for a third year straight in the '£500-1000' region, so much so that under 'cons' in our review we wrote a short, sweet "nothing". The bigger, bolder 12.3 set wins its second award in a row, proving it's a stellar home cinema package in the next price bracket..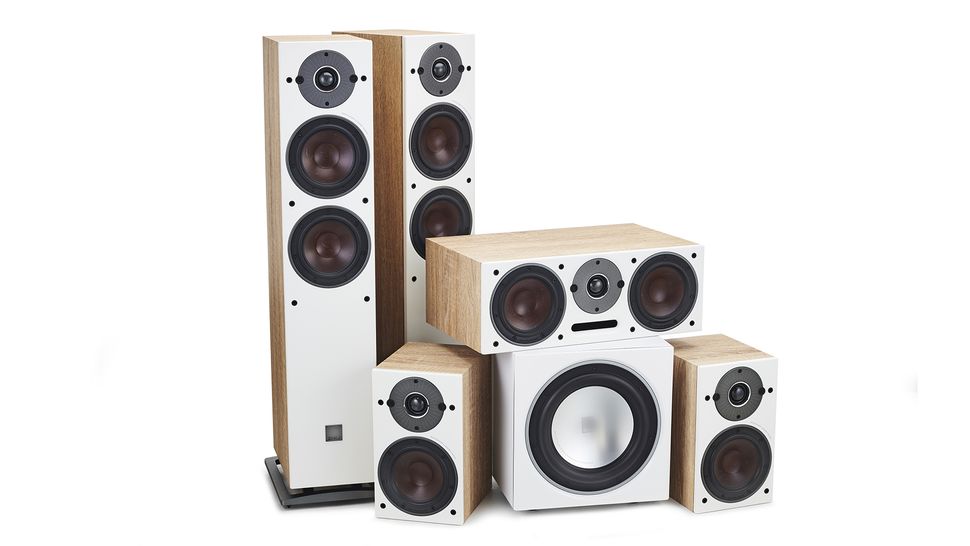 The super-stylish (and now fittingly named) Dali Oberon 5 speaker package wins for the fifth year straight in the '£1500-2000' range. It's pleasantly full and warm sounding and has a great dynamic range – ideal ingredients for an entertaining package. Needless to say, it's going to take a serious challenger to knock it from its perch.
At the highest price bracket, Bowers & Wilkins has stepped in to take the crown this year, with the combined Bowers & Wilkins 606 & 607 S3 speaker package coming top of our list.
This set was a special custom package we put together ourselves, comprising the five-star 606 S3 speakers as our front left and right left channels and the smaller, five-star 607 S3 as our surround speakers, along with the company's HTM6 S3 centre channel and ASW610 subwoofer. Bowers & Wilkins does not sell these speakers as a package at present, so you'll need to buy each component individually to get your hands on this set-up. And we promise you won't be disappointed if you do.
Five winners then, but only one will take home the prestigious Product of the Year award in the speaker package category. Watch this space on Wednesday 15th November, as the POY awards for each product category will be announced on that evening (GMT) during the official What Hi-Fi? Awards ceremony.
MORE:
What Hi-Fi? Awards 2023 winners revealed!
Best home theatre speaker systems 2023: budget to premium home cinema set-ups
Check out the full list of winners from last year's 2022 Awards
The What Hi-Fi? Hall of Fame: the best tech products of all time