It feels a bit like heresy to suggest you buy a Bluetooth speaker that isn't made by JBL, the same way it feels like sacrilege to suggest a pair of wireless headphones that aren't made by Sony; but seeing as it's Black Friday deals week, please hear me out.
A few days ago, I brought you this scorching JBL Flip 6 deal and told you that if you bought only one portable speaker this Black Friday, make it the Flip 6. Without wishing to contradict myself, it's time to muddy the waters a little by offering up a very viable alternative: the Ultimate Ears Wonderboom 3.
Yes, I love the Flip 6, but the Wonderboom 3 is a brilliantly made, eminently likeable alternative that I just can't get enough of – and it is enjoying a £20 discount from £90 to £70 over at Amazon and other retailers right now. I'm looking at the pink and green version sitting on my desk right now, and all I feel is a surge of affection for it, as though I were staring at a picture of my close family or a beloved spouse. Well, maybe not quite like that, but you get the idea.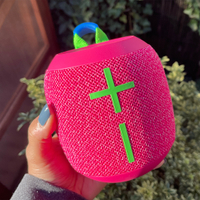 Ultimate Ears Wonderboom 3 was £90 now £70 at Amazon (save £20)
Cheap and cheerful Bluetooth speakers don't come much better than the Wonderboom 3. Now that it has dropped to around £70 it's not much more expensive than the most budget-friendly speakers around. And, while prices may fall a little more in the future, I recommend getting one while they are at their lowest prices so far, across all colours.
Read our UE Wonderboom 3 review
Deal also at Argos, Very, John Lewis, Currys
Ok, so why the UE Wonderboom 3 in particular, especially with all the market competitors around and a Flip 6 enjoying a big discount? Well, for one a start, I love the design of the thing, far more than the plain black-and-white aesthetic of the otherwise great little Tribit Stormbox Micro 2. I love the Wonderboom's small, circular design, attractive mesh finish and ridiculously eye-busting colours (pink is great, deal with it), not to mention the bold plus and minus controls stamped proudly on the front. It's a lesson in how to make a speaker look fun.
I also really enjoy the sound, something that obviously matters most when you are picking out your new portable companion of choice. Compared with the predecessor UE Wonderboom 2, the Wonderboom 3 has a leaner but more detailed sound profile, with deeper lows and a greater understanding of texture and harmony. There's a surprisingly satisfying amount of space on offer, too – something I personally look for in a Bluetooth speaker.
Above all, though, the Wonderboom 3 is a fun little thing, and that's a characteristic that can often be lacking in modern tech. Not only are the colours fresh and vibrant, but you can also sling the happy-go-lucky little 'Boom into a pool, pond or bath and it'll still play for a good half hour (thanks to its IP67 rating). It's tough, durable and well made – all things you need from a portable of this type – and it undercuts the Flip 6 by around £20.
So if you're in the market for a portable Bluetooth speaker, you might be eyeing the five-star JBL Flip 6 or the cheaper Tribit Stormbox Micro 2. Let me suggest a third route, with the very likeable UE Wonderboom 3, whose new deal price puts it between those two models; it will do a fine job of filling your home, or anywhere else, with great sound at a very fine price.
If you're looking for a fun, funky and solid-sounding portable at its lowest-ever price, the Wonderboom 3 certainly ticks a lot of boxes.
MORE:
Read our original UE Wonderboom 3 review
Our Black Friday hub has everything you need to know about the big event
These are the best wireless headphones you can buy
Here are the best Bluetooth speakers around