Do you need a new Bluetooth speaker? You're in luck, because Tribit's excellent Stormbox Micro 2 is on sale at Amazon for 40% off.
In our review of the Stormbox Micro 2, we gave this speaker five-stars, loving its sound quality, portable design, and long list of features. At nearly half off, this speaker is now an excellent value, too.
Tribit Stormbox Micro 2 Amazon deal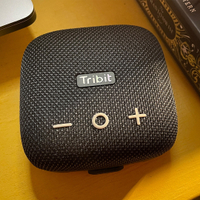 Stormbox Micro 2 was $80, now $48 at Amazon (save $32)
This portable Bluetooth speaker packs in impressive sound quality, a great design, and a huge list of features. We loved it at its original price, but now that it's down to $48 at Amazon, this speaker is hard to pass up.
There are tons of Bluetooth speakers out there, and so many of them manage to sound great; however, finding one that's right for you at the right price can be confusing, which is where the Stormbox Micro 2 comes in. This speaker is smartly designed, sounds great, and with this sale, it's a great value, too.
So, what do you get with the Stormbox Micro 2? Well, there's Bluetooth 5.3, 12 hours of battery life, and waterproofing + dustproofing as well. This speaker also doubles as a powerbank you can use to charge your devices via USB-C.
In terms of audio quality, this 10W speaker manages to offer up a fairly big, punchy sound for its size. Vocals especially shine on the Micro 2, but this speaker doesn't have any trouble representing highs or delivering lower frequencies without ever veering into muddiness. Put simply, the Micro 2 sounds excellent.
If you need a Bluetooth speaker to bring with you wherever you go or just one to use around the house, the Stormbox Micro 2 is a great option. Even at its original retail price, this was a great product, and on sale, it's an awesome value.
MORE:
Read our full Tribit Stormbox Micro 2 Bluetooth speaker review
And check out our list of all the best Bluetooth speakers
And all the best Bluetooth speaker deals.