Looking to build your first hi-fi system? We've found what could be the hi-fi bargain of the year over at Peter Tyson who have packaged together two fantastic five-star products for one stunningly low price.
Over on their website, you can now get the Marantz PM6007 and a pair of Dali Oberon floorstanding speakers for the ridiculously low price of just £880. The Dalis currently cost £799 on their own and the Marantz £349 – we've done the math and this means you'll be saving a whopping £268. Could this be the hi-fi deal of the year?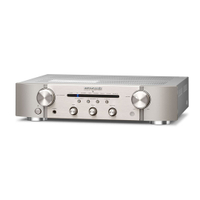 Marantz PM6007 + Dali Oberon 5 was £1148 now £880 at Peter Tyson (save £268)
Two hi-fi products straight from the top drawer and now available with a tasty discount if you buy them together at Peter Tyson. Expect a sensational audio performance from the pair, bursting with musicality and detail. A superb offer.
What Hi-Fi? Award-winners
The brilliant Marantz PM6007 needs no introduction. It has been the best stereo amplifier at its price point for the past few years and has become part of the furniture at the What Hi-Fi? Awards. Not only that, but it's also now part of the What Hi-Fi? Hall of Fame, a place where only the most influential products we've ever tested are recognised.
It's a fantastic piece of kit that looks the part with a well-constructed and well-finished chassis. The PM6007 comes with four analogue inputs, moving magnet phono stage, subwoofer output and both coaxial and optical digital inputs. The only things missing are a USB input and Bluetooth connectivity, but if you're not too concerned about these added extras, we know from experience this amplifier will not disappoint.
Where sound quality is concerned, our glowing five-star review speakers for itself. The Marantz produces a class-leading sound that's smooth, balanced and full-bodied with a great sense of spaciousness. Detail levels are excellent, as is the amp's grip on timing. It truly is one of the best amps we've ever heard at the money.
Which makes it a great partner for the Dali Oberon 5. These speakers are also What Hi-Fi? Award-winners and great all-rounders that can lap up and any genre of music you care to throw at them.
These compact towers are just 83cm high and don't require any toe-in, which makes them a great option for smaller rooms and tight spaces although they do need a bit of distance from a rear wall to truly shine.
Sonically, we've found them to be a hugely entertaining pair of speakers, with great dynamic subtlety and rhythmic precision. Add real low-end reach, crisp highs and an expressive midrange and you've got a great partner for the Marantz amp. For £880, we think this pairing is a great option that really shouldn't be ignored.
MORE:
We built a superb five-star turntable system to get the best out of your vinyl
This superb streaming system has modern smarts and a surprisingly affordable price
Our pick of the best floorstanding speakers