Do you want some impressive earbuds at an impressive price? Look no further than EarFun's Air buds now on sale at Amazon for 45% off and down to just $36.
In our five-star review of the EarFun Air buds, we appreciated their engaging audio quality, impressive feature list, and overall elegant build. At nearly half off, these buds are more than worth putting on your radar.
EarFun Air earbuds Amazon deal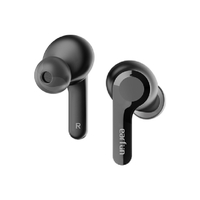 EarFun Air earbuds was $65.99, now $35.99 (save $30)
The EarFun Air buds earned a What Hi-Fi? Award in 2020 and for good reason. These earbuds sound great, have tons of features, and they're well-built. With this Prime Day deal, they're an exceptional value, too.
A lot of the time, premium wireless earbuds come with premium prices, but not always, especially in the case of the EarFun Air earbuds. These buds come with an exhaustive list of features, but they retail for surprisingly cheap. What's more is that with this Amazon deal they're now a stunning 45% off, too.
The EarFun Aair buds come with voice assistance (and two mics per earpiece), a wireless charging case with Qi charging, Bluetooth 5.0 support, a waterproof IPX7 rating, and an impressive 35 hours of battery life. Put simply, they've got just about all the features you'd want out of some wireless earbuds.
In terms of sound quality, the EarFun Air earbuds manage to offer up an energetic, dynamic listening experience, while they can also handle more nuanced, detailed tracks with surprising grace and elegance. Put simply, while they may not wow you, you'll always be treated to quality sound.
If you need some wireless earbuds but don't fancy spending all the money you would on pricier earbuds, make sure you check out this Amazon deal.
MORE:
Read our full review of the EarFun Air wireless earbuds
And check out our list of the best wireless earbuds
As well as the best wireless earbud deals live now