Amazon's Big Deal Days (aka Prime Day 2, aka Early Black Friday) have begun, and while pickings are relatively slim if you want a genuinely great TV with a tasty new discount, this might just be the TV deal of our dreams: you can now get the 83-inch LG G2 for just £3999 at Amazon.
£3999 is still, of course, a huge amount of money, but 83 inches is also huge for a TV. What's more, the 83-inch G2 launched at £6499, so this exclusive-for-Prime-members extra discount of £500 equates to a £2500 drop since launch.
For reference, an 83-inch version of the G3 (the G2's replacement) will currently set you back £5799, and an 83-inch C3 is £4799. I'd take the 83-inch G2 at this price over those two any day. Be quick if you're similarly tempted, though – Amazon seems to have just three left in stock at the time of writing.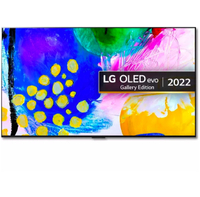 LG OLED83G2 2022 OLED TV £6499 £3999 at Amazon (save £2500)
While it's now been replaced by the MLA-boosted G3, the G2 is still a stunning TV and a superb buy at this price. It features not only OLED Evo technology but also an added heatsink that allows the panel to be pushed to even brighter levels. The design is also lovely (though bear in mind that a wall bracket is included but a stand is not) and every gaming feature imaginable is supported. Picture quality is exemplary all-round.
The G2 is LG's best OLED TV of last year. It's a premium TV aimed at the most discerning of viewers, which makes this price cut all the more tempting. It still has the same Evo technology as the cheaper C2, but it also boasts an added heatsink that allows the screen to go even brighter.
It certainly looks the part, with a two-tier design that features a high-quality metal 'wrap' around the sides of the front tier. It's able to be hung almost flush to the wall using the supplied wall mount, but if you want a stand you'll have to buy one separately.
Picture quality is something else. It is noticeably brighter than the C2, but without washing out the colours. The brightest 'peaks' of an HDR image have more purity, brightness and 'gleam' – so elements such as sunlight reflecting off metal look absolutely stunning. But it's not just the little details – the overall brightness of light, full-screen HDR content is also boosted, adding to the realism.
Add to that unparalleled gaming specs, including 4K/120Hz, VRR and ALLM across all four of the TV's HDMI sockets, superb upscaling, excellent contrast and ultra-wide viewing angles, and you've got quite a viewing experience. At this price, it'd be rude not to – assuming you have loads of room.
The other TVs to consider are the newer G3, which replaces the G2 and is even brighter, thanks to the addition of new MLA technology, and the C3, which features very similar panel technology to the G2 but in a more traditional design. However, both of these TVs are currently considerably more expensive than the G2 is with this deal.
MORE:
Not wedded to LG? These are the best TV deals right now
And these are simply the best TVs
Not sure which TV to buy? Check out our LG G2 vs C2 feature
And here's the LG G2 vs G3 comparison