Need a new phone but don't want to shell out over a thousand pounds for an iPhone or a Samsung Galaxy? Sony's budget mobile might be the phone for you, especially if you're after a top-notch portable AV experience. It's down to its lowest price, which is especially impressive considering it wasn't an expensive phone to begin with.
The Sony Xperia 10 V can be yours right now for £270 at Amazon, which is £79 off the asking price. Usually carrying an RRP of £349, this deal ensures you get a five-star, Award-winning handset for well under the price we reviewed it for.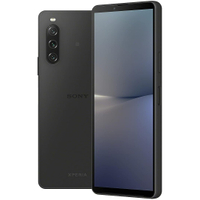 Sony Xperia 10 V £349 £270 at Amazon (save £79)
Sony's Award-winning budget smartphone carries over the impressive picture and headphone audio performance of its predecessor while adding greatly improved stereo speakers. It's easily the best-looking and sounding phone at this price.
Read our full Sony Xperia 10 V review
Sony has delivered a budget banger of a smartphone two years on the bounce with the Xperia 10. Now its Mark V phase in 2023, the cheap Android handset scooped up a What Hi-Fi? Award for its stellar AV performance and practically unmatched performance-to-pound ratio.
So what makes this smartphone so great? As is the case with the much more expensive Xperia 5 V and flagship Xperia 1 V, this phone is designed to consume and create media with. Sony puts great emphasis on this with the 21:9 OLED display which is now synonymous with the company, alongside a headphone jack - remember those?
The display is HDR compatible and when you play supported 21:9 content on it, the black bars we're used to on other smartphones magically dispensary, as the content fills up the whole screen. In many ways, this phone's display is reminiscent of the aforementioned Xperia 5 V, as it's the same size (6.1 inches), resolution (1080 x 2520) and features the same pixel density (449ppi) as the more expensive model. The key difference is that its maximum refresh rate is 60Hz, whereas the 5 V goes up to 120Hz.
Sound-wise, the 10 V is a mighty impressive phone. The headphone jack allows for hi-res wired audio, making it a perfect pairing with a pair of the best wired headphones. Prefer to cut the cords? No problem, it also supports Bluetooth audio with the LDAC and Qualcomm's aptX Adaptive codec both on board.
Moving on from headphone audio, the Xperia 10 V made a huge leap over its predecessor with its upgraded speaker layout. Gone is the slightly pathetic mono offering of the Mark IV, as the Mark V embraces a stereo arrangement combining the speaker on the bottom of the device with the earpiece on the top. This has resulted in a much louder, more dynamic and generally much more usable set of speakers on the Xperia 10 V.
We'll admit that while it excels in AV, the Sony could probably be a slightly better smartphone in other departments. It's using the same processor as its predecessor, the plastic chassis certainly isn't premium and the whole vibrates quite badly when the speaker sound is cranked up. The camera is also a bit of a weak spot on the 10 V, despite it being a huge upgrade over its predecessor on paper.
That being said if you use your phone as a portable music and movie player first and foremost, and you're constricted to a fairly rigid budget, then this Sony deal will be hard to beat.
MORE:
Check out more of the best Cyber Monday deals
Read our full Sony Xperia 10 V review
Check out our picks for the best smartphones