KEF's compact all-in-one systems have wowed us repeatedly ever since they broke onto the hi-fi scene, with their mix of great design, extensive connectivity and superb sound. And the LSX II system is no different – it's better than the original model and last year took home the What Hi-Fi? 2022 Award for best system £1000-£1500.
It's a fantastic, multi-talented streaming system that will work wonders, especially in smaller rooms. And now the price has dropped from £1199 to £999 which is the same low price we saw the system drop to during Cyber Monday 2022.
Moreover, this significant £200 saving is available across all finishes – white, black, blue, red and the special "Soundwave by Conran" version – so you can choose whichever colour best fits your home office.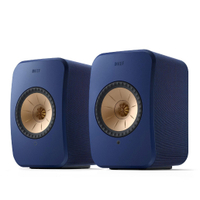 KEF LSX II was £1199 now £999 at Richer Sounds (save £200)
This fantastic, wireless all-in-one system offers many streaming options, including AirPlay 2, Bluetooth, Amazon Music, Spotify, Tidal and more. There's even HDMI connectivity which makes them a great alternative to a premium soundbar. They're stunning to look at and produce a similarly impressive sound. This fantastic £200 discount across all finishes makes this an even more appealing buy. Five star
Deal also at Sevenoaks and Peter Tyson
The KEFs don't struggle for shelf appeal: they're striking to look at and are compact enough to fit on a (large) desk.
The LSX II's DSP software has been completely redesigned and uses KEF's W2 wireless streaming platform. This platform is your gateway to all the various connectivity options on offer, including wi-fi, Apple AirPlay 2, Google Chromecast and Bluetooth. You've also got Amazon Music, Deezer, Qobuz, Spotify and Tidal streaming services to choose from, and there's the ability to stream any music stored on an external NAS drive.
The big news for LSX II is the addition of a couple of extra physical inputs on the speakers themselves. The first is HDMI ARC and the second is a USB-C connection for connecting to a TV and laptop respectively.
Sonically, they produce an engaging, refined performance that sets sky-high standards– well-rounded, with excellent imaging and dynamics. The KEF LSX II is a stylish streaming system that comes with none of the baggage and boxes a separates set-up brings.
If you've been looking for a superb compact system that delivers in both style and sound quality, nothing comes close to the KEF LSX II – and it's even better value than before at this new price of £999. Buy with confidence.
MORE:
Read our KEF LSX II review