Summer is a great time to pick up a bargain, and thanks to our constant scouring of the internet to hunt down the best deals on the latest hi-fi kit, we've unearthed a fantastic saving on the five-star Audio-Technica AT-LP5x turntable.
Get cracking fast and you'll snap up the AT-LP5x for only £299 at Amazon in the UK – that's a massive 27% off the original £379RRP. We initially tested the AT-LP5x at £349 in early 2020, but it seems that some outlets such as John Lewis are currently selling the deck at an even higher price of around £379.99 – all the more reason to snap up a deal when the price is right.
And this isn't just buying an average player to save a few measly pennies. When the fantastic, fuss-free LP5x dropped a few years back, we found it to be a wonderfully composed, robust-sounding spinner with an impressive phono stage module and wonderful ease of usability.
This is the lowest we've seen Audio-Technica AT-LP5x for quite a long time (we did see it fall to £319 during last year's Black Friday savings), so if you're in the market for a new place to play your vinyl, this is the deal for you.
Summer Audio-Technica AT-LP5x deal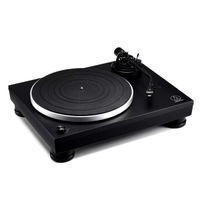 Audio-Technica AT-LP5x £379 £299 at Amazon (save £80) Audio-Technica's superb direct drive turntable was good value for money at full price, but a hefty discount now makes it a deal you can't afford to miss out on if you want an easy-to-use spinner that looks and sounds great.
As we made clear in our original Audio-Technica AT-LP5x review, this is an excellent choice for anyone looking to get excellent sound without splashing too much cash. As we said, the LP5x "is a well-executed design that sounds great for the money. It's also well built, easy to set up and nice to use... (making it) worthy of a spot on anyone's shortlist." Once out of the packaging, all you have to do is put the platter in place, attach the headshell and set the tracking weight to 2.0g. What could be simpler?
In fact, at this level, the AT-LP5x is one of the finest examples of its type you'll be able to find for the price. Better still, the deck's built-in phono stage can cope with both moving magnet and moving coil cartridges thanks to a small switch on the back to swap between the two, opening the deck up for use with more ambitious cartridge designs.
The AT-LP5x may be easy to use, but where it really impressed us was with its sonic chops. The sturdy turntable is clean, clear and impressively well-balanced, with more complex and dramatic tracks feeling cohesive and musical as opposed to muddied and confused. In almost every way, this is a fantastic listen for the price.
If you're looking to treat yourself for summer, this Audio-Technica AT-LP5x deal is seriously worth considering. We don't know how long it'll last though, so head over to Amazon UK before prices rise again.
MORE:
Best record players: here are the best turntables for every budget
Read our original Audio-Technica AT-LP5x review
I love second-hand vinyl shopping – but don't leave record stores without doing this