Truly great deals can be hard to come by, so when one does appear you should grab it with both hands and not let go – like this deal on AKG's fantastic Y500 wireless headphones, now seriously reduced to just $29.99.
Not all heavily discount products are worth investing in, but any such fears should be allayed with the AKG Y500 headphones. A five-star What Hi-Fi? favourite, these excellent cans are now just $29.99 at Walmart, an 80 per cent reduction from their original price.
AKG Y500 wireless headphones deal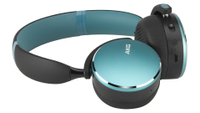 AKG Y500 headphones: $85 $30 at Walmart (save $55)
The Y500 were some of the best budget headphones when we tested them in 2018, and there's been little since to change our minds. Battery life is 30+ hours, they're well made and they look far more premium than the price suggests. Five stars
It's a deal that should prove hard to resist. After all, the AKG Y500 impressed us hugely even at full price for their clean design, great functionality and genuinely nuanced sound, not to mention some really neat features for what appeared to be a relatively budget pair of cans. In the five or so years since the original Y500 were released, we haven't found many that impressed us so much at that price.
The Y500's age, however, is probably the reason for it now seeing significant reductions in price. Approaching your fifth birthday in the tech world is like becoming a geriatric old-timer anywhere else, with newer, shinier models crowding the Y500 out of the market. With AKG moving on to other products, it's no surprise to see the Austrian manufacturer keen to offload its older stock at a fraction of the original price.
Not that the Y500 are really showing their age. The five-star cans don't offer any ANC or other fancy flourishes, but they do boast an impressive 33-hour battery life, responsive on-ear controls, voice assistant capabilities and a nifty (if erratic) automatic pausing system.
The Y500 really blew us away with how great they sound. For the money, barely anything came close at the time, and while we've seen a lot of headphones make their respective debuts in the interim, the Y500 are still bold, spacious and punchy all at once, not to mention a dab hand with timing and tricky basslines.
It's not easy for a pair of headphones to nab our full five-star seal of approval, but it's an accolade that remains well-earned. Walmart's asking price of just $30 for such a quality pair really does feel like a genuine steal.
MORE:
AKG Y50 vs AKG Y500 Wireless: which headphones should you buy?
Check out our five-star AKG Y500 review
Want more bargains? Check out our round-up of the best headphone deals