Still looking for an Apple AirPods Pro 2 deal? You're in luck: the Cyber Monday deals are still going strong and various retailers – Amazon, Currys, Very – have all slashed the price of Apple's flagship wireless earbuds down to £199 this weekend, saving you £30 off the original RRP.
But that's not the lowest price you'll find them at. I've discovered that you can find the AirPods Pro 2nd generation listed at a lower price of just £195 at OnBuy – that's a further £4 off five-star wireless earbuds. There's one caveat: this deal is for the 2022 Lightning connector case model, while all the £199 deal prices elsewhere are for the newer 2023 USB-C case version.
I've been using the AirPods Pro 2 every day since they were first announced in September 2022 and can genuinely say they're easily the best buds to use with any iOS device. And while this deal price was £10 cheaper during Black Friday, this deal price under £200 isn't to be ignored.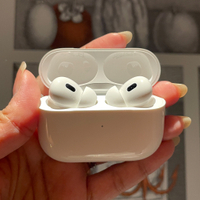 AirPods Pro 2nd generation was £229 now £195 at OnBuy (save £34)
Apple's flagship ANC earbuds are five-star favourites and a must-have for iOS die-hards. Boasts impressive ANC, a hugely enjoyable sound, along with plenty of new features such as adaptive audio and conversation mode. This £34 saving is on the model with the Lightning connector, while those wanting the new USB-C case can check out the other retailer deals below for £199 (with £30 saving).
Five stars
Price check: £199 @ Amazon UK | £199 @ Currys | £199 @ Very
In our Apple AirPods Pro 2 review, we complimented their clear, detailed sound, excellent noise-cancelling and awesome battery life. ANC was vastly improved as well, courtesy of a new "low distortion" driver and H2 chip – it's subtle but effective, with an open presentation that makes wearing them on long journeys comfortable.
It's worth noting you can now get these earbuds with two different charging cases if you look online – either the new USB-C connector case that Apple unveiled this September 2023 or the original Lightning connector case. I've been using both versions and can confidently say that, apart from the connection method, there is no change at all to the earbuds themselves or to the performance. So it's worth going with the cheaper model if you're on a bargain hunt.
The battery life is also the same between the two models: you get six hours on a single charge but a beefy 30 hours overall with the charging case. Thanks to a recent iOS 17 software update, there are new features such as Adaptive Audio (which dynamically adjusts the ANC level depending on your surrounding's noise levels) and Conversation Awareness (which pauses music when it recognises you're speaking). Personally, I find that these features work really well and make the AirPods Pro as useful and fun to use as other five-star buds like the Sony WF-1000XM5 and Bose QuietComfort Ultra Earbuds.
I certainly haven't heard a pair of in-ear AirPods sound as musical, detailed or powerful, either. While the excellent Sony WF-1000XM5 pips them when it comes to outright detail and transparency, the AirPods Pro 2 remain a really fantastic, fun listen. They're still the pair I grab whenever I leave the house. They fit well, the features and playback controls are incredibly intuitive to use and change on the fly – it's a seamless experience.
All in all, the new AirPods Pro 2 are a great pair of premium wireless earbuds and work beautifully with other Apple kit. So if you're keen on owning a pair, it's high time to be taking advantage thanks to these Cyber Monday AirPods Pro deals for under £200 right now.
MORE:
Check out the best deals on all AirPods models
Not an Apple fan? The 7 very best Cyber Monday headphones deals