4K projectors don't have to be expensive to be great; the Epson EH-TW7000 is living proof. Better yet, it can be snapped up for an even cheaper price in the Amazon Prime Big Deal Days, at just under £1000.
The Epson EH-TW7000 is one of the best entry-level 4K projectors and certainly the best you'll find for a three-figure sum. We rated it as a five-star machine when we reviewed it at £1199, so now that it's well below that price, we can give it an even easier recommendation.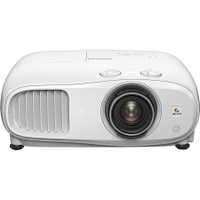 Epson EH-TW7000 4K projector was £1199 now £989 at Amazon (save £211)
This is the best projector at around the thousand-pound mark at the moment and an excellent entry-level 4K model. Black depth is unsophisticated but contrast, colour and cinematic appeal are well beyond the competition. It's a great starter projector for a budget home cinema set-up.
While it's not the latest and greatest in Epson's lineup of 3LCD 4K home cinema projectors, it is an absolute gem at this price, especially considering how great its performance is. With a very simple and easy setup (especially by projector standards) and loads of lens flexibility to boot, the EH-TW7000 makes an excellent first impression.
And that sentiment continues when you start watching movies on it, as its detailed, crisp and natural image makes it an excellent choice to be the crown jewel in your home cinema setup. We praised its ability to capture subtle texture and skin details, as well as its controlled and varied dynamic range.
With two HDMI ports, you can hook up a streaming stick or Blu-ray player, although there is no ARC which is a slight issue if you're planning on using it with an AVR or soundbar. You do have an audio out jack, however, so there is still an option for external audio.
Overall, if you're taking your first foray into the world of 4K projectors, then this is a great model to start with, especially at this price. Don't miss out on this stellar home cinema deal.
MORE:
Find the best Amazon Prime Big Deal Days offers
Check out our picks for the best projectors
As well as the best projector deals available now