If you've been waiting for Bose's five-star QuietComfort Ultra Earbuds to drop in price, now is the time to pounce, because they're discounted for the first time for Black Friday. Amazon is currently selling them for £259.95 – a 13% saving on the usual £299.95 asking price.
Even with the best part of £40 knocked off the Bose QuietComfort Ultra Earbuds are still more expensive than the majority of the competition, but the performance certainly justifies this discounted price tag.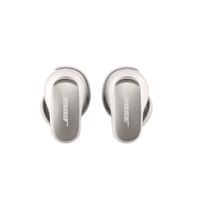 We found a lot of positives which we discussed at length in our QuietComfort Ultra Earbuds review. The design is pretty much identical to the QuietComfort Earbuds II that they've replaced so they feel suitably premium and, perhaps more importantly, are comfortable to wear for long periods of time.
The tonal characteristics and musicality will be familiar to anyone who's used the QC Earbuds II, but Bose has given the Ultra Earbuds a bit of added punch. While the Sony WF-1000XM5 are perhaps a tad more insightful, there's a good sense of openness and spaciousness, with plenty of dynamism and weighty bass.
That's all without even mentioning the noise-cancelling, which is, as always, top of the league. It's capable of dramatically reducing environmental hubbub, which makes them great for commuting or travelling, with Bose's CustomTune tech automatically calibrating the ANC every time you pop them into your ears. If you're a frequent flyer, these will become almost as important to you as your passport and a mile-high G&T.
We're a little less convinced about Immersive Audio, though – Bose's own take on the spatial audio tech that's started to appear in products such as Apple's AirPods Pro and the Award-winning Sonos Era 300 speaker. We found the results hit and miss, but that shouldn't put you off what is an excellent pair of wireless earbuds that excel on so many different levels.
If you don't mind sacrificing a small bit of performance and aren't too fussed about the Immersive Audio, there's always their predecessors, the Bose QuietComfort Earbuds II which are even cheaper thanks to the Black Friday sales. They offer a huge chunk of the performance but at a cheaper price.
But if you do want the very latest and greatest, the QC Ultras do deliver and that current £40 discount is a tempting one.
Read more:
Which headphones should you buy on Black Friday? Our experts offer their advice
Quick! Sony WF-1000XM5 wireless earbuds drop to lowest-ever price in the Black Friday sales
Best noise-cancelling earbuds 2023: budget and premium options tested