A wireless speaker can nowadays be as simple or as complicated as you like. If you're after a compact, portable speaker for taking on your travels and blaring out Bluetooth music on your beach, you can pick-up a fine speaker for comfortably under £100. But if you want something more substantial, packing everything from AirPlay and Bluetooth to Alexa voice control, multi-room playback and more, there are plenty of options, too. In fact, wireless speakers are increasingly smart speakers - offering built-in voice assistants alongside great wireless sound. Whatever you're after, we have a recommendation for you. Read on for our pick of the best wireless speakers, based on our exhaustive, in-depth reviews.
Portable under £60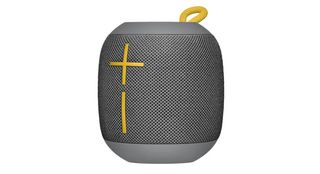 The UE Wonderboom is simple to set up, will survive being bashed around (an IPX7 rating means it'll survive being in water for up to 30 minutes), and has great sound in to the bargain. Ultimate Ears claims the battery will last for up to 10 hours at 75 per cent volume, which is pretty good for a cheap wireless speaker. The only physical connection on the Wonderboom is its micro-USB charging port - you don't even get a 3.5mm input. Fast and bassy, the Wonderboom is a great bet if you need a Bluetooth speaker that's rugged and portable.
Portable under £100
The Roll 2 is a fraction more expensive than the Wonderboom and just about justifies the extra outlay. Overall, it delivers superior sound. There may not be as much bass as on the Wonderboom but the dynamics are better here, making for a more exciting listen. There's also a bonus 3.5mm socket under a waterproof flap (yes, it's IPX7 waterproof) at the back for hardwiring a phone or music player. Another extra feature over the Wonderboom is the UE Roll app , which gives you access to features such EQ settings, an alarm clock, and Double Up – which lets you connect two UE Roll speakers together to play in tandem or in stereo mode. If you're after a compact, portable speaker that sounds great and is genuinely fun to use (and comes in five different colours), we can't recommend the Roll 2 highly enough.
Portable under £200
If you're prepared to spend a little more, you get a lot more for your money with this Audio Pro speaker. Most obviously in terms of serious sound quality from an obviously bigger box. It's still portable though. Robust, rather than heavy, the handle is a canny touch and battery life is up to 30 hours at half volume or 12 at full blast. The bass made feasible by that larger chassis doesn't ruin the balance, instead it does just what it should, offering extra stability. And that is where the upgrade on something such as the Roll 2 is justified - the noticeable leap in audio quality will have you enjoying music much more readily than on the smaller speakers.
Portable under £300
The Addon C3 is the multi-room, wi-fi version of the T3 speaker above. It looks almost identical, the dimensions are identical, and it has the neat leather carry handle even though it's a little bit heavy to be lugging around for any length of time - the Ultimate Ears speakers at the top of the page are better suited for travelling. While the addition of wi-fi and multi-room are welcome, the C3 loses the rear USB port and some battery life to accommodate them - you get around nine hours of playback compared to 12 with the T3. There's a new top panel for control or you can use the app. Sonically, the C3 manages to sound weighty, delving deep and rendering each note with detail and texture. By multi-room speaker standards, this is a remarkably refined performance. This is a sensational-sounding multi-room wireless speaker.
Mains under £200
The Sonos One is the company's cheapest multi-room speaker, complete with Amazon Alexa built-in. The Sonos One launched only supporting Amazon Music voice control but you can now use your voice to control Spotify, Deezer, TuneIn and Audible. In terms of sound quality, Sonos gave the Play:1 predecessor a sonic upgrade, adding extra bass weight alongside a natural, clear treble. After ironing out some of the initial software bugs, the Sonos One cements its place as one of the best £200 smart speakers on the market.
Mains under £300
This is essentially a scaled-up version of the smaller Audio Pro speakers, which is no bad thing. Good connectivity and great sound come together again, this time in a bigger package for a bigger sound. Despite being heavier set, the Addon C10's connectivity diet is the same as the rest of Audio Pro's multi-room family. You can feed it via wi-fi, Bluetooth 4.0 and AirPlay, as well as through its physical inputs for aux and RCA. There's also the benefit of Spotify Connect. The Addon C10 is not only the biggest sounding of Audio Pro's offerings, but also easily the best. The scale of the sound is immediately impressive, digging down into the low frequencies with an assured combination of warmth and punch, while also delivering bags of detail. If you already own some of the Audio Pro arsenal, the Addon C10 is a worthy addition.
Mains under £400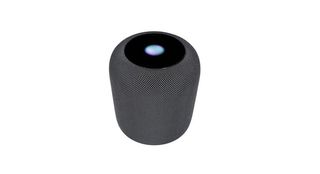 Despite some flaws and limitations, the HomePod is the best-sounding smart speaker available - and by quite a margin. When combined with Siri's reinvention as your personal DJ/musical guru, it makes for an endlessly entertaining all-in-one system. Assuming you're already deep in the Apple ecosystem, that is. It comes as no surprise the HomePod is beautifully made and looks classy. It's a bit smaller, and much heavier, than you might imagine. Inside, Apple has done a serious job on the HomePod sound. Bass is deep, controlled and detailed, the treble is exciting but not bright, and the midrange projects insightful vocals. What's more, Apple's promise of 360-degree sound is, unlike many similar promises made by other brands in the past, pretty darn accurate. All that said, if you're an Android fan, the HomePod is not for you. Not only does it not have Bluetooth, you can't even set one up without an iOS device. You still need to be a dedicated Apple user to even consider the HomePod, and Apple Music needs to be your default streaming service for you to get anything like the best out of it, but if that sounds like you, it's a superb speaker.
Mains under £750
Although we're prepared to give it some good-natured ribbing for an aesthetic that abandons the trend of other Audio Pro speakers, as above, the Drumfire is put together very well. The big bottom portion of the Drumfire houses a 20cm subwoofer powered by a 200W Class D amplifier to pump bass into the room. And you can hear it. If you want a seriously powerful, seriously impressive sound - look no further. You get plenty of volume and weight but don't be thinking this speaker can't also do subtle; it's a highly-accomplished wireless speaker, whatever you throw at it. Add in multi-room connectivity and the option to extend the Audio Pro family and you have an enticing, excellent high-end speaker.
Mains under £1000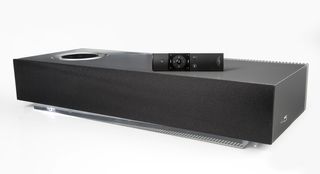 We have to be honest, we might now be tempted to take the Audio Pro Drumfire, above, over the Mu-so. Naim's brilliant hi-fi wireless speaker is a few years old now and for connectivity and sonic prowess it might have met its match with Audio Pro's biggest speaker. That said, if you like the design and size, the Mu-so is still a great option. Connectivity is thorough and the sound quality remains impressive. The scale of sound is huge. It easily fills a large room with its soaring dynamics, and the airy soundfield is as wide as it is tall and deep. High notes are crisp, open and have just the right amount of bite. This wireless speaker's performance lives up to the spec-sheet hype – it looks stunning, and that powerful and subtle sound is as close as we've heard to hi-fi from an all-in-one unit such as this.