It doesn't matter if your budget's modest (we start at well under £200) or heady (which in this case means £5K or so). We've a wide selection of both floorstanding and standmounting designs to recommend, and we've even selected a few active options too.
The world's not short of fine loudspeakers, but here we've separated the truly outstanding from the merely great. So whether you're looking to upgrade a pair of older budget standmounters or going for broke with the biggest speakers your system can accommodate, we're here to help.
There's never been such a fantastic choice, and with Black Friday deals around the corner, it could be a good time to buy...
MORE:
10 of the best songs to test your speakers
Standmount under £200
On paper, there's little to differentiate Dali's new Spektor 2s from any of their main rivals. These speakers stick to the classic budget standmounter formula like Superglue sticks to fingers.
There's everything we would expect from a typical £200 box here, from two-way driver configuration and ported bass tuning right the way through to the 25mm dome tweeter and 13cm mid/bass driver.
But these Dalis are more than the sum of their parts: they offer a degree of entertainment even their most talented rivals struggle to match. That's why they get a well deserved Best Buy.
Standmount under £300
Introduced back in 2000, the original Bronze series was the entry point into Monitor Audio's range. Five generations on, it remains at the core of the company's product output, with the '2' standmounter in particular a cornerstone of the brand.
For their size, these speakers dig deep in the bass; they're tonally balanced and impressively detailed too. Add fine build and Monitor Audio's usual high standard of finish and there's much to applaud here.
Previous generations of Bronze 2s were class leaders. As it turns out, this one is too.
Standmount under £500
The affordable speaker market is a tough place to compete.
With its £400 price tag, the Mission QX-2s fall somewhere between hugely capable budget performers, such as the Monitor Audio Bronze 2s (£280), and class leading mid-market opposition from KEF's brilliant Q350s (£500).
That's Award-winning competition that the new Missions have to respect, but not fear.
Overall, the QX-2s are terrific speakers. They sound at home across a wide range of music and have an infectiously energetic character that makes them a pleasure to listen to. If you're in the market for standmounters at this level you simply have to consider these.
Standmount under £750
If there's one overriding theme across the new KEF Q350s, it's refinement.
Nearly every aspect of the speakers has been redesigned to achieve a cleaner, more sophisticated presentation - both sonic and physical.
These £530 standmounters offer stunning sound and elegant looks, at a competitive price that see them taking the trophy at the top of their class.
KEF can hold its head up high: the Q350s are a cut above the rest. This level of clarity and refined detail isn't something we usually hear at this mid-range price – we're hugely impressed.
Standmount under £1000
We're surprised that a brand like Revel hasn't made a bigger impact on the UK speaker market. All the ingredients for success seem to be in place; the products are well made, solidly engineered and, in our experience, tend to sound good.
The brand even has the might of parent company Harman behind it to provide extra reassurance.
The results speak for themselves: the M16s are a bundle of fun. Sure, they may not be the most refined choice around, but they entertain in a way few price rivals can match. We think that's worth £950 of anyone's money.
Best standmount under £2000
Part of the company's recently introduced premium R series, the R3s offer a large chunk of the pricier Reference 1's engineering content and sonic performance at a fraction of the cost.
And that's a winning combination. The R3s are brilliant all-rounders. They're expertly sonically balanced and work well across a wide range of systems, but give them a top class feed and they will deliver a sound good enough to worry most standmounters below the two grand mark. This is one to buy with confidence.
Standmount over £2000
Put aside the gorgeous finishes – the options are Birch in either grey or red gloss – and there seems little to differentiate the Fortys from a stack of products the company has made in the past. Except pretty much all of them were way cheaper.
But don't be fooled. The Special Fortys are easy speakers to underestimate. They're not an overtly cutting-edge design using the latest in high-tech materials, nor are they styled to stand out in a crowd.
But once we start listening none of that matters. We're far too busy having fun. We love the sound of these speakers, and you will too.
Floorstander under £500
Though in its infancy as a brand, Fyne's seven-strong management team represents a kind of supergroup of industry minds. It has more than 200 years of experience - and delivers results that actually total the sum of its parts, if the first of its loudspeakers to arrive in our test rooms are anything to go by.
It's rare to find floorstanding all-rounders at less than £500 able to compete in every respect with the wealth of quality standmount speakers available at the same price.
Which only serves to demonstrate just what a sterling job Fyne has done with the F302s.
Floorstander under £1000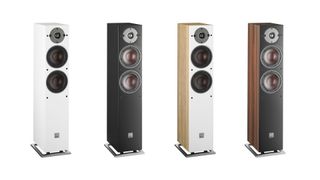 For much of the last decade our default choice for the best sub-thousand pound floorstander was a Q Acoustics model, which in the company's current range, is the 3050i speakers. But no more.
In the Oberon 5, Dali has delivered a brilliant alternative, one that is an even better buy – despite a £50 price premium and substantial size deficit.
Overall, these speakers manage to sound notably larger than they are and the Dalis' great sense of fun gets our vote. You won't be disappointed.
Best floorstander under £1500
Never heard of Fyne Audio? Don't feel bad or in any way out of the loop - this is a very new company.
Fyne Audio has arrived fully formed, with two complete series of speakers (the F300 entry-level range mentioned earlier and the F500 range from which these F501s are taken) plus a 'statement' (for which read 'expensive' ) speaker, the F1-10.
It's obviously a bold move to launch a loudspeaker into the sort of competition the F501s are going to face - but then it's equal obvious Fyne Audio has no problem with acting boldly. The F501s are an extremely confident calling-card and it's testament to their ability that they've picked up a Best Buy in the firm's first year.
Best floorstander under £2000
It's been a few years since we last reviewed a ProAc speaker. Having spent some time with the new Response DT8 floorstanders, we wish it hadn't been so long.
While not perfect, these towers turn in as musically cohesive a performance as we've heard around this price.
Slightly odd appearance aside, we really like these speakers. They deliver such an entertaining sound we can't help but recommend them. Take a bit of care with system-matching and they will impress.
Best floorstander over £2000
The big brothers of the A-Line series, these A7s are superb floorstanders that sound great, look great and are compact enough to fit into most homes.
Refined yet entertaining, the top-of-the-line A7s continue Spendor's knack for combining stunning precision, clarity and subtlety with hugely enjoyable dynamics and rhythm.
If you're in the market for a new pair of top-notch floorstanding speakers, these elegant Spendor A7s should make their way to the top of your list.
Best desktop speaker
We loved the first Ruark Audio MR1 desktop speakers when they emerged in 2013. The retro looks, the intuitive design, the superb wireless sound – it was a winning combination that earned two successive What Hi-Fi? Awards.
But for a while the MR1s were toppled from their perch by the lovely KEF Eggs.
But it was only a matter of time before Ruark Audio unveiled the MR1 Mk2. And sure enough, Ruark Audio is back with a vengeance, having regained its crown for the last couple of years.
The step up in performance in impressive, and the Ruark MR1 Mk2s manage to be even more appealing than before.
Quite simply, these are superb speakers of their type.
Best active speaker
It's difficult to think of an amplifier/passive speakers combo that could better these Acoustic Energy active speakers at the price. They do everything with a flourish.
And that's not only by the standards of directly competing active speaker alternatives, but also by what we've been able to achieve in any price-comparable amp/speakers combination.
You owe it to yourself to track down a pair to discover that for yourself.