After months of leaks and rumours, Apple has just made the new iPad Mini official, and this dinky tablet is getting some big upgrades, including a larger screen, a brand new processor and proper stereo speakers.
Want the full lowdown? We've got it for you.
Apple iPad Mini 6 (2021): release date
The new iPad Mini hit shelves on Friday 24th September. It's been two and a half years since the previous model, which is actually quite a short wait for a new iPad Mini, which is typically updated much less regularly than other iPad models.
For reference, here's when previous iPad Minis have launched:
For the first four years of its life, the Mini product line had an annual upgrade cycle much like the iPhone. But then Apple went three and a half years between the fourth and fifth instalments – that's an age in terms of consumer tech. The gap between this model and the last one isn't as wide as that, but it's not far off.
As you can see from a quick glance at our reviews, every iPad Mini so far has scored five out of five in our reviews. Expectations are high then for the sixth instalment in this superb Mini dynasty. Or Ministy, if you will.
But will you actually be able to buy one? Apple has warned that due to the global chip shortage its late-2021 devices could be in short supply.
"We expect supply constraints during the September quarter to be greater than what we experienced during the June quarter," said Apple CFO Luca Maestri on a call with analysts. "The constraints will primarily impact iPhone and iPad". If you're desperate to get the new iPad Mini, it's probably sensible to pre-order now rather than take your chances around Black Friday or Christmas.
Apple iPad Mini 6 (2021): price
The new iPad Mini 6 (2021) is priced from £479 / $499 / AU$749. That will get you the 64GB wi-fi model.
That's a fairly steep increase on the iPad Mini 5, which was itself more expensive than its predecessor. Let's take a look back at the prices of the previous iPad Minis to provide some context:
iPad Mini: £270 / $329
iPad Mini 2: £320 / $399
iPad Mini 3: £320 / $399
iPad Mini 4: £319 / $399 / AU$569
iPad Mini 5: £399 / $399 / AU$599
iPad Mini 6: £479 / $499 / AU$749
If you want to go for the 256GB version, you'll need to fork out even more. That's priced at £619 / $649 / AU$979 with wi-fi only.
Adding 5G cellular capabilities and the price of either version goes up by £140 / $150 / AU$230.
In short, this might be a small tablet, but it's an expensive one. The new iPad 9 is the model to get if affordability is what you're looking for.
Alternatively, you could opt for an outgoing iPad Mini 5, which should be discounted while stocks last. You'll see the latest, lowest prices on that below.
Apple iPad Mini 6 (2021): screen
Just as the rumours predicted, the new iPad Mini has a bigger screen than its predecessor, coming in at 8.3 inches. That should represent be a noticeable upgrade on the 7.9-inch display of the iPad Mini 5 – and every other previous version of the iPad Mini for that matter. And, while the screen is bigger, the device itself is practically the same size.
The resolution has been increased in line with the diagonal measurement in order to keep pixel density the same – so that's a resolution of 2266 x 1488, equating to 326 pixels per inch. And yes, the iPad Mini still has the highest pixel density of any iPad, including the Pro models.
Most of the other screen specs are unchanged. That's 500 nits typical max brightness, full lamination, an anti-reflective coating, wide colour (P3) compatibility and True Tone.
Since its release, some users have reported experiencing 'jelly scrolling' on their iPad Mini 6 devices, which sees one half of the screen scroll slightly faster than the other. It's not yet clear what's causing this issue and what the fix could be, but we'll update this article accordingly.
Apple iPad Mini 6 (2021): design
As mentioned, while the new iPad Mini's screen is larger than that of its predecessor, its overall physical dimensions are more or less the same. In fact, it's actually shorter than the iPad Mini 5, measuring 195mm compared with 203mm. The new model is thicker, but only by 0.2mm for a total depth measurement of 6.3mm. Width is unchanged, at 135mm.
How's this feat been achieved? Slimmer bezels, along with a nixing of the Home button, which has been replaced by a Touch ID-integrated, side-mounted power button, just like that of the current iPad Air.
The edges of the body have also been flattened off to look more like those of the iPad Air and old iPhone SE and the corners are more rounded than those of the outgoing iPad Mini 5.
In terms of colours, you can choose between Space Grey, Pink, Purple and Starlight, all of which you can see in the picture above.
Apple iPad Mini 6 (2021): specs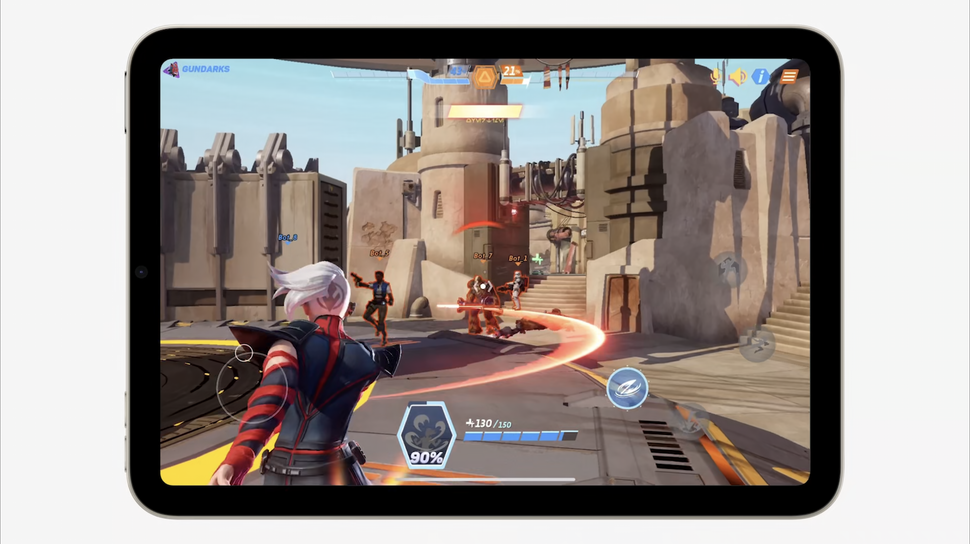 As predicted, the iPad Mini 6 (2021) is powered by the new A15 Bionic processor, which also features in the new iPhone 13. Apple claims that makes the new iPad Mini 40% faster than the outgoing model in terms of CPU performance and a ridiculous 80% faster for GPU performance. The updated Neural Engine apparently also results in two times faster machine learning. All told, the iPad Mini 6 should be a real pocket rocket, capable of handling advanced games, video editing and all sorts of other power-intensive tasks.
If speed's your thing, the fact that the new iPad Mini 6 is also available as a 5G model is bound to please. However, as mentioned above, cellular capabilities come at quite a high cost.
Another heavy prediction in the run up to launch was that the new iPad Mini would get a USB-C connection, and so it proves. That leaves the standard iPad as the only model stuck with a Lightning connection.
The iPad Mini 6 is also the first of its line to get speakers positioned on both of its shorter edges, resulting in a proper stereo deliver when the tablet's in its landscape orientation.
In terms of accessories, the iPad Mini 6 supports the second-generation Apple Pencil, which can be magnetically attached to and charged by the tablet, and there's a whole host of colourful new covers to choose from.
Apple iPad Mini 6 (2021): cameras
The cameras of the new iPad Mini 6 are quite the step-up over those of the iPad Mini 5. On the rear is now a 12MP camera (up from 8MP), with a larger aperture for better low-light performance, plus a quad-LED True Tone flash. Smart HDR is also on board an iPad Mini for the first time, automatically enhancing HDR photos on the fly. It can film video in 4K, too.
On the front is a new 12MP Ultra Wide camera with a 122-degree field of view. That allows it to support the Centre Stage feature of the current iPad Pros, which essentially involves the camera following you around during video calls, much in the way of Facebook Portal. It's just a shame that Apple hasn't positioned the camera along one of the iPad's longer edges, which would make it more useful for horizontally oriented FaceTime chats.
Apple iPad Mini 6 (2021): verdict
"We're giving the littlest iPad its biggest update ever," said Tim Cook at the iPad Mini 6's announcement, and it's hard to disagree. The massive upgrade in processing power will suit those looking for a portable creative powerhouse, but it's the bigger screen and stereo speakers that we're most excited about.
Of course, those upgrades have to be rated against the fairly steep rise in price when compared to the outgoing iPad Mini. Are they worth it? We'll be finding out when we conduct our full review very soon.
MORE:
These are the best iPads you can buy
And here are the best tablets
Pick up a tablet bargain: Best iPad deals