Best tablets Buying Guide: Welcome to What Hi-Fi?'s round-up of the best tablets you can buy in 2022.
Tablets are a great way of taking a good-sized, high quality screen with you wherever you go. They're bigger than smartphones (just) and come without the threat of work that a laptop brings. They're made to fit all kinds of budgets too. Which tablet is the right one for you?
What screen size do you want? Bigger-screened tablets make films, photos and TV shows look more impressive and are better suited to gaming, but they're heavier, less portable and usually more expensive.
Which operating system are you after? Android is more open than iOS, but it's not quite as slick or simple an ecosystem. Or are you happy with Amazon's Fire OS? Members of Amazon Prime might well be, but if you rarely shop at the retail giant, you'll likely find it unsuitable and downright irritating.
How much storage do you need? Android devices usually come with slots for memory cards so you can add in extra storage, which could be useful if you've an extensive library of films, music and photos.
The best tablet for you will come down to how you want to use it. If you're gaming, you'll want one with tons of power and long battery life, while if you're only sending the occasional email, you can save yourself some money and get yourself a cheaper model.
We've rounded up the best tablet choices for 2022 so that you can find your perfect partner. With models big and small, cheap and pricey, there's sure to be something that fits your needs. Let's find it.
Ever wanted an OLED or QLED TV that you could fit in a backpack? The new iPad Pro 12.9 is that – and plenty more. With its high-end laptop-derived processor, and new mini LED-lit display, this is a real game-changer for Apple's latest premium tablet.
Apple positions its iPad Pro models as productivity and creativity devices, and the new M1 chip takes this to the next level. This is the same chip that Apple has in its
MacBooks.
As for the screen, Apple calls it a Liquid Retina XDR display, with the 'XDR' standing for 'eXtreme Dynamic Range'. This is the first mini-LED backlight in an iPad. There are 10,000 of the things, arranged into 2500 independent dimming zone. That makes for better contrast control with near-perfect blacks and brighter highlights, resulting in a supremely punchy image with great colour authenticity. HDR10, HLG and Dolby Vision are all supported.
This tablet is right up there with that of the very best TVs you can buy. Of course, it's hugely expensive and not easy to justify for anyone who has no intention of taking advantage of its productivity potential, but it's also the best tablet you can buy for watching movies on the move – a luxury, but an extremely persuasive one.
Read the full Apple iPad Pro 12.9 review
The iPad Air represents a major step up for Apple's all-rounder tablet. This fourth generation device boast a brand new design, complete with a new Touch ID sensor and speaker layout. There's also a bigger screen, more powerful processor and improved main camera.
Although it can't match the specs of the iPad Pro 2021, both in terms of processing power and storage, Apple still claims the Air is more than powerful enough to be able to edit 4K video on and it's fully compatible with the Apple Pencil 2, which will come in handy for creative types.
The speakers have been repositioned at either end of the tablet to fire out proper stereo audio and that helps give it a more cinematic and immersive feel. The audio itself is more solid and defined too. There's extra weight to dialogue and it never seems to muddy the clarity of what you're hearing at normal volumes.
The screen is punchy and bright, but with a great level of subtlety when the scene demands. Blacks are deep and rich, and there's a general sense of depth to the scene too. Although though the Pro is more capable still, this cheaper and very capable variant is all that most people will ever need.
Read the full Apple iPad Air review
Improving on a previous What Hi-Fi? Award-winner was always going to be a tall task, especially without raising the price. But Amazon has cracked it, yet again, with the latest version of the HD10. So what's new? Not a huge amount, actually, but then the previous incarnation was already darn good and the few improvements here are small but significant.
There's a boost for resolution to the rear-facing camera, support for higher-capacity microSD cards now up to 1TB, and a dual-microphone system so that Alexa can hear you better.
The real key change, though, is the physical form of this tablet. It's gone down in size and weight just enough to make it feel a lot more manageable to hold and use, particularly with one hand – and that's all without reducing the 10.1in display, its aspect or pixel count in any way.
When it comes to TV and movies, colour temperature accuracy has improved and there's a definite shift to a punchier, more contrasty and slightly sharper feel. Admittedly that comes at a slight cost of the more natural approach of its predecessor but it's certainly just as good in overall picture performance.
The HD 10's 'Dolby Atmos' integrated dual stereo speakers are somewhat optimistically branded but the sound with music and films is convincing and emotive, with plenty of detail across the frequencies and a pleasing, realistic musical build.
As long as you're happy to use Amazon's apps, this remains a great bargain buy.
Read our full Amazon Fire HD 10 review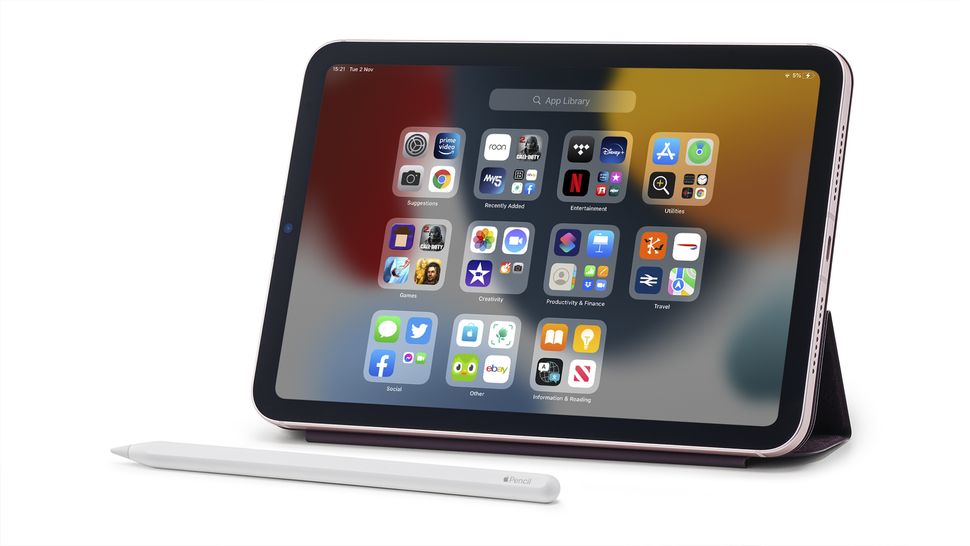 This bigger-screened, better sounding iPad Mini is a huge improvement on the last model and just the ticket if an 8-inch tablet is what you're after. It's small enough to carry around in a jacket pocket while offering a viewing and listening experience that's way beyond that of even a large mobile phone.
The bezel has shrunk right down meaning that, while the device remains the same size as the previous generation, the screen itself is actually bigger. The picture quality is better too. The 500nit LCD panel is less leaky for light than before, making video look punchy and exciting.
It's sound which has moved on leaps and bounds, though, with a vastly improved level of dynamic expression to now match the trademark Apple crisp sense of timing. There are also speakers on both ends of the tablet, for the first time, meaning that you get a sense of cinematic sound even without headphones.
Throw in a super-slick user experience, the rather handsome looks, USB-C recharging and the interesting addition of Apple Pencil support and you've got yourself a little winner. Just a pity there's no 3.5mm headphones socket, of course.
Read the full Apple iPad Mini 6 review
It's the new iPad! Or is it? Because not only does the new model look identical to its predecessor, it has nigh-on the same specs, too. There's the same 10.2in retina display, same 8MP rear and 1.2MP front camera array, and more or less the same specifications – 3GB RAM, 32GB and 128GB storage options, and a 10-hour battery life. Even the Silver, Gold and Space Grey finishes carry over.
So what is new? Apple has upgraded the processor – inside you'll find the A12 Bionic, which is the same chip powering the iPhone XS, 2019 iPad Air and fifth-generation iPad Mini. It's not the newest Apple chip, but still delivers a 40 per cent speed boost on the previous iPad with twice the graphics performance. Despite that, the new iPad has a cheaper launch price than its predecessor.
The screen isn't drastically better than the 7th Gen's, but it doesn't need to be. It still does a fine job of rendering images, with a punchy yet natural colour palette, sharply defined detail, and sleek smoothness. And the audio is still typically Apple, being neutrally toned, detailed and dynamic, but with a touch more clarity.
Not a huge improvement on the 7th Gen, then, but still a nice update to keep the iPad at the top of the tablet pile.
Read the full Apple iPad (2020) review
This impressive new Amazon tablet packs much of the same specs as the Award-winning 10in model into a package two inches smaller. And it's a resounding success.
It's roughly the same height and width as a paperback book, and is slim, rounded at the edges and surprisingly light – perfect for holding and slipping into a bag.
The image is impressive. The picture runs remarkably smoothly, and bar the odd moment of judder, it's a competent performance overall. It has some nice features too, like Adaptive brightness (which optimises brightness levels according to the surrounding light) and Blue Shade, which reduces the amount of blue light on the screen. As a tablet of this size will often be used for reading before bed, this is a nice touch.
The new gaming mode makes games look a little more vibrant, and on the audio front it delivers an expansive presentation with excellent separation. Overall, it's a good-sounding tablet for the money, and all said, a great all-rounder.
Read our full Amazon Fire HD 8 (2020) review
Samsung continues to fly the flag for Android tablets and, for those of us who see a tablet as a portable movie and music device, this Galaxy S7 FE is a tempting option. There's an AKG sound system, a large, 12.4-inch screen and of course a low price tag.
There's no HDR support, which seems a shame, but there is Dolby Atmos... which seems overkill. It's worth pointing out there's no headphone jack but Bluetooth audio is on board and you have Samsung's familiar S-Pen stylus.
Watching video the size of the screen is a real bonus, while colours are bright and punchy. Don't expect the last work in black detail or definition but overall it's an easy to watch, enjoyable image, ideal for on-the-go TV and films. What's more, the sound is really quite impressive for a tablet.
The Samsung Galaxy Tab S7 FE is a really appealing tablet. By offering a big, bright screen in a cinematically suitable aspect ratio, it immediately stands out against the competition.
Read our full Samsung Galaxy Tab S7 FE review
Content creators will want an iPad Pro – this is a machine made for creating, while the standard iPad is built for consuming. As such, it's a little over-powered if all you want it for is watching movies and playing the odd game.
Not that you'll have a bad time – far from it. The screen is ridiculously sharp and bright, and at this size, films are an absolute treat. It sounds pretty great too, balancing dialogue with the soundtrack nicely and automatically adjusting for the best sound depending whether it's in portrait or landscape mode.
Sure, you probably don't need one. But if you can afford it, why wouldn't you?
Read the full Apple iPad Pro 10.5in review