Getting hold of an Xbox Series X is tricky to say the least – stock is incredibly scarce right now. And when you do see them, you'll need to be quick as they're going like hot cakes.
The latest? Both the Series X and S remains incredibly hard to find but Amazon released a major Xbox restock to celebrate Prime Day. Though sadly all of its Xbox Series X consoles soon sold out.
There's a real shortage in the US, too, with hardly anyone having stock that's not overpriced by third parties.
There have been plenty of stock drops this year so far, but stock never lasts long. The good news? Stock drops are frequent, if not regular. To improve your chances of bagging an Xbox Series X or S, bookmark this page and keep checking back.
UK: Xbox Series X order details
The Xbox Series X costs £449 in the UK, while the all-digital Xbox Series S is £249. Below are links to the major UK shops stocking the Xbox. As its a brand new console, the price should be the same across all stores.
US: Xbox Series X order details
The Xbox Series X costs $499 in the US while the all-digital Xbox Series S is $299. Many stores are out of stock so be prepared to search high and low. One place you can buy the new Xbox Series X is StockX, but be prepared to pay more than the list price. Buyers are currently asking around $400 for the Series S and $700 for the Series X. You'll also want to make sure the console has the right plug for your region.
Rest of the world: Xbox Series X pre-order details
Shoppers in Australia and New Zealand were the first to get their Xbox Series X pre-orders in, with the 8am pre-order time arriving at these time zones first.
The price of the Xbox Series X in Australia is AU$749. In New Zealand, it's NZ$799.
The price of the Xbox Series S in Australia is AU$499. In New Zealand, it's NZ$549.
Canadians can also now pre-order the Xbox Series X for CA$599 and the Xbox Series S can be pre-ordered for CA$379.
Xbox Series X price
After much procrastination, Microsoft finally priced the Xbox Series X at £449 ($499, €499, AU$749). The next-gen console went on sale on Tuesday 10th November.
More than you can afford? Microsoft has rolled out its Xbox All Access subscription service to 12 countries, including the UK (via GAME and Smyths Toys), US (Best Buy, GameStop and Walmart) and Australia (via Telstra).
The services allows you to pre-order an Xbox Series X without paying a penny upfront. Instead, you pay £28.99 ($34.99, AU$46) per month over a 24 month period. The deal includes a shiny new Series X console, access to over 100 games on Xbox Games Pass plus multiplayer gaming via Xbox Live Gold. You can pre-order the all-digital Xbox Series S on the same basis.
So, the rumours that claimed the Xbox Series X would cost $499 in the US were right. But then again, there was also plenty of talk of the Xbox costing significantly more. One supposed leak from a retail insider showed the Xbox Series X listed at an eye-watering $599. Thankfully, that's now been debunked.
If you're wondering how the price of the Series X compares to past Xbox consoles, here's a look back at historical Xbox pricing strategies...
The Xbox line started life with the original Xbox, back in 2001. It cost £300/$300 when it launched. This was followed by 2004's Xbox 360, which originally cost £210/$300 for the entry-level model.
Then came the Xbox One range. The original Xbox One launched in 2013, and cost £429/$400 (without the Kinect add-on). This was followed by the Xbox One S in 2016, which went for £249/$300, and then the Xbox One X in 2017 for £450/$500.
Given that it costs the same as the original Xbox One (with the Kinect add-on), the Xbox Series X looks like pretty good value. After all, it is supposedly the most powerful games console ever...
Xbox Series S price: cheaper digital edition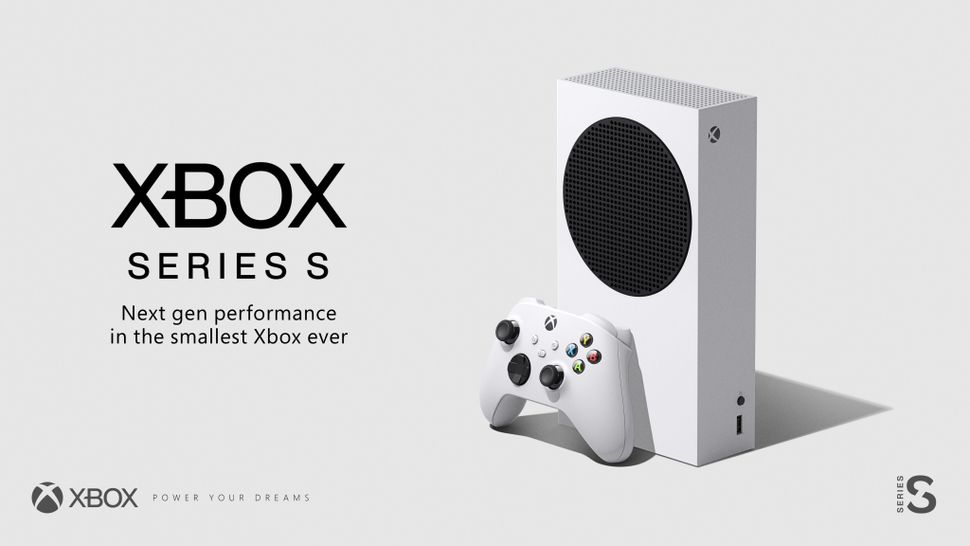 Rumours circled for months that Microsoft was working on a cheaper Xbox to launch alongside the Series X. Sure enough, the Xbox Series S is a digital-only version of its next-gen console in order to lower the barrier to entry.
It costs £249.99 ($299, €299, AU$499). That's just over half the price of the full-fat Xbox Series X and could be a very tempting price for UK gamers.
Gamers in 12 countries, including the US, UK and Australia, also have the option to pre-order the Series S and pay in instalments. Microsoft's Xbox All Access service gets you Series S console plus Game Pass Ultimate and Xbox Live Gold in return for £20.99 ($24.99, AU$33) per month over a 24 month period.
The main difference between the Xbox Series X and Series S is that the latter doesn't have a disc drive. Another big difference is that while both consoles support high frame rates of up to 120fps, the Xbox Series X offers native 4K gaming, while the Series S is geared more towards 1440p. If you want to make the most of your 4K TV, the Series X would be the obvious choice, but those with gaming monitors might be perfectly well served by the Series S.
The Series S isn't as powerful, though. Both consoles have the same Zen 2-based CPU but the Xbox Series X runs at 3.8Hz, while the Series S runs at 3.4Hz. And where the Xbox Series S has 10GB of GDDR6 memory running at 224Gbps, the Series X offers 16GB of GDDR6.
That's not to say the Series S is underpowered. Microsoft claims it "delivers four times the processing power of an Xbox One console". In our Xbox Series S review, we concluded that the Series S offers serious bang for your buck.
Lastly, Series S sports a 512GB SSD – half that of the Series X, which totes a 1TB SSD. Both consoles provide 1TB expansion cards and HDMI 2.1 sockets with support for Variable Refresh Rate.
The Xbox Series S is going head to head with Sony's PS5 Digital Edition, which is essentially a PS5 minus the disc drive. That does mean that the PS5 Digital Edition is a more powerful console than the Xbox Series S.
Xbox Series X and Series S pre-orders
Both the Series X and S sold out before hitting the shelves. More stock arrived on launch day – 10th November 2020 – and promptly sold out. Since then, we've seen plenty of retailers restock the Series S but the Series X has been incredibly hard to come by.
To solve the problem, Xbox boss Phil Spencer recently told the 'Major Nelson' podcast that he's asked chipmaker AMD to speed up production: "I was on the phone last week with Lisa Su at AMD [asking], 'how do we get more?' So it's something that we're constantly working on."
If Microsoft can get its hands on more chips, it could potentially churn out more Xbox Series X and S consoles. The play seems to be paying off as more Xbox stock is now hitting shelves on both sides of the pond.
In the UK, Currys is due Xbox Series X stock on 23rd January. GAME released a big batch of Xbox Series X and Series S consoles in mid-January. They've now sold but Game is tipped to get Series S stock on 31st January. The BT Shop also announced it would have inventory of the Series S, but that allocation has now sold out.
The Series S is also available at selected Amazon locales across Europe. Amazon France had plenty of Xbox Series S here, for well over a week. Supply seems to have dried up now.
Over in the US, Best Buy recently offered several Xbox Series S packages including the console bundled with 3-months Xbox Game Pass for $330 (save $15), with an extra wireless controller for $350 (save $10), or with an extra controller and 3-months Game Pass for $380 (save $25). Those offers have dried up but Best Buy seems to restock on a regular basis, so keep checking their website.
GameStop had a limited number of Xbox Series X and Series S bundles up for grabs but they're now sold out. The Series X with an extra Carbon Black Wireless Controller, NBA 2K21, 3-month Game Pass and $20 Gamestop gift card would have set you back $694.
Walmart announced a fresh wave of stock in December and Target has restocked numerous times. Amazon US recently announced a PS5 restock and is tipped to get an Xbox Series X restock in soon, though it's purely a rumour at this stage.
It's also worth keeping an eye on the official Microsoft Store. You'd expect the company to divert at least some units to its own store as and when more stock arrives in the UK and US. Got an Xbox One? Did you know you can buy the new Xbox on the Microsoft Store app for Xbox One? It's worth a shot.
In the meantime, it's worth keeping an eye on the links below. Here's a reminder of the retailers selling the Xbox Series X in your country:
United States: Microsoft Store, Amazon, Best Buy, GameStop, Walmart,
Target, Sam's Club, Newegg, and other participating retailers.
Canada: Microsoft Store, Amazon, Walmart, Best Buy, EB Games, The Source, and other participating retailers.
UK: Microsoft Store, GAME, Amazon, Dixons Currys PC World, Argos, John Lewis, Smyths Toys, AO, Tesco, Simply Game, Shopto and other participating retailers.
Australia: Microsoft Store, Amazon, Telstra, JB Hifi, EB Games, Harvey Norman, and other participating retailers.
New Zealand: Microsoft Store, JB HiFi, EB Games, Spark, and other participating retailers.
European, Middle East and African territories: Microsoft Store, Amazon, MediaMarkt, GameStop, FNAC, Elkjøp/Elgiganten, and other participating retailers.
Microsoft has also revealed how Xbox fans can get their consoles via the Xbox All Access subscription. It's also admitted that the Xbox Series X could be in short supply until April 2021.
Xbox Series X price vs PlayStation 5 price
After many leaks and speculation, Sony confirmed the PS5 Digital and PS5 prices at £360 ($400, AU$599) and £450 ($500, AU$750) respectively. That came as a pleasant surprise to those who'd expected the PS5 to be priced much higher than the rival Xbox Series X.
As it turns out, the full-fat PS5 and Xbox Series X cost the same, although the all-digital Series S undercuts the PS5 Digital Edition by a fair margin of £90 ($100, AU$100).
Bear in mind, however, that the Xbox Series S is less powerful than the Series X, whereas the PS5 Digital Edition is identical to the standard PS5 except for the lack of a disc drive.
Xbox series X price: streaming apps
Microsoft has confirmed which streaming apps are available on the Xbox Series X. The big news? The Apple TV app is available from day one. That puts the console on a par with Sony's PS5.
Microsoft also confirmed that the consoles will run all streaming apps currently available for the Xbox One consoles, with a few exceptions. The BBC iPlayer app didn't work on Xbox Series X/S at launch but Microsoft has now rectified that.
So far the list includes (but isn't limited to):
HBO Max
BBC iPlayer
YouTube
YouTube TV
Hulu
NBC Peacock
Vudu
FandangoNow
Twitch
Sky Go
Now TV
Sky Ticket
Xbox Series X price: game bundles
Some of the biggest titles are usually partnered with a new console. This year's instalments include FIFA 21, Fortnite, Rainbow Six Siege and Assassin's Creed Valhalla, all of which are confirmed for the new console.
We know that Microsoft has teamed up with EA to bring over 60 of EA's biggest games to Xbox Game Pass Ultimate, which gives you access to 100+ games stored in the cloud.
Halo Infinite would likely have been the most-wanted launch title, and the most popular bundle, but 343 Industries, the studio in charge of the game, recently announced that they had made the "difficult decision" to delay its release until 2021.
Retailers such as Best Buy are already offering the Xbox Series X and Series S bundled with accessories such as extra wireless controllers and subscriptions to the online gaming platform Xbox Live. Stay tuned, and we'll bring you more as we get it.
MORE:
Read our Xbox Series X review
And our Xbox Series S review
Prefer Sony? PS5 price and pre-orders: how much will the PlayStation 5 cost?
Check out the best Xbox Live Gold deals
Boost your in-game audio: Best gaming headsets