Once again, Amazon is practically giving away Echo Dot speakers. For a limited time, you can get an Echo Dot (4th Gen) worth £49.99 for the value of £9.99 when you subscribe to Amazon Music Unlimited for one month.
Music Unlimited costs from £9.99 a month, which brings the grand total to £19.98 for a £50 smart speaker and 30 days access to 75 million songs.
If you're a Prime member, it's even cheaper! Music Unlimited is only £7.99 a month with Prime, which brings the bundle to only £17.98.
This insanely generous offer ends Monday 28th February. Best grab the £40 saving before Amazon comes to its senses...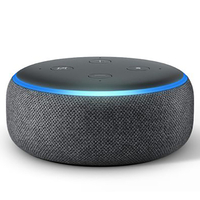 Echo Dot + Amazon Music £49.99 £19.99 at Amazon (save £30)
This deal gets you a five-star smart speaker for just £9.99 when you sign up for one month of Amazon Music Unlimited for £9.99 (£7.99 for Prime members). New subscribers only. Offer ends at 11.59pm on 28th Feb 2022. Music Unlimited will auto-renew but you can cancel it anytime.
The offer is only available to new subscribers to Amazon Music Unlimited and new Echo device customers. Music Unlimited auto-renews every month but you can cancel it at any time. Like most streaming services, it's contract-free.
We found the Amazon Echo Dot (4th Gen) to be a five-star performer at its regular price of £49.99, offering a clear, solid sound and improved Alexa capabilities. And let's face it, at £9.99 it's an absolute steal.
As for Amazon Music Unlimited, we rated it a healthy four stars, praising its "excellent catalogue" and Ultra HD offering.
Our advice? Be sure to capitalise on this epic Echo Dot deal before it ends on 28th February 2022.
MORE:
Here are the best smart speakers you can buy