If you're ready for a new TV but don't plan on spending thousands, take a look at this 55-inch TCL Fire TV on sale for $270 over at Amazon.
We haven't reviewed this set ourselves yet, but this TV has some competitive specs and features for the price, so if you need a new TV, give this TCL a look.
55-inch TCL 4K TV deal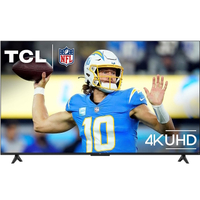 TCL 4-Series was $400, now $270 at Amazon (save $130)
This 4K smart TV from TCL offers up features you'd want like HDR, HLG, Dolby Atmos, and more all for just $270 over at Amazon. If you need a solid set but don't want to break the bank, this is one to consider.
TCL has been making value-focused TVs for quite some time, trying to offer up competitive specs for competitive prices. The 4-Series is no different in this respect, and you can get just about all the features you'd expect from a modern set with this line. Thanks to this deal, you can also get it all at a bargain price.
With this TV, you're getting 4K support, HDR, Dolby Atmos support, and an LED panel. All this plus smart functionality via Amazon's Fire TV operating system that will let you watch all your favorite shows from all your favorite apps and services.
In terms of gaming, you're getting a 4K/60Hz set. You won't get luxury features like VRR, but if you're just looking for a TV you can connect your PS5 to that will handle the occasional gaming session, the 4-Series can get that job done.
All around, this TCL TV has a fine array of modern features and specs without carrying a premium price tag. If you're looking for a value-focused TV that doesn't feel like it came straight out of 2010, the 4-Series is definitely worth a look, especially this 55-inch model on sale for $270.
MORE:
Should you buy a TCL TV? Our verdict on TCL, Roku TVs and more
Here are the best TVs we've tested
And the best TV deals we've tracked down