If you're in the market for a fresh new pair of earbuds, make sure to take a look at Technics' EAH-AZ60 on sale right now at Amazon for just $147.
When we reviewed the EAH-AZ60, we gave these buds four-stars in our review, and we loved their refined design and comfortable build, strong ANC, and overall detailed, nuanced sound profile. If you need some earbuds, these are worth putting on your radar, especially so with this Amazon sale.
Technics EAH-AZ60 earbuds Amazon deal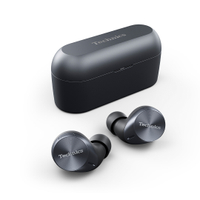 Technics EAH-AZ60 were $228, now $147 (save $81)
These buds come packed with an elegant design, comfortable feel, effective ANC, and an engaging, detailed sound. At a meaty $81 off, it'll be tough to find a better value in the world of earbuds.
Technics is determined to compete with heavyweights like Sony and Sennheiser, and the brand has done a solid job with the EAH-AZ60 buds. These earbuds look and feel great, provide some effective ANC, and they've got a polished, refined sound. Coming in at just $147 with this deal, it's tough to say no to these.
With the EAH-AZ60s, you're getting Bluetooth 5.2, LDAC support, ANC, 24 hours (with the charging case) of battery life, and IPX4 water resistance, too. What's more is that the overall look and feel of these buds is especially clean and sleek.
In terms of ANC, canceling is effective and works well. In terms of audio quality, there's more than enough space, detail, nuance, and musicality to make these buds worthy of their original $230 MSRP. They might not be class leaders, but they certainly offer up an engaging, enjoyable way to listen to music.
In summary, the EAH-AZ60 earbuds are all-around strong performers. And at less than $150, they're an excellent value, too. If you want earbuds but don't want to pay the Sony price, make sure to give this Amazon deal a look.
If interested, make sure to give a look at the M2 version of these buds, the EAH-AZ60M2, too, which we gave four-stars in our review.
MORE:
Read our full review of the Technics EAH-AZ60 earbuds
And check out our guide to all the best earbuds around
As well as our list of all the best earbud deals live right now