Well that didn't take long. The Amazon Echo Pop launched barely four months ago, but it's already had its price slashed by 60 per cent. That brings it down to just £17.99 – a ridiculously low price for a smart speaker.
But hold your horses, there's a better deal to be had…
Best Amazon Echo Pop deal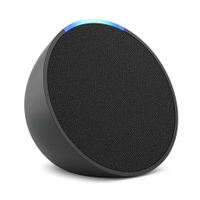 Amazon Echo Pop was £44.99 now £17.99 at Amazon (save £27)
The Echo Pop looks like an Echo Dot sliced in half. It's built for smaller rooms, is powered by the AZ2 Neural Edge processor, and has Alexa onboard for all the usual smart home tricks.
The Echo Pop launched as a cheaper, more colourful alternative to the Echo Dot. Its front-firing speaker is said to be "great for bedrooms, flats, or any small space in the home." Because of its shape, its sound profile is likely to be less wide than the Echo Dot's, though without testing it, we can't say for sure.
What we can say is that Alexa is onboard, and will work as on other Echo speakers. Just speak its name and its digital ears prick up, ready to obey your every command.
It comes in four colours: charcoal, white, lavender and teal.
But wait. While it looks like a good buy, we can't recommend it wholeheartedly without having tested it for ourselves. Which is why we would advise buying the Echo Dot instead, which scored five stars in our review. It's on offer at the moment as well, and at £21.99, is just £3 more than the Echo Pop.
Best Amazon Echo Dot deal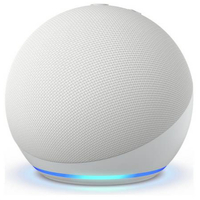 Amazon Echo Dot was £55 now £22 at Amazon (save £33)
Amazon's 5th Generation Echo Dot is a capable smart speaker with great connectivity and streaming capabilities, alongside a surprisingly robust sound considering the size of the unit. We reviewed it earlier this year and gave it a five-star review, now this speaker is under half-price!
Now this is sound quality you can bank on. In our review, we praised its "impressively expansive sound" – though it can distort at higher volumes, so it's not going to rival the audio quality of much pricier speakers. But for small gatherings, or a kitchen disco while you cook, it's ideal.
We also liked its sturdy design and user friendliness.
Of course you can take a punt on an unknown quantity and opt for the Echo Pop. But for the sake of £3, we would go for the Dot and know it'll do us proud.
Both deals are valid until 8.59am on 17th October, so will last through the Amazon Prime Big Deal Days sale next week.
MORE:
Unsure which Amazon Echo you should buy? Consult our guide
Check the best smart speakers around
Kit out your house with the best multi-room systems