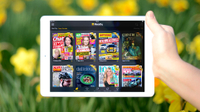 Sound+Image #348 is now on sale, featuring the best of the latest hi-fi and AV releases, in-depth reviews and features...
Reviews this issue...
XGIMI AURA 4K UST projector
We check out this EISA-award-winning ultra short-throw projector that offers a complete solution, with built-in Android TV and speakers.
ZIDOO Neo S 4K media player
What does the Zidoo do? It's a 4K media player with Dolby Vision 12-bit HDR, a digital audio player, network player, DAC, and headphone amp.
BOWERS & WILKINS Px7 S2 wireless noise-cancelling headphones
Luxurious wireless noise-cancellers get a major revision to bring them back among the leaders.
RODE NTH-100 wired headphones
Classic Aussie microphone maker turns its skills to the ears, with some impressive results.
GROUP TEST
SMART AMPLIFIERS: Just add speakers
Discover the secret simplicity of a single box that streams music then operates as DAC and amp, so that the speakers are the only thing you need to add for a complete system. Simple, yes?
Come & meet:
- BLUESOUND Powernode
- DENON PMA-900HNE
- NAD C 700
- ARCAM SA30
- MARANTZ Model 40n
- CAMBRIDGE Evo 150
- ELECTROCOMPANIET ECI 6 DX
Features & installs
custom installation: READY & WAITING
This cinema space in a Perth home waited a decade and a half before being filled with a reference-level system, including vinyl, from Hifi Hunter.
how to... CHOOSE A SMART AMPLIFIER
It's a 'just add speakers' hi-fi solution — but the addition of smarts to traditional amplification means that there's now even more to consider.
interview: JONNY McCLINTOCK
Jonny McClintock helped take aptX from an idea to a set of world-leading Bluetooth codecs. Here's his story, and why he's out to do it all again.
shop talk: AUDIO CONNECTION
The legendary Leichhardt hi-fi emporium has been redesigned top to bottom, all the better to introduce you to new joys of hi-fi listening.
music+movies
DALEKS IN 4K!
Peter Cushing became the movie incarnation of Doctor Who for two colourful movies in the 1960s, both now available on stunning 4K Blu-ray.
VINYL: Classic artwork
MUSIC REVIEWS: Faust, Hackett, Buzzcocks & more
CLASSIC TRACK: Don't Fear The Reaper!
CLASSIC MOVIE SCENE: 2001: A Space Odyssey
News & comment
comment: YOUR PERSONAL BS FILTER
The Editor encourages the troops to strip out the superlatives and find the real stories behind the hi-fi news.
news
- The new Sennheiser makes a new Ambeo bar
- Rega offers a complete system solution
- Denon & Marantz 8K receiver launches
- New active speakers from PSB & Triangle
- Bowers & Wilkins' new 700 Series, first look & listen
- A new Revival speaker brand from France
- REL flagship subs – you can stack 'em high!
- JBL parties at IFA with bars and PartyBoxes
- Yamaha's new budget bar & sub combo
- Cambridge sound in a De Lorean?
- Custom news from Bluesound, JBL & KEF
BUYING GUIDE
Award-winning Sound+Image products form the basis of our full Buying Guide, so you can be sure that every listed recommendation is a winner!
- Systems & wireless speakers
- CD players & DACs
- In-ear headphones
- Integrated amplifiers
- Pre-power amplifiers
- Soundbars
- Headphones
- AV receivers
- Subwoofers
- Standmount speakers
- Floorstanding speakers
- Vinyl
It's all in the November-December issue of Sound+Image - along with a chance for subscribers to kick off the summer with a prize JBL PartyBox!

The magazine is available in newsagents now, and digitally through multiple platforms, including Readly, where you can peruse Sound+Image and thousands more Aussie and international magazines with a 1-month free trial, then AU$9.99p/m.