Are you looking for a new pair of earbuds? The good news is that you can pick up a pair of excellent Sony WF-C700Ns for just $98 at Amazon.
In our review of the WF-C700N wireless earbuds, we gave them five-stars and complimented their comfy fit, refined presentation, overall impressive audio quality, and generally pleasant user experience.
Sony WF-C700N earbuds Amazon sale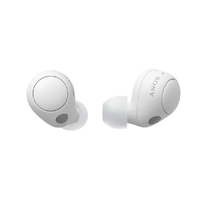 WF-C700N were $120, now $98 at Amazon (save $22)
These earbuds come with an incredibly comfy fit, a detailed, nuanced presentation, overall engaging audio quality, and a user-friendly user experience. At under $100, it's hard to say no to these wireless earbuds.
Sony has been making headphones for a long time, and Sony headphones are some of the best out there, depending on the model. The WF-C700Ns are another impressive jewel in Sony's headphone crown, but most importantly, you won't have to break the bank to get a pair of these.
So, what do you get with the WF-C500Ns? Well, these buds have Bluetooth 5.2, SBC + AAC codec support, 7.5 hours of battery life and 15 hours including the charging case, four different finishes, and they weigh in at 4.6g each. These buds also support active noise-cancelling, too.
When it comes to audio quality, these buds don't disappoint. There's an impressive weight, depth, and solidity on display here, and these buds can uncover layers of detail with believable texture, too. Put simply, these are strong performers, and regardless of what you're listening to, you won't be let down.
If you need an all-around great pair of wireless earbuds, look no further than Sony's WF-C700Ns, and make sure to give this Amazon deal a look if you want to save some cash on these five-star earbuds.
MORE:
Read our full review of Sony's WF-C700N earbuds
Check out our full list of all the best wireless earbuds
As well as our list of all the best earbuds deals live now