Do you want a tablet without spending an iPad-sized sum of money? Well, the good news is that you can pick up a Fire HD 10 tablet for $120 at Amazon.
We gave the Fire HD 10 tablet five-stars in our review, and we appreciated its overall punchy image quality, capable audio, and terrific value for money. If you want a tablet for a cheap tablet, look no further than the HD 10.
Amazon Fire HD 10 tablet Amazon sale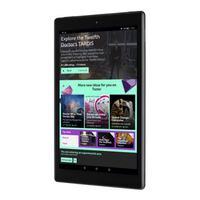 Amazon Fire HD 10 was $150, now $120 (save $30)
This tablet offers up engaging image quality and solid audio at extraordinary value. If you want a cheap way to browse the web on the go, the Fire HD 10 tablet is an excellent way to do that, especially with this sale.
Amazon's line of Fire tablets has been around for a while now, and they're focused on offering tons of value and providing a full-fat tablet experience for cheap. The flagship Fire HD 10 is, luckily, no different in this respect, bringing tons of features to the table for what is an impressive price.
The Fire HD 10 comes packed with a 10.1-inch HD display, 12 hours of battery life, 64GB of storage, Bluetooth 5.0, a 2MP front-facing camera, a 5MP rear-facing camera, 3GBs of RAM and an octa-core 2Ghz processor. It's not on the iPad's level of hardware, but it's more than enough for casual browsing.
The Fire HD 10 uses Amazon's Fire OS, which is based on Android but isn't quite the same thing. Conveniently, you won't have any trouble finding all your favorite apps and services on the Fire tab – the user experience is, perhaps unsurprisingly, Amazon-services-heavy – and you'll also get to choose from a wide variety of different games to play, too.
Put simply, Amazon's Fire HD 10 is a full-featured tablet that is an awesome value at just $120 with this Amazon deal.
MORE:
Take a look at our full review of the Amazon Fire HD 10 tablet
As well as our list of the best tablets money can buy
And all the best deals on iPads live now