The Elac Debut B5.2 remain the best budget bookshelf speakers around despite having launched way back in 2016. Just recently they have nabbed yet another What Hi-Fi? Award as the best standmounts for under £300, leading their field with a compact, well-made build and hugely enjoyable performance.
And they are now an even more tempting buy thanks not only to a superb discount that has carried over from Black Friday into Cyber Monday but also the inclusion of a handy freebie. You can get the Debut B5.2 for just £199 at Peter Tyson, with a 5m QED Performance Micro (unterminated) speaker cable chucked in for free.
Even without the freebie, this is a terrific deal. We tested the Elacs at their original price of £250, and while their price has hovered around £229-£239 in the past few months, £199 is the lowest price we've ever seen them go.
We know hi-fi kit can be expensive, which is why it's worth shouting about genuine affordable bargains when they do appear, and Elac's five-star budget marvels are the stepping stone to any home audio system.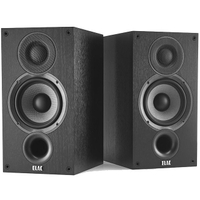 Anyone looking for discrete, compact and ultimately quality speakers on a budget should really consider the Elac Debut B5.2. Hovering near the bottom of the stereo speakers price scale, don't be fooled into thinking that the B5.2 feel or sound "cheap". If anything, they've continuously wowed us with their superb value for money, punching well above their weight in delivering levels of audio enjoyment and a build quality that far exceeds what we'd expect for their rather meagre price.
Put simply, the Debut B5.2 are brilliant performers for the money. They're unfussy about placement and will take any genre of music you throw at them in their stride. To hammer home the point, those aren't always qualities you expect, or receive, at this budget price level.
They have the dynamic expression, detail resolution and tonal sophistication to handle it all, and enough stretch in their abilities to get even better with a system above their natural price range. Rivals may give you a little more richness and texture, yet the Elacs are admirably balanced in the way they deal with poorer or more aggressive recordings, smoothing things out nicely and soothing the faults and flaws with a mature, even-handed touch.
These Elac speakers were already exceptional value at full price, so this £199 Cyber Monday deal should be snapped up by anyone looking for their first pair of hi-fi speakers.
MORE:
Here's our full Elac Debut B5.2 review
Want a step-up model? Award-winning B&W 600 S3 speakers get their first-ever deal – and guys, it's a good one
I've found 16 unmissable deals on What Hi-Fi? Award 2023 winners
Have a tight budget? The best Cyber Monday tech deals under £100 live now